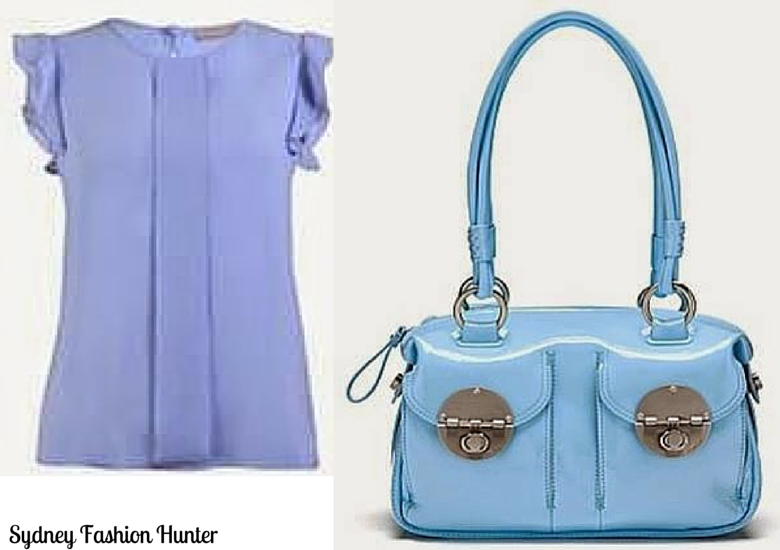 It's Sunday evening and time for The Weekly Wrap. After last weeks shoe related budget blowout and an unexpected emergency trip to the dentist mid-week the coffers were a bit depleted this week which was certainly reflected in this week's haul. I found myself hitting the malls and checking out the chain stores for some bargain buys. I seem to be slightly obsessed with all things baby blue at the moment. Even my toes are sporting this shade at the moment! I managed to snag a sexy Mimco shoulder bag and a cute little top in this particular hue. I was helped on the hunt this week by The Enabler and my Future Sister In Law (FSIL) who was nice enough to bring me back some essentials from her recent trip to the USA (soooo jealous!). Read on for all the details …



Hunting Grounds …
Westfield Sydney *** Westfield Liverpool *** Westfield Hurstville


Mimco Handbag
How cute is this? Spotted the Mimco Mini Turnlock in the perfect shade for spring and my current colour obsession during a mid week lunch with The Enabler (our once a month treat!). Patent leather will be easy care and roomy enough to hold all the 'necessities'. $399 and came with a free leather spray. I signed up in store to the VIP club and an email was waiting for me when I got back with a $40 credit off my next purchase. Nice one! Also comes in amethyst, black & patent black. (Westfield Sydney)


Work Tops
I'm always on the lookout for work tops to add to my limited rotation and this week I scored four! Must haves include fabrics that wash and wear well with no need to iron, not too sheer as no one wants a bra show through faux pas in the office, long enough to tuck comfortably in to low rise pants and a pop of colour to add interest to my staple black work wardrobe. These four fit the bill perfectly and were well priced to boot! 

1. Forcast Constance Cap Sleeve top in blue $45 Sizes 4 – 16. 2. Forecast Dami Pleated Top in blue $45 Sizes 4 – 16 3. Forcast Haze Loose-V top in Tangerine $40 Sizes 4 – 16. (All Westfield Liverpool) 4. Bardot Lindsay Tee in Citrus $70 Sizes 6 – 14 (Westfield Hurstville). 'The One That Got Away' (TOTGA) this week was the Marietta Box Pleat Top (pictured at the top of this post) from Forcast. The hunt for this lovely will continue 🙂


The picture of the Linday Tee doesn't do any justice to the actual colour. The shade is the most delicate spring yellow which I've tried to capture below.


Sephora Travel Make Up Brush Set 
I travel to Melbourne at least once a month for work and head overseas 2 – 3 times per year simply for pleasure so this is very handly. All you need and nothing you don't in a very compact size. I've had two of these in the past but I keep losing the brushes! I suspect the latest one was left in a Bali bathroom earlier this month. Approx AUD$18. Courtesy of the FSIL from the USA.



Victoria's Secret No Show Panties
3 Black, 3 Nude and 3 Striped. 3 for USD$33 + tax. For the last 5 years I have exclusively worn Victoria's Secret underwear. I first visited one of their stores in Las Vegas while on holiday and was hooked. These knickers are my go to every day pairs. I just needed to restock in a smaller size. I buy about 20 pairs each time I go and bring them out as needed. As a result of this habit I still have probably about 15 pairs BNWT in size medium from previous trips that are now too big. No doubt these will be listed shortly on the local Face Book Buy/Swap/Sell page where I have sold a lot of my now too big clothes with unexpected success.  





Victoria's Secret Bombshell Bra. 
Bra shopping is always a bit of a minefield, in fact statistics say 8 out of 10 women are wearing the wrong size bra. This always daunting experience has become more complicated for me after losing weight. Previously I was a 36C (14C) so I was always been able to buy what I needed straight of the rack. In June this year when I was in Hawaii I was re-measured in Victoria's Secret and was pronounced a 32D (10D). I suspect that this was more based on the fact that 32 is the smallest band size they make rather than my real size. 

I've been more accurately measured recently at Mary Holland in North Sydney which came out at a 8E which is not an easy size to find let me tell you. I was measured again in Simone Perele in Melbourne last month and this time I was a 6E (28E) … almost impossible to find! No wonder this is so bloody confusing and women around the globe are wearing ill-fitting bras! I've been on the hunt for a plain nude bra in Sydney for a little while with not a lot of luck so in desperation I decided to get this one anyway in the 32D. I'm wearing this on the tightest hook from the get go with still a bit more room than is required which is never good but it will suffice while the hunt continues. They don't call it the bombshell for nothing, this push up adds major oomph! USD$50 + tax. Also thanks to the FSIL from the USA.



Black Socks
6 pairs of boring but necessary black socks $14. Best & Less. No picture required. Nuff said. (Westfield Liverpool).


Until next time


Happy Hunting

SFH
xoxoxo