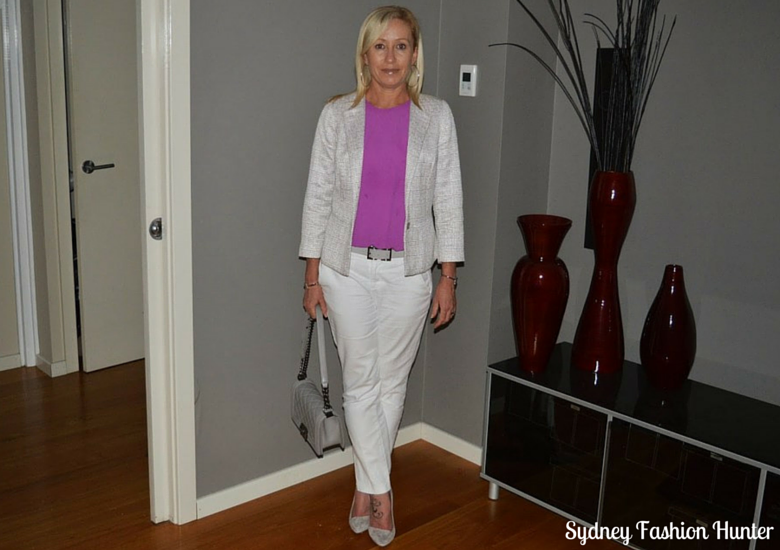 It's week twenty six of my series The Wednesday Pants (TWP) where I feature a different white pants outfit every week for a year. What an ordeal to get this blog post up tonight! I walked in the door just as a massive storm hit. The black skies and torrential rain meant photos could not be taken outside. No problem Mother Nature, photos will be done inside tonight. Two shots in, a massive lightening bolt cracks the sky and the power goes out. Is that all you have to throw at me universe? I'm nothing if not adaptable, so the flash goes on and we carry on in the dark. And I mean pitch black with Mr SFH literally asking where I was. When the photos are done I realise I have another small problem; the modem obviously needs power! After waiting over an hour hoping the power will be restored I run out of patience and head over to The Enablers to get this done. My first attempt at uploading the photos fails for unknown reasons and I was just about to start again when #2 son texts to announce the power is back. Back home to finish off it is. Unfortunately #2 son failed to mention that the power was only partially restored, which meant I was greeted by dim lights, TV but no Foxtel, disco lights upstairs and most importantly NO INTERNET! At 10.30pm I remember (The Enabler texted me to tell me if I'm honest!) that the local club has free WiFi. Just about to head out the door and the power flickers back on. First world problems right? 

Anyhoo … Can you believe this is the half way point of my series? I can't! To mark this momentous occasion I'm celebrating by adding a link party this week. I'd really love to see your #OOTD especially any of your white pants outfits you might have in your archives to give me some inspiration for the next 6 months. Read on for all the details … 
Let's Get Social!
This week I wore …
Cue Top

The Limited Peplum Jacket

Tiffany T Bangle

Gucci Watch

Tiffany T Ring

Silver Hoop Earrings

My New Eternity Ring!!!



Until Next Time …

Happy Hunting

SFH
xoxoxo
Disclaimer:
This post contains affiliate links, which may result in a commission.