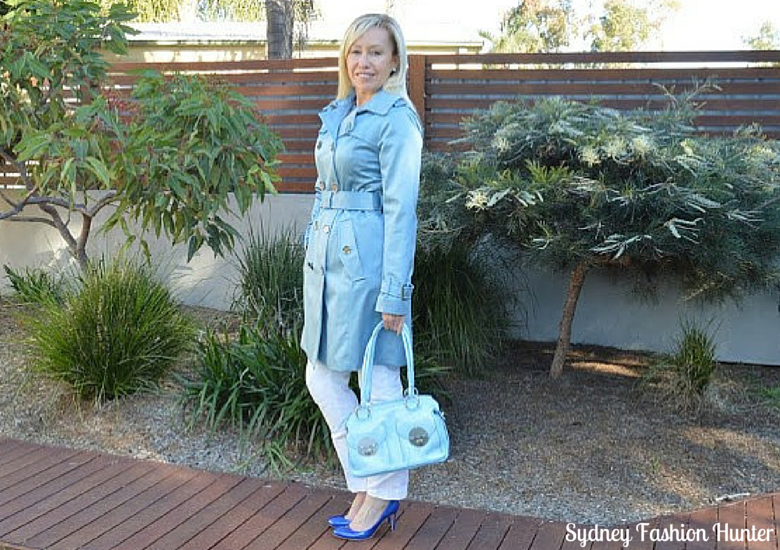 It's week forty three of my series The Wednesday Pants (TWP) where I feature a different white pants outfit every week for a year. I'm posting early today from the beautiful Crown Towers in Melbourne (yes again!!!!) because tonight I'm going to be watching a very important game that requires my undivided attention. It's State Of Origin (SOO) time peeps and tonight is the decider, with both Queensland and NSW bagging one game a piece so far in the series. I can't be in Brisbane to see it live and given wearing a jersey to work to support the Blues would not go down too well in the Melbourne office I had to come up with a more subtle way to show my support. That's if you can call head to toe blue subtle! Well, subtlety has never really been my forte anyway so why start now? To make it a little more interesting this week I have hand picked my co-host Mica. Mica is a Queenslander and right now that means she is the opposition. SOO is billed as "State against State, Mate against Mate" and while only two states are involved, somehow Queensland has garnered the lions share of the support from the Australian states not involved. While I'm in blue, Mica will be rocking Maroon in support of the cane toads. Yes, that really is what the Queensland team is known as, not that I should talk because the NSW team are the cockroaches. #BleedBlue #GoNSW #AlwaysTheUnderdog Read on for all the details … 
Let's Get Social!
This week I wore …
Jigsaw Cable Knit Jumper
London Fog Heritage Trench
Mimco Bag
Uggs
Ivanka Trump Janie Pumps (Ocean)
Envy Jewellery Dazzle Me Ring
Envy Jewellery Bedazzle Earrings
Colette by Colette Hayman Necklace
Gucci watch
State Of Origin Pin
Wherever you are around the world tonight, get in front of the TV if you can't be in Brisbane to cheer on the mighty blues! Kick off is at 8pm AEST (Australian Eastern Standard Time). If you do and your new to NRL I'd love to know what you think in the comments below 🙂 Love link ups? See my complete list of Fashion Blogger Link Ups here. Check out more from the Sydney Fashion Hunter archives.

Disclaimer:
This post contains affiliate links, which may result in a commission. Items marked C/O have been provided free of charge. All opinions are my own.