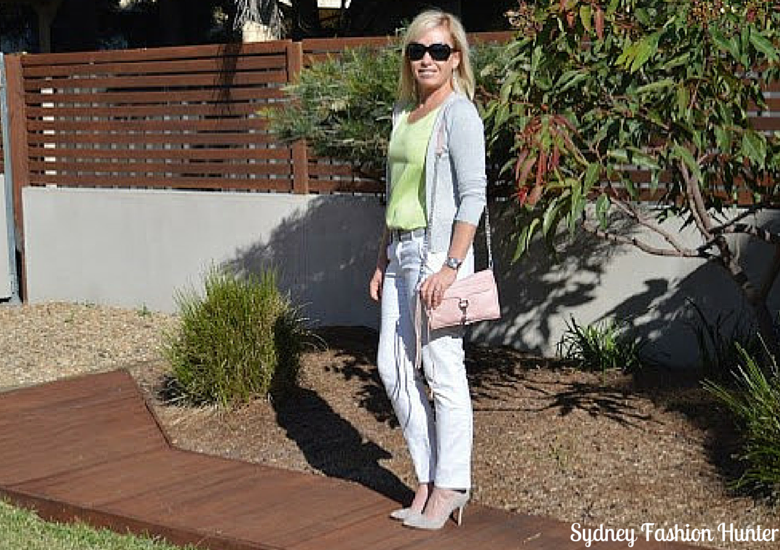 It's week thirty nine of my series The Wednesday Pants (TWP) where I feature a different white pants outfit every week for a year. It's just dawned on me that today marks the 3/4 point in this series. With only thirteen weeks to go I'm not sure yet whether I'm glad or sad about that! Wow it's been a busy week both at work and on the social front, so much so that I didn't find the time to post on Friday and Sunday as I normally do, but I MADE time for The Wednesday Pants of course. Well, when I say I made time, I mean I grabbed Mr SFH on the public holiday Monday 15 minutes before he ran out the door to snap some pics for me. I'm breaking all the fashion rules this week about appropriate winter colours and instead I've opted for lime green and pastel pink. The bright midday sun did little to bring out the lime green, pastel pink and soft greys but I'm not going to complain about finally having some winter sunshine after a pretty miserable week. Hopefully you get a better idea of the colours from the close ups, which were mostly selfies with my iPhone after he had left. A girls gotta do what a girls gotta do right? Read on for all the details … 
Let's Get Social!
This week I wore …
Portmans Lime Green Shell Top
SES Fashions Cardigan
H&M Coat
Saba Belt
Madewell Grey Suede Pumps
Rebecca Minkoff Bag
Prada Sunglasses
Diva Ring
Equip Earrings
Gucci Watch
Are you a fan of breaking the usual fashion rules? I'd love to hear about it in the comments below!
Disclaimer:
This post contains affiliate links, which may result in a commission. Items marked C/O have been provided free of charge. All opinions are my own.