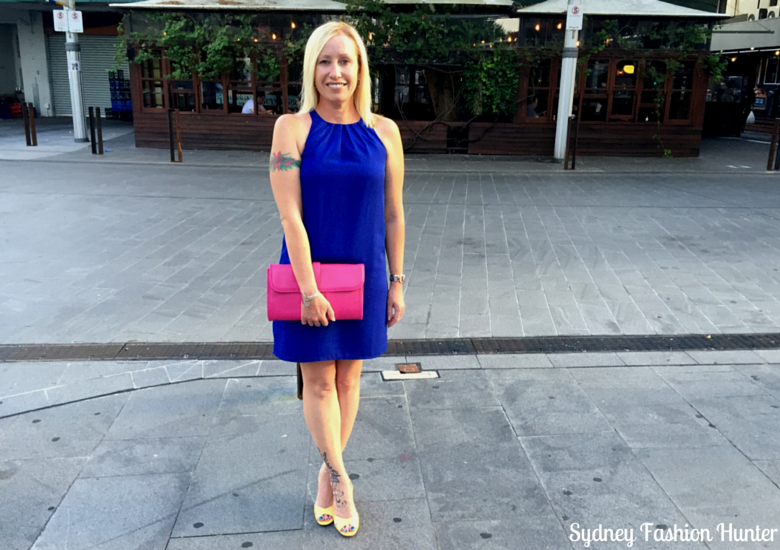 Last week I shared my Biker Chick look from our recent weekend away to Canberra. This week I though I would feature an outfit that I wore out to dinner while we were in town. It was a lovely summery night even though it was actually Autumn and Canberra is notorious for cold weather. I made the most of the heat by dragging out this electric blue dress and added some bright accessories for a bit of fun (check the matching toes!). The photos were taken in the heart of Canberra city on the (very short!) walk from our hotel to Blu Ginger where we enjoyed a delicious Indian feast. Read on for all the details …
Let's Get Social!
Electric Blue Dress
There is not much about this electric blue dress that I don't love; the softly gathered neckline, the cut around the arms, the perfect length, the soft fabric and the flattering silhouette are all winners in my book. With such a vivid colour subtle accessories would have been lost, so I went with bright yellow and hot pink. I think it's a winning combination but it's defiantly not for wall flowers! I often refer to this dress as my 'fat dress' because it's ability to hide all my jiggly bits rivals Houdini. It is my 'go to' outfit on days when I am feeling like Kung-Fu Panda's slightly chubbier sister or for dinner dates. The generous cut thorough the waist is perfect for concealing a bulging belly after a little overindulgence. Hey who am I kidding, a HUGE overindulgence. We just about rolled home from dinner. I promise there will be more on the blog later about our Canberra trip but I couldn't resist giving you a little sneak peek of one of my favourite dishes below. I thought I had done a pretty good job of straightening the kinks out of my helmet hair until I saw these photos of the back of my head. Let's just say the Hubs copped an earful for letting me go out like that, especially after I asked him before we left the hotel how the back looked given I didn't have a mirror. Clearly we have different ideas of what constitutes 'fine' …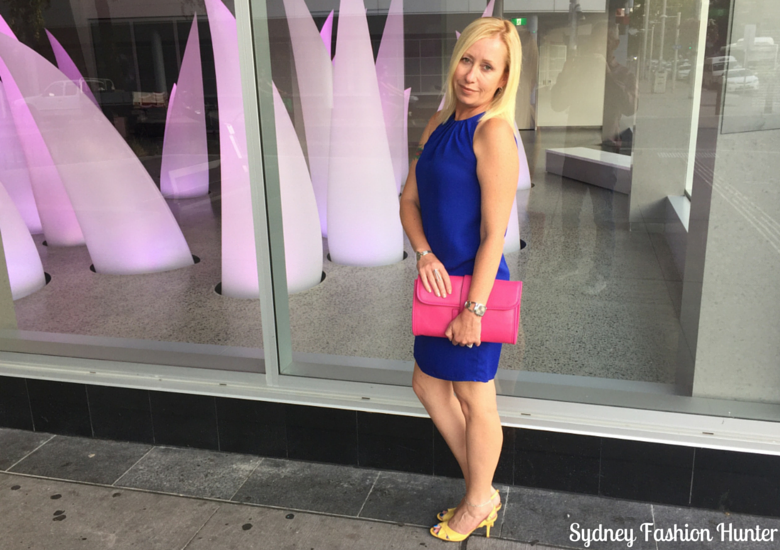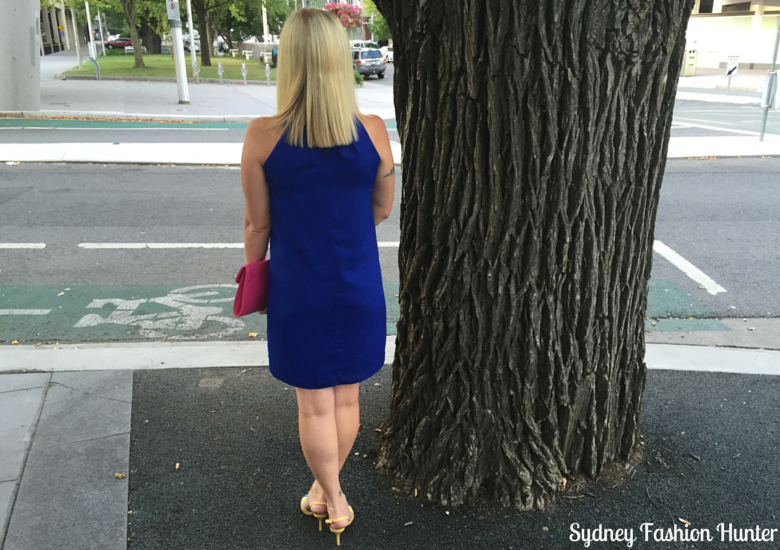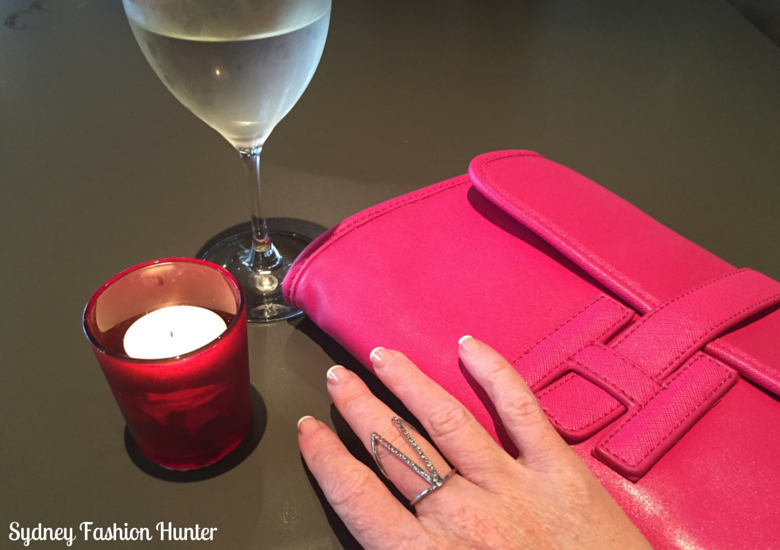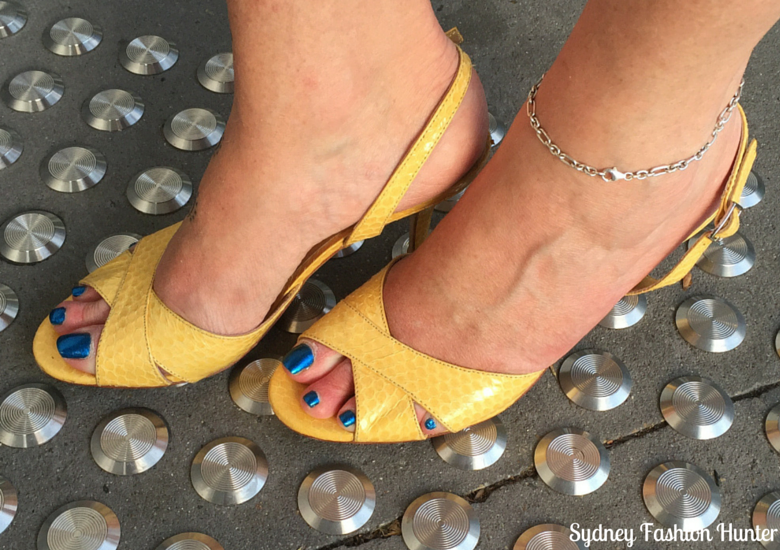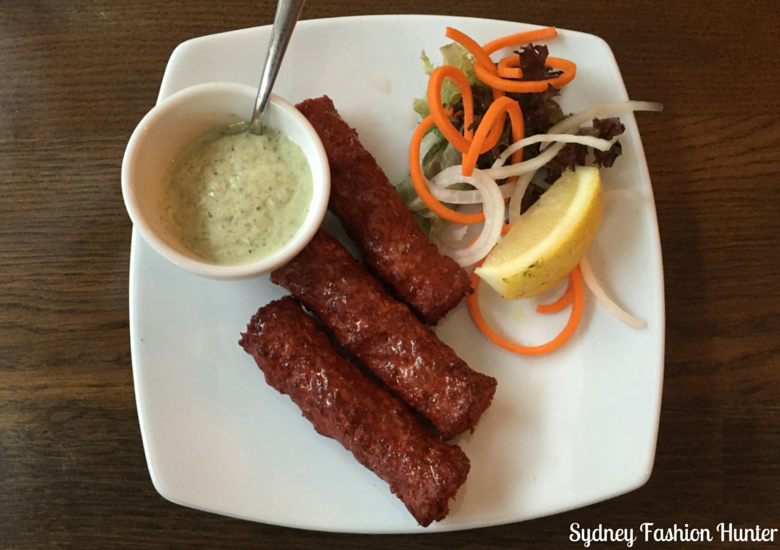 Dress: Saskia Pintuck Swing Electric Blue Dress. Clutch: Spurr Party Clutch. Also worn in The Wednesday Pants #16. Shoes: Designed by me, custom made by Upper Street. Also worn in The Wednesday Pants #18. Ring: Lovisa.

Do you have a favourite fat dress? I'd love to hear about it in the comments below.
Until Next Time …
Happy Hunting!
SFH
xoxoxo
Disclaimer: This post contains affiliate links for which a small commission may be paid.