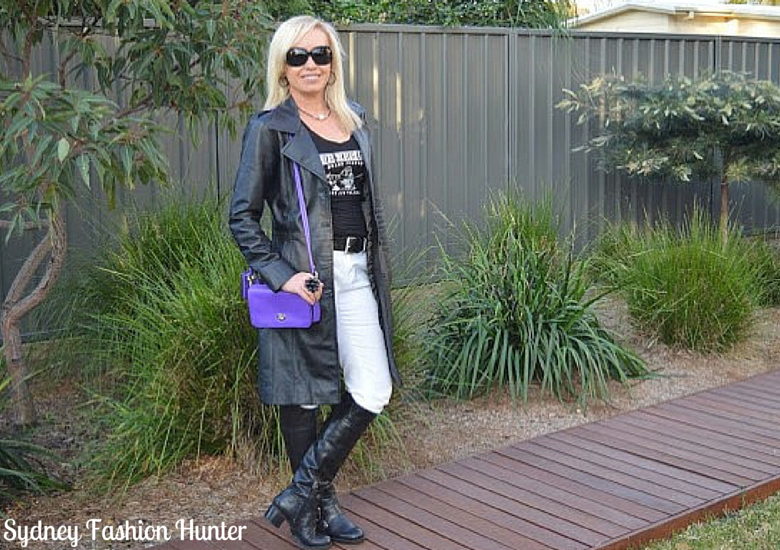 It's week fifty of my series The Wednesday Pants (TWP) where I feature a different white pants outfit every week for a year. What a hectic day! If I have done this right and finally worked out how to schedule a post this is going live as I am on a plane flying home from Melbourne. Dontcha just love technology? I was down south for work today but as soon as this flight lands I'm jumping in a cab and heading straight to the local pub to see The Enabler's hubby's band 'The Band Down Under' compete in the second round of Liverpool Idol. And yes I will be dragging my luggage along! So instead of showing you another outfit that I wore to work I thought I might take The Wednesday Pants a little rock chick and show you what I'm wearing to the pub. I know, I know, white pants, a pub and a rock band is an unlikely combination and if I'm honest I would be much more comfortable in my jeans but it is Wednesday and I have to stay true to this challenge to wear TWP no matter what my Wednesday's throw at me. I've made it this far and I'm not about to give up with only two weeks to go! So I summoned my inner rock chick, popped on some dark sunnies, stacked on some tough accessories, got my tatts out and cracked a 'peace and pout' which kind of looks a bit incongruous in the sunshine in these pics but I had to take them ahead of time given my hectic schedule! Although I think I might have gone just a tad overboard on the rings lol. Read on for all the details … 
Let's Get Social!
This week I wore …
True Religion T Shirt

Nine West Boots
Leather Coat – Old. Custom made for me by Joey 47 in Bali.

Express Belt

Coach Bag
Lovisa Flower Ring –
Silverberry Peace Ring
Envy Black & Silver Love Ring
Hathi Jewellers Pearl Choker

Prada Sunglasses
Gucci Watch

Lovisa Earrings
Disclaimer:
This post contains affiliate links, which may result in a commission. Items marked C/O have been provided free of charge. All opinions are my own.