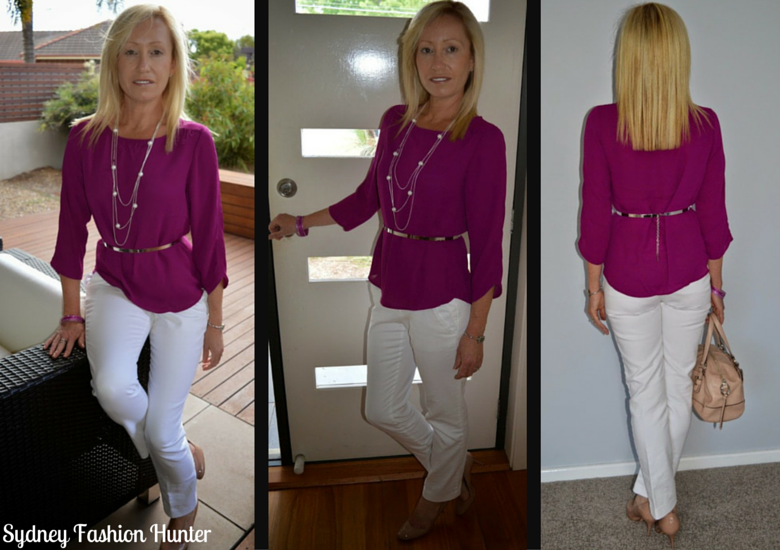 I'm in Melbourne again this week and the forecast says it will reach 29c today so I'm dressing light accordingly. It's an early post today given I'll be traveling home tonight and I haven't ventured outside yet but I'm hoping mother nature delivers on expectations otherwise I could be freezing all day long lol. Obviously these photo's were taken at home before I left but I promise I'm wearing exactly this! I used the new camera for the first time ever for these photos and so far I'm loving it! Mr SFH has been practicing a lot more since these photo's were taken and wanted me to delete them all so he could take better ones lol. Time didn't allow so I'm going with these anyway. I'm still learning how to crop them properly so pics below are a bit all over the place today but bear with me and I'm sure I'll get there! I don't normally wear a lot of pink (especially bright pink) but I'm going there this week and balancing it with neutrals. Read on for all the details …
Let's Get Social!

This week I wore …
The Limited Boatneck Blouse
Rodeo Show Hoot Belt
Kurt Geiger Nude Pumps
Coach Bag – Purchased in Hawaii with Mr SFH maybe 4ish years ago.
Gucci Watch & Diamond Studs – Featured before.
Mimco Ring
Equip Necklace

Lovisa Bangles

Scent of the Day – Issey Miyake L'Eau D'Issey.
See more from the Sydney Fashion Hunter archives or check out my complete list of Fashion Blogger Link Ups for more style inspiration.
Until Next Time …

Happy Hunting

SFH
xoxoxo