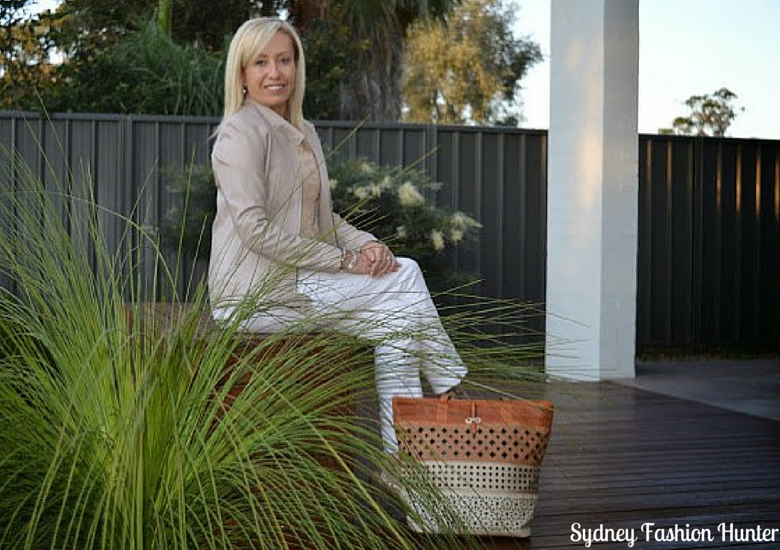 It's week Thirty Seven of my series The Wednesday Pants (TWP) where I feature a different white pants outfit every week for a year. It's an early post today because I will be on a plane back home tonight, which meant photos and planning was done on Sunday at home. The biggest issue with picking an outfit so far in advance is that it's so hard to predict what the weather is going to do. Today I am volunteering in our local community with my work colleagues. My company very generously allows each and every one of our 42,000+ employees around the globe two paid volunteer days every year to lend a helping hand in our local communities.  That's 672,000+ hours if every one does their bit. So because I'm not in the office today I'm dressing a little more casually. I've always loved mixing textures and today I'm pairing ultra feminine soft lace with leather. I just hope I am going to be warm enough because my colleagues told me yesterday that it will be freezing in the venue for today's activity. Hmmmm … would have been good to know this on Sunday when I planned my outfit! Read on for all the details …
Let's Get Social!
This week I wore …
The Limited Lace Top
Leather Jacket
Sash & Belle Menzies Tote (C/O)
Kurt Geiger Pumps
Tiffany Teardrop Earrings

Pearl Ring
Silver Bangles
xoxoxo
Disclaimer:
This post contains affiliate links, which may result in a commission. Items marked C/O have been provided free of charge. All opinions are my own.