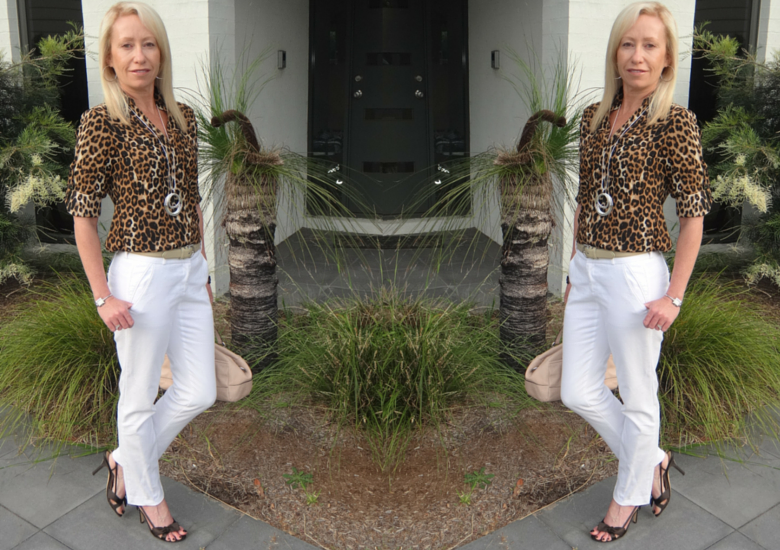 Disaster has struck TWP this week and I seem to be missing a button from the pocket. Given that I only noticed this dilemma this morning there was not a lot I could do about it but I'll have to make sure I fix them by next week. That will be the second fix it job I've had to do already! I'm not confident that they are going to last 52 given we are only in week 9! Anyway I'm dragging a couple of items from the back of the wardrobe this week. I haven't worn these shoes or the bag for ages. It's almost like having something new 🙂 I had never worn leopard before I got this shirt a week ago but I am now a complete convert. I'm loving my Portofino Shirt, however Mr SFH is not convinced. Leave me a comment and let me know what you think. Read on for all the details …

Let's Get Social!

This week I wore …
Portofino Shirt – Mr SFH thinks the only thing that looks good in leopard is a leopard. What does he know I say. I'm loving this shirt 🙂
Nude Belt

 – Such a bargain!

Kate Spade Chocolate Satin Slingbacks –

Very old (maybe 10 years) but they have only been very gently worn. How cute is the bow?

Nude Coach Bag – Purchased in Hawaii with Mr SFH maybe 4ish years ago.
Gucci Watch, Lovisa Bracelet, Diva Ring – All old and featured before.
Colette Necklace
Scent of the Day – Prada Candy L'Eau.
Until Next Time …

Happy Hunting

SFH
xoxoxo