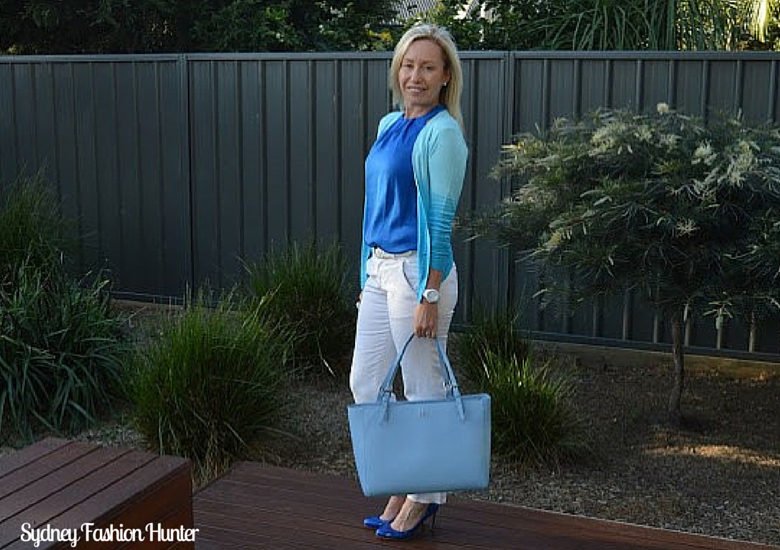 It's week forty seven of my series The Wednesday Pants (TWP) where I feature a different white pants outfit every week for a year. It's August which means only one more month of winter to go! WooHoo! I'm seriously ready to welcome summer back! If you are a regular reader you will know I'm a sucker for baby blue and am particularly partial to a cardi. This week I'm combining my two loves with this fabulous cardigan from Rosegal. If you are not familiar with them you should be! They have an awesome range of clothing, shoes, jewellery, accessories and even vintage inspired at prices you won't believe. This cardigan was only $11!!! I also took my new Tory Burch tote out for it's first outing today. I'm officially in love! Not only is the colour gorgeous but it held EVERYTHING I needed to carry for work with no qualms. Including laptop and shoes! The only sour point this week was the wind blowing a gale while trying to take photos. It's amazing there are any shots where my hair was not whipped into a frenzy! There was some great bloopers this week but none that I am going to share lol. Read on for all the details …
Let's Get Social!
This week I wore …
Rosegal Ombre Cardigan C/O

Target Halter Top

White Leather Belt

London Fog Trench
Ivanka Trump Pumps
Tory Burch Tote
Guess Watch
Lovisa Ring
Envy Jewellery Earrings
Disclaimer:
This post contains affiliate links, which may result in a commission. Items marked C/O have been provided free of charge. All opinions are my own.