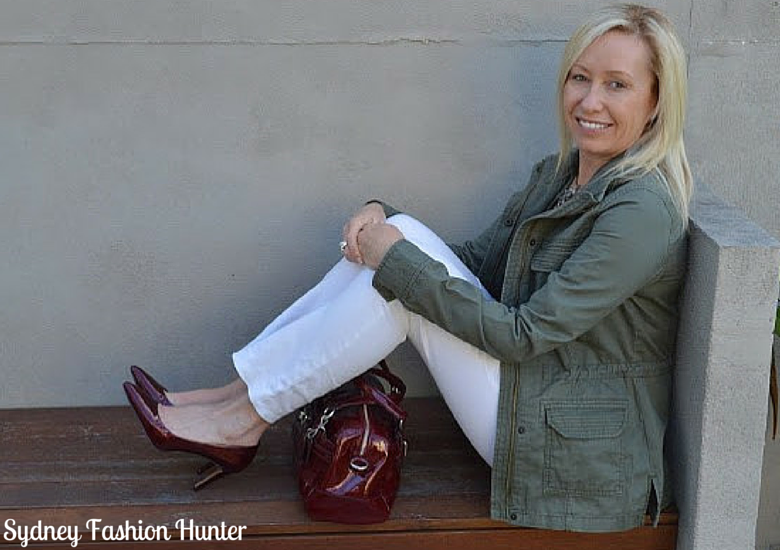 It's week forty nine of my series The Wednesday Pants (TWP) where I feature a different white pants outfit every week for a year. I've been feeling a bit under the weather over the last two days and I'm well and truly over sniffling, snuffling and sinus pain. Here's hoping for a speedy recovery! I'm going a bit military today in olive green. Like the orange last week, it's not a colour I wear often but to keep bringing you fresh looks with the same white pants I'm being forced to step outside my comfort zone. I picked up this jacket on my recent trip to Hawaii and it is normally more casual than I would wear to work but I went there anyway and given I didn't have it on sitting at my desk all day I think I just about got away with it. It helped not to have any external meetings! The down side was that the jacket didn't offer much warmth as Sydney's temps dipped again today. I tried this with a bunch of shoe/bag combinations before I settled on the burgundy. I think it works but would love to know your thoughts. Read on for all the details … 
Let's Get Social!
This week I wore …
Hollister Twill Shirt Jacket

Express Portofino Shirt

White Leather Belt

Coach Bag

Nine West Pumps

Abalone Shell Pendant
Envy Choker

Gucci Watch.

White Cluster Ring

Envy Bracelet
Disclaimer:
This post contains affiliate links, which may result in a commission. Items marked C/O have been provided free of charge. All opinions are my own.