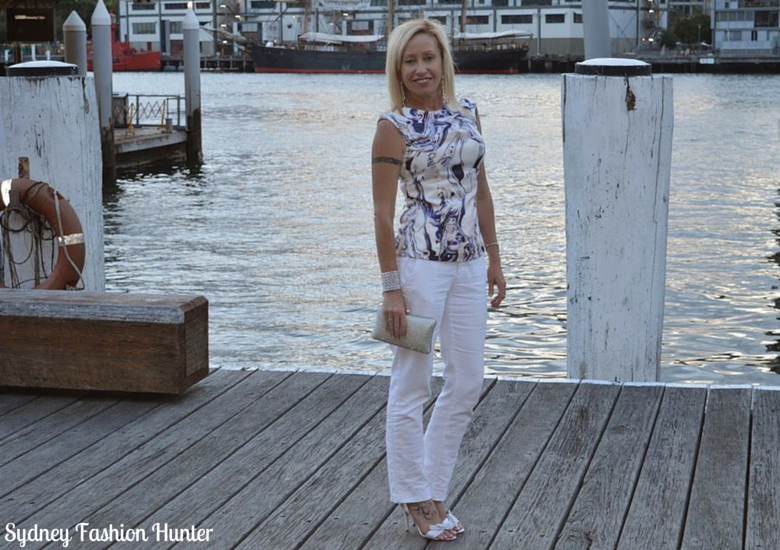 It's week twenty two of my series The Wednesday Pants (TWP). For something different this week I'm styling two versions of the same outfit. Obvs I had to go to work today (is it really only Wednesday???) so I needed to keep my daytime look office appropes but tonight I had a special dinner with Mr SFH. This is essentially our Valentines Day dinner because he has to work afternoon shift on the actual day of love and given I live a fair way from work going home to change in between was not an option so I had to come up with a solution for both occasions that didn't take a lot of effort to transition. Read on for all the details …
Let's Get Social!
This week I wore …

Both
Veronika Maine Painted Swirl Fold Shoulder Shell Top

Gucci Watch

Tiffany T Ring
Office Only
Dinner Only
Nine West Sweeti Sandals – I had these modified to be a sling back. I also have the pink. They have the cutest sparkly soles 🙂
Sparkly Clutch – I don't even know what brand this is but I bought it from Wanted Shoes about 4 years ago for my Vegas vow renewal.
Colette Cuff – No longer available.
Equip Accessories Tassle & Bead Earrings – I really like these are they are so light for such big earrings.
Transitioning between the two was as simple as touching up the makeup, extra spritz of perfume, swapping out the shoes and bag, changing the bracelets & earrings, whipping off the belt and cardi and untucking the top. Simples!
So where did we go for our romantic date? I love Greek food so we visited one of our favourite's in Darling Harbour, George's Mediterranean Bar and Grill. I bought a voucher a while back from from Living Social which entitled us to two courses and a drink each for only $50! Did I tell you how much I love a bargain? Here's some pics of the food to make you drool 🙂 And the location is not bad either eh? 😉
Until Next Time …

Happy Hunting

SFH
xoxoxo
Disclaimer:
This post contains affiliate links, which may result in a commission.