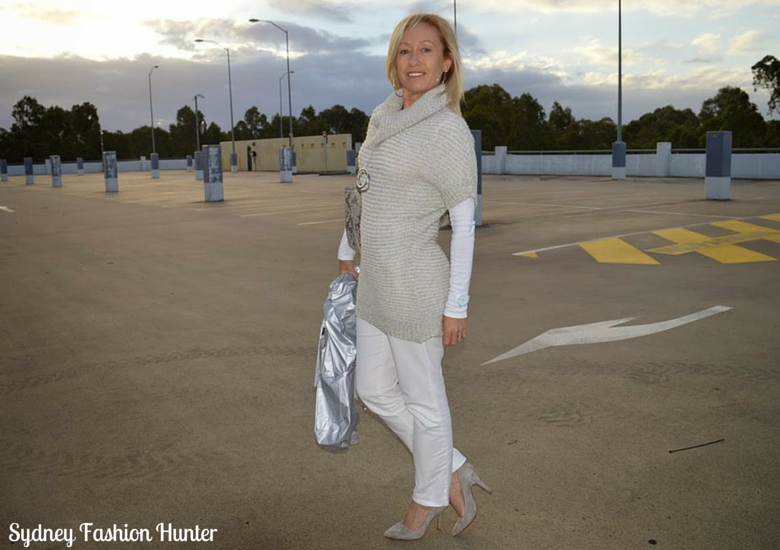 It's week thirty two of my series The Wednesday Pants (TWP) where I feature a different white pants outfit every week for a year. TWP is going up early this week because I'm in Melbourne (again!) and will be on a plane home tonight so this has to happen before I head off to work for the day. Well I'm hoping to be on a plane home tonight. It is seriously looking touch and go at the moment given what they are dubbing "the worst storm this century" currently has all fights to and from Sydney airport grounded and people who don't have to travel by air are being urged not to. I have already received a text message this morning from the airline changing my flight to later this evening. Winds speeds are over 100kph and the rain is relentless. The impact is immense with homes and property destroyed, severe flooding, power outages, our iconic harbour closed and lives lost before their time. I take my hat off to our wonderful emergency services personnel who are doing everything they can to help all those affected. My thoughts are with my family and everyone else back home, Stay safe! It's hard to believe that only 800ish klms away the weather can be so different with Melbourne expecting 11c – 20c and not a drop of rain. Of course being down here meant I had to be super organised (again!) and take the photos on Sunday at home. Given the theme of today is Whiter Shade of Pale (and yes of course the Procol Harlum song is background music as I type this! – Do you think it really is about a drug overdose?) I really wanted to find a very neutral background so we were back at the station taking photos again. You would think I would have had enough of being there for the weekday commute without visiting on a Sunday wouldn't you? I can guarantee you the car park is never that empty on a weekday morning and finding a legal spot is akin to looking for a needle in a haystack after 7.30 am. The weather is cooling down considerably and I cracked out a chunky sweater for the day and because this is Melbourne, the city responsible for the phrase four seasons in one day, I'm carrying a rain coat just in case the forecast is wrong. Let's hope I don't need it! Read on for all the details … 
Let's Get Social!
This week I wore …
Uniqlo Long Sleeved Tee
The Limited Sweater
Rains Curve Jacket
Madewell Grey Suede Pumps – Also worn in TWP#5, TWP#12, TWP#23 and TWP#26. These are clearly a favourite!
Michael Kors Snakeskin Tote – Old. Also worn in TWP#8.

Guess Watch – Old.

Colette by Colette Hayman Necklace
Lovisa Hoop Earrings

Wallace Pearls Ring
Disclaimer:
This post contains affiliate links, which may result in a commission.