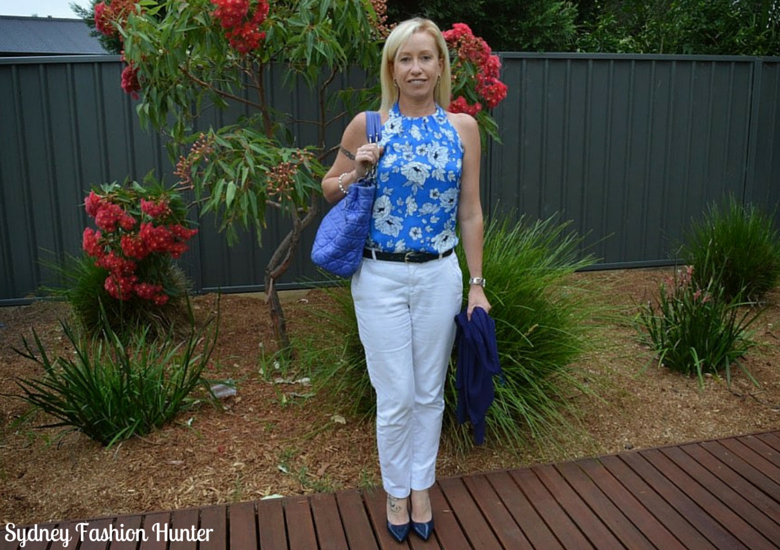 It's week twenty of my series The Wednesday Pants (TWP). I'm posting very early this morning because I'm off to Melbourne again for work today. Who doesn't love a 4.30am start right? Not! Given the early start these photos were taken on Monday in the backyard – look how beautifully my gum trees are flowering 🙂 I just love my Australian natives! I'm nursing a pulled hamstring due to an ill advised cartwheel on Saturday night, can't you tell by the awkward stance! I'm very slow and not at all graceful in my heels but never fear I have my thongs in my bag as a back up! I'm seriously crushing on the cut of this top and can you believe it was only $35 from Target???  … Read on for all the details … 
Let's Get Social!
This week I wore …
Target Halter Top – Not available online.
Nine West Navy Patent Pumps
SES Cardigan – This one is needed to cover the arm tattoo in the office but truth be told I really don't want to cover the cut of this top! Not available online. 
Navy Leather Belt
Dior Tote – My first ever Dior was purchased in Hawaii with Mr SFH (while he has having heart palps about the cost!) about 3 years ago. Perfect for travel as it fits my laptop and everything else I need to carry. I used it pretty much every day for work for the first year I owned it but has been shelved for a little while because it really needs a good zushing to bring it back to life. I have found this wonderful place in Melbourne that will bring it back to life but it is costly at $450 so I need to save my pennies first. Check them out My Bag Spa if one of your precious babies needs an overhaul.
Tiffany T Ring

Tiffany Bead Bracelet – Purchased in Hawaii in June last year.
Tiffany Elsa Peretti Teardrop Earrings – Purchased in LA in 2012.
Gucci Watch – Purchased in Hawaii about 3 years ago (I think!).

Until Next Time …

Happy Hunting

SFH
xoxox
Disclaimer:
This post contains affiliate links, which may result in a commission.