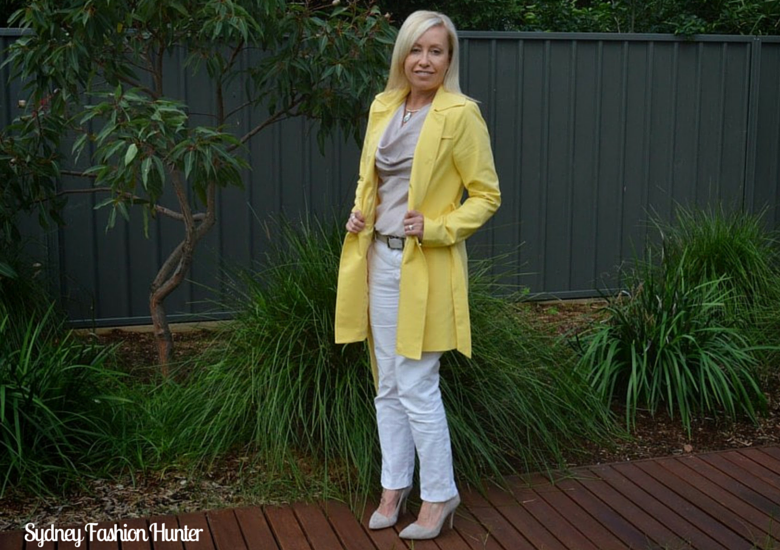 It's week Thirty Four of my series The Wednesday Pants (TWP) where I feature a different white pants outfit every week for a year. So did you hear a very special little girl was born in the UK this week? You had? Oh right I thought maybe you hadn't given it so was low key and all. I'm loving the name and if this new Charlotte is anything like the littlest Enabler they are in for a wild ride. I always wanted a little girl. Not that I don't love my boys to bits but a little girl would have been the icing on the cake. When I was pregnant with my guys and girls names were running through my head I always fancied Mackenzie. Mr SFH was vehemently against this. He thought Mackenzie Smith was more suited to a law firm than a little girl. He favoured Beryl. Yep you heard right Beryl! This was under some misguided belief that if she had an unfortunate name (sorry to any Beryl's out there!) there would be less likelihood that teenage boys would be lined up around the block to date her. Not sure that I agree with that logic but that's one fight we never ended up having. The odds were never in my favour with his genes. There is nary a girl on the family tree but we are hoping that my FSIL will produce a niece to add to our brood of four nephews and break the drought. It's an early post today as I will be on a plane home tonight. I feel like my life has been a whirlwind of planes and hotel rooms for the last couple of months but after this trip I may be able to ease back a little. I'm finally featuring a couple of new items this week … Yay! I love how the sunny yellow of this coat works with the grey. I've had it for a little while but it hasn't really been cold enough to wear it until now. I'm slightly worried I'm not going to be warm enough in this thin top in the office though when I whip the coat off so I have snuck a cardi in my luggage just in case. BTW I'm just a tad annoyed that Mr SFH didn't give me the heads up that I had a massive kink in the back of my hair that needed a serious GHDing. When I looked through the photos and called him on it his response was that he thought it was meant to be like that. Seriously? Men! Read on for all the details … 
Let's Get Social!
This week I wore …
The Limited Cowl Neck Top
The Limited Spring Coat
Madewell Grey Suede Pumps

Saba Belt

Michael Kors Tote
Gucci Watch
Tiffany T Ring
Double Pearl Earrings
Mabe Pearl Pendant

Disclaimer:
This post contains affiliate links, which may result in a commission.