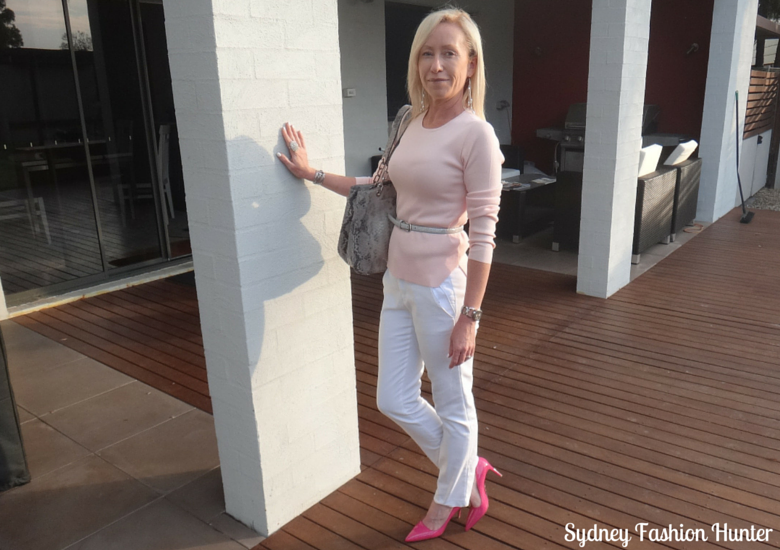 I can't believe I have actually been able to come up with eight looks! Who would have thought it? I'm in Melbourne again and I've been down here on conference since Monday. It's freezing and overcast again but I'm flying home tonight to some nicer weather (hopefully!). I'll be so glad to get back to my own bed after a very busy three days. My latest pair of MTO Prada's feature this week (happy dance!). Read on for all the details …

Let's Get Social!

This week I wore …
H&M Grey Coat Coat – Sans belt … The black just wouldn't have worked.
Cue Knit

 – Pastel Pink to balance the shoes. TBH I'm not sure about this one. I think it adds bulk …

Forever New Silver Glitter Belt –

The glitter is a bit messy to be honest so not sure how much wear this one will get.

Prada MTO Hot Pink Patent Pumps –

Exactly the same as the teal satin ones from last week. What can I say … If it's not broken don't fix it. Love Love Love.

Michael Kors Grey Snakeskin Tote – Purchased in Hawaii with The Co-Conspirator in June this year at Waikele Premium Outlets. I ummm'd and ahh'd over this one for ages, left it in the shop and then finally went back on bought it. Mr SFH does not approve. I'm still on the fence but I think it works with these colours and the pattern adds interest. Big enough for all the office essentials including a laptop 🙂
Gucci Watch, Georg Jensen Heart Ring & Tiffany Bead Bracelet – My everyday wears. For simplicity this week. I'm away from home and therefore I haven't got alot of accessories with me. This just makes it easy. Get used to seeing a lot these three 🙂
Equip Earrings – Bit much for the office? I wanted to add at least one thing different!
Scent of the Day – Chanel Coco Mademoiselle. Again for ease I have this one in a convenient travel size 🙂
See more from the Sydney Fashion Hunter archives or check out my complete list of Fashion Blogger Link Ups for more style inspiration.
Until Next Time …

Happy Hunting

SFH
xoxox