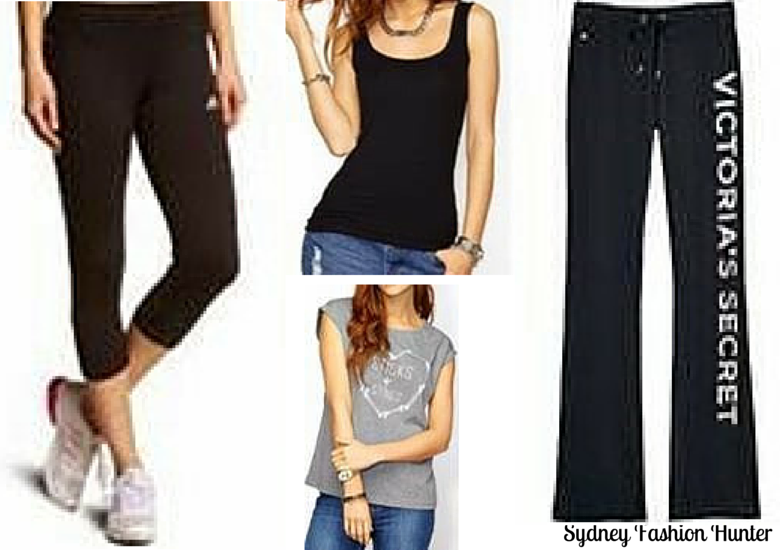 As I mentioned in my earlier post "So I'm Starting a Blog", I really am purchasing a complete new wardrobe from scratch. That means even the basics like Tee's, tank tops, tights and tracksuit pants needed to be replaced. In fact these were some of the first things I found myself hunting for. This is what I have learnt and purchased along the way …
T-Shirts
I've only managed to pick up 4 so far … so very sad I know but like I keep saying I'm fussy! I picked up three during a recent trip to Hawaii. Love this sparkly True Religion T from the Waikele Outlets, a basic block colour teal from Banana Republic and a super casual weekend T from Abercrombie & Fitch (both at the Ala Moana Centre). The final one was a $5 bargain from Supre (Westfield Liverpool).
Tank Tops
I pretty much live in these on weekends in the summer and on holidays. In fact I generally sport a perma tan of thick strap marks year round. The work horse of my wardrobe which needs to pull not just double but quadruple duty! A necessity when you don't have much! I wear them under work blouses in the cooler months, work out in them, sleep in them and they are great for casual weekend wear. Most people who are not quite as pedantic as me would just visit to the closest mall, head into the first chain shop that they saw and grab 10 of the first tank top on the rack, but that's not how I roll. I was hunting for the perfect tank. It needed to have two way stretch for a great fit which doesn't sag or stretch, no ribbing – don't ask me why I just hate it, soft cotton, wider straps to cover a variety of bra configurations so anything with spaghetti straps were definitely out, square wide set arm holes so they cover the wobbly bits under the pits that no-one needs to see, no V necks please as only round/square necklines which are cut low enough in front so you can wear under work tops with no show would be considered and finally a range of colours would be a big bonus. Long list I know. Many were rejected on the hunt but I finally found the one in the most unlikely of places … Supre. I had not set foot in a Supre store for a about a million years given it is clearly the domain of the under 25's. I'm still not sure what made me wander in there … Desperation? Whatever it was I'm glad I did because I got everything on my wish list for only $12 a pop. The only downfall is that the colour range is somewhat limited (Grey, White, Black, Pale Blue and Vibrant Pink). I bought all the colours and multiple blacks. Let's face it you can never have too many basic black tank tops. Sizes XXXS – XXL
Trackies
I walk a lot and tracksuit pants are my workout clothing of choice. While losing weight I was walking 5 klm's a day 7 days a week. Now I'm on maintenance I'm a little kinder to myself and try and do it at least 4 days a week. I need my trackies to fit well through the legs so they is no extra fabric flapping around while I'm power walking, have a drawstring waist and be soft and warm. A pocket for my house key would be an added bonus. I already had a good idea wear to start hunting for these … Victoria's Secret. I've exclusively worn tracksuit pants from VS for the last 4 years after I stocked up on a trip to NY with a girlfriend. We shall call her "The Co-Conspirator". We had a blast on that trip and she could often be heard yelling at me "Just Buy It!" But I digress … Anyway so as far as hunts go this one was pretty simple. Head on-line and order 4 pairs from the vast array of options they have just in a smaller size than the ones I currently own. I even saved on shipping because I had them shipped for free to my hotel in Hawaii. Bonus! These are the ones I chose …
Tights
Every one need tights right? The perfect exercise staple. Here are my picks all purchased from Hawaii. Victoria's Secret Supemodel Pants and Yoga Shorts purchased on sale at Ala Moana and Adidas 3/4 tights from the Waikele Premium Outlets.
So now I pretty much got the basics sorted I'm moving up on to more exciting purchases.
Until next time …
Happy Hunting
SFH
xoxoxo