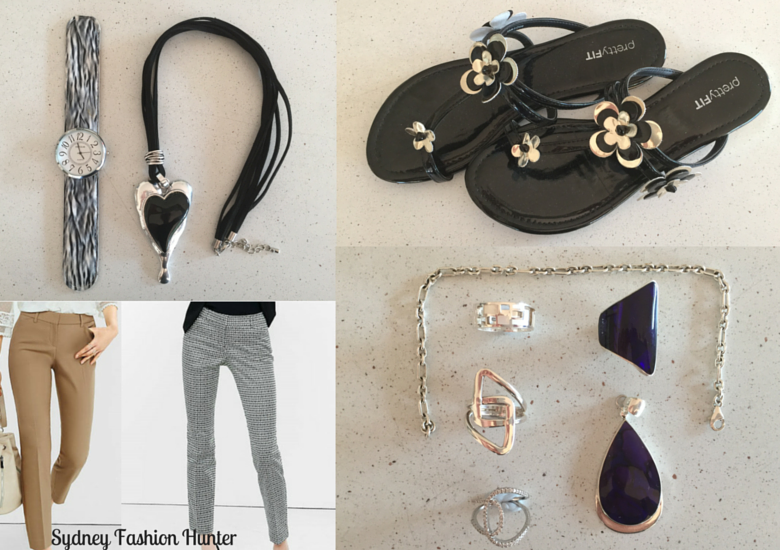 Another month is over can you believe it? The Monthly Wrap is a little late this time around but better late than never I say! This month I am sharing all my Bali bargains as well as a few other treats. Finding Bali bargains is not difficult if you are looking for souvenirs, cheap watches, the ever popular Bintang singlet or nasty sunglasess but I had different ideas on what I would be bringing home. Think a custom made blue leather biker jacket, modern Balinese silver jewellery and fun floaty summer clothes. The end of February sadly marks the end of summer in Sydney and as we move into Autumn I am already dreading the mercury dropping. It hasn't happened yet, but it will happen and it does give me a great excuse to start thinking about what updates my wardrobe will need for the cooler months! Read on for all the details …
Let's Get Social!
Hunting Grounds
*** Legian, Bali *** Kuta, Bali *** Seminyak, Bali *** Milton, NSW *** Online ***
Bali Bargains
Custom Made Blue Leather Biker Jacket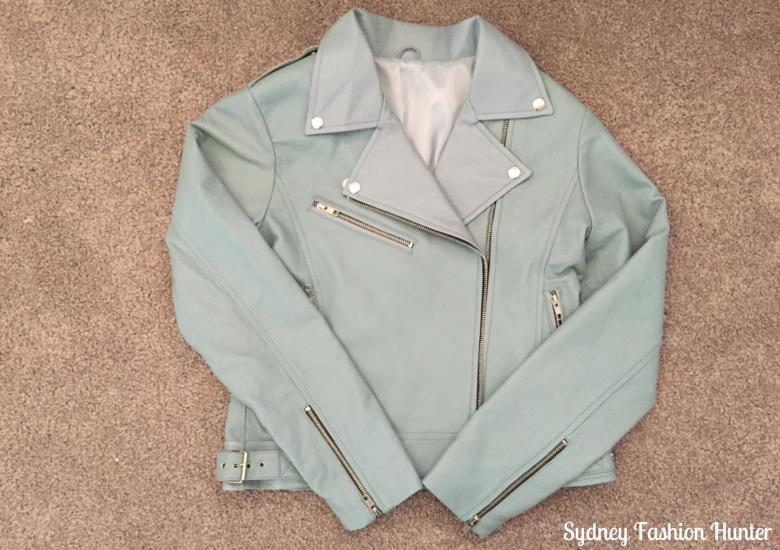 Each time I go to Bali I get a leather jacket made by my man Joey. I have been coveting a baby blue leather biker jacket for some time and on my last trip Nyepi messed up my plans. This is my third jacket from Joey (you can see the two other worn here and here) and I'll be wearing it as soon as the weather gets cool enough. I am over the moon with my other two but this one is a little on the big side. I probably should have said something at the time and had him rectify it but it was so damn hot and my brain was a little fried so I didn't think about it until later when it all seemed too hard. At least I have plenty of room to fit a thick jumper underneath! The jacket was approx AUD$170, made in two days to my exacting requirements and would have been considerably cheaper if I had chosen black leather, but the baby blue commanded a premium. Heck you can't even buy off the rack for that in Sydney! Option, option, option. Joey 47 Kuta, Bali
Balinese Silver Jewellery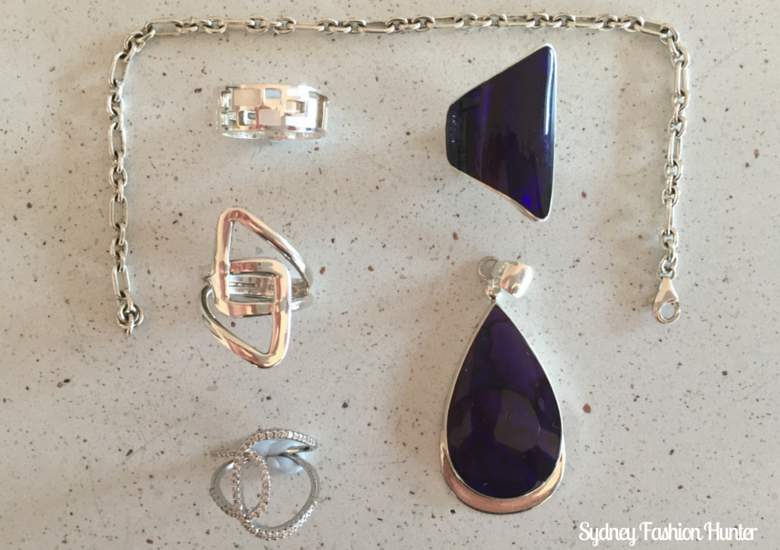 You know I love silver jewellery right? Well Bali is a silver lovers paradise as the streets are littered with tempting boutiques that I could spend weeks exploring. I already have a few pieces of Balinese silver jewellery from my last trip (see them here) and I  never tire of trawling through the stores that line Jl Legian. The Hubs is not quite so keen so I have to be quite selective about which ones I drag him inside, although when it's sizzling outside sometimes he can be tempted with the relief that air-con brings! Balinese silvery jewellery has gotten a lot more sophisticated of late, with many stores now moving away from the traditional and stocking more modern designs which is a big win for me! The rings and pendant were AUD$30 – $50 each and the anklet was $20. Buy Kapul-Laut rings here, here and here. Others Option, option, option.  Filthy Gorgeous – Seminyak, Bali, Aron Silver – Kuta, Bali & Kapul-Laut – Legian, Bali.
Cute Sandals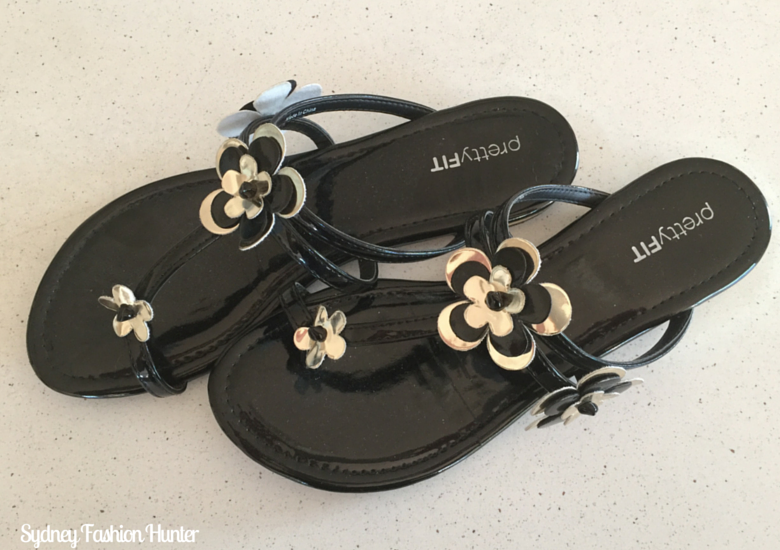 An impulse purchase on the walk to dinner. I tell you, I have the most patient husband on the planet. I had these cuties in my hand from the moment I walked into the shop as they caught my eye from the window, but I proceeded to wander around this little store for ages checking out every single item. The checkout process took an age given I opted to pay with Amex and all the while his tummy was grumbling with hunger and he never uttered a word of complaint. I knew there was a reason I married him! Worn here. $15. Option, option, option. Pretty Fit – Seminyak, Bali.
Summer Clothes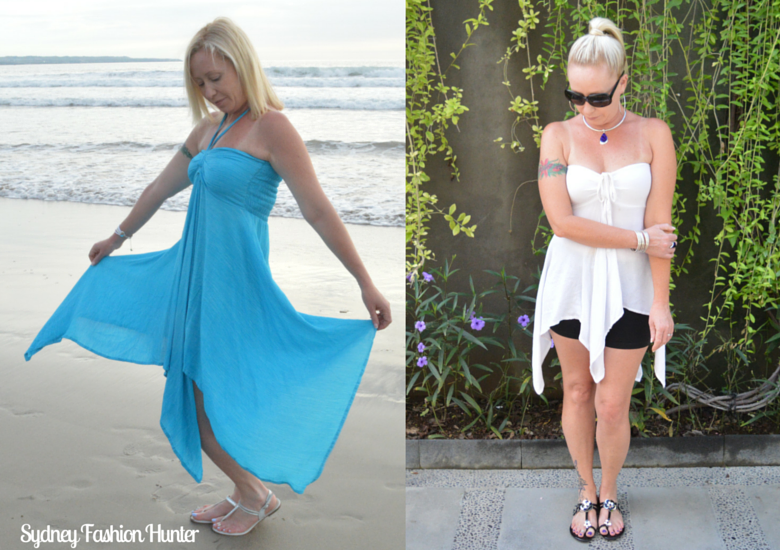 I saw this dress in the window a year ago but the shop was always closed when I walked by. This time around I was able to get inside and take a better look at their clothes. I love the interesting hemlines, fresh colours and summery feel. I'm not sure if I can classify it as one of my Bali bargains given I only got one wear out of the dress which makes it pretty pricey on the cost per use factor. After that first wear the dress started to come apart at the seam and the owner refused to replace it as it had been worn. She was extremely unhelpful and downright rude when I attempted to return the faulty item and told me to sew it myself or buy a new one given her tailor couldn't fix it before I left. I love the styles but the quality is questionable and the service is appalling if something goes wrong. Buy at your own risk! $18 & $16 Option,  option. Libra Collections – Kuta, Bali
Funky Jewellery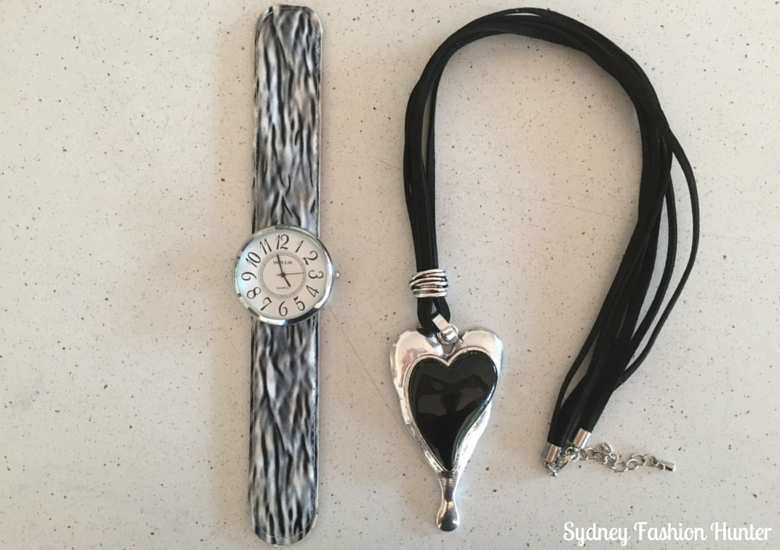 I picked these up in the tiny town of Milton NSW, about 2 ½ hours drive south of Sydney. I have to admit I wasn't expecting much from this 'blink and you will miss it' main street, but with a free hour on our hands we decided to meander through the sprinkling of boutiques. Both pieces are chunky and bold just the way I like them! Watch $39. Pendant $25. Option, option, option, option. Devine Collections – Milton, NSW.
My Favourite Work Pants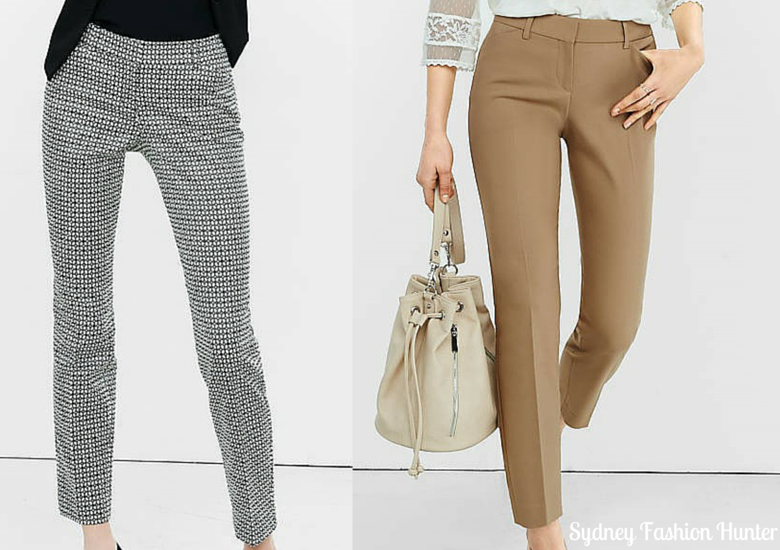 Express Editor Ankle Pants are without a doubt my absolute favourite work pants. They fit like a dream and when you are on to a winner I reckon you should stick to it so every time Express brings out a new colour I snap them up. This time around I was lucky enough to score one at half price! Buy here and here. Express – Online.
Know a great place to score Bali bargains? I'd love to hear about in the comments below for my next trip.
Until Next Time …
Happy Hunting!
SFH
xoxoxo
Disclaimer: This post contains affiliate links for which a small commission may be paid.