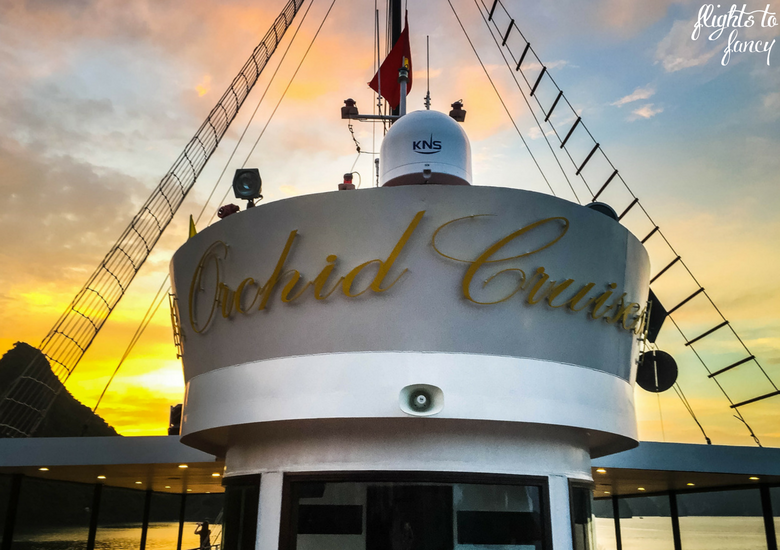 Halong Bay is one of the most visited areas in Vietnam and for good reason. The UNESCO World Heritage site in the Gulf In Tonkin is truly spectacular. The best way to see the stunning seascapes, limestone cliffs and 1600 odd islands and islets is on a Halong Bay overnight cruise. The cruise you choose can truly make or break the experience. There are literally hundreds of boats to chose from and it can be a mine field navigating the options. I searched through all the best Halong Bay cruises to find one perfect for our needs before deciding on Orchid Cruise Halong Bay. Our luxury Halong Bay cruise was an absolute highlight of our Vietnam trip and I cannot speak highly enough of about every single aspect of the experience. This is by no means a budget cruise, but if ever there was a time to splurge a little, this is it. Read on for all the details …
Let's Get Social!
Why Choose Orchid Cruise Halong Bay?
I did a lot of research on the best Halong Bay cruises before deciding an Orchid Cruise was the one for us. I knew I wanted our time in Halong Bay to be special and I only looked at luxury cruises which whittled down the choices considerably. Our time in Vietnam was tight and most Halong Bay cruises require a 4 hour transfer from Hanoi to the departure point but Orchid Cruise Halong bay departs from Hai Phong which is only about 1½ hours away. It was the only option that would allow us to make our flight after the cruise. Departing from Hai Phong also gives Orchid Cruises the edge on the competition who jostle for space in the increasing crowded Halong Bay. We knew we made made the right decision when we checked into our hotel The Hanoi Glance and the reception staff were suitably impressed to note we were being picked up by Orchid Cruise Halong Bay.
Booking The Best Halong Bay Cruises
All websites are not the same! With the advent of online booking agencies you can book the best Halong Bay cruises through many different sites including the mega players Expedia and Agoda. I looked at dozens and the prices varied dramatically. I trawled through them all before deciding to book our Halong Bay overnight cruise through Vietnam Travel Center. Not only did they have the cheapest price on Orchid Cruise Halong Bay at USD$324 (a saving of over USD$380 on the most expensive price I saw), but the service was exceptional. We also organised a private return transfer from Hanoi through Vietnam Travel Center for USD$110 and paid an extra USD$20 to be dropped off directly at Hanoi Airport to ensure we made our budget Vietjet flight to Danang. Group transfers are also available for less if you prefer. Immediately after booking my travel consultant Trang made contact by email and assisted me through the whole process. She even personally called me twice while we were in Vietnam to make sure everything was on track. I cannot recommend these guys highly enough and they will be my go-to place for any future Vietnam trips. If you don't want to spring for a luxury cruise it is possible to do Halong Bay on a budget.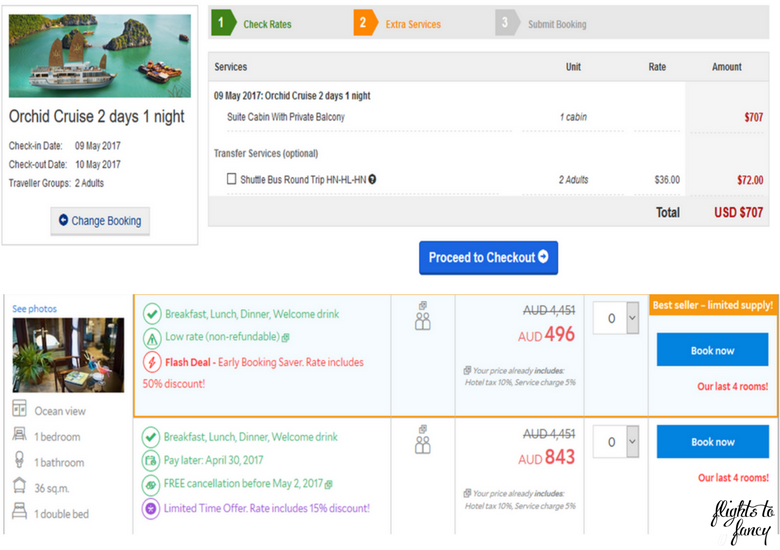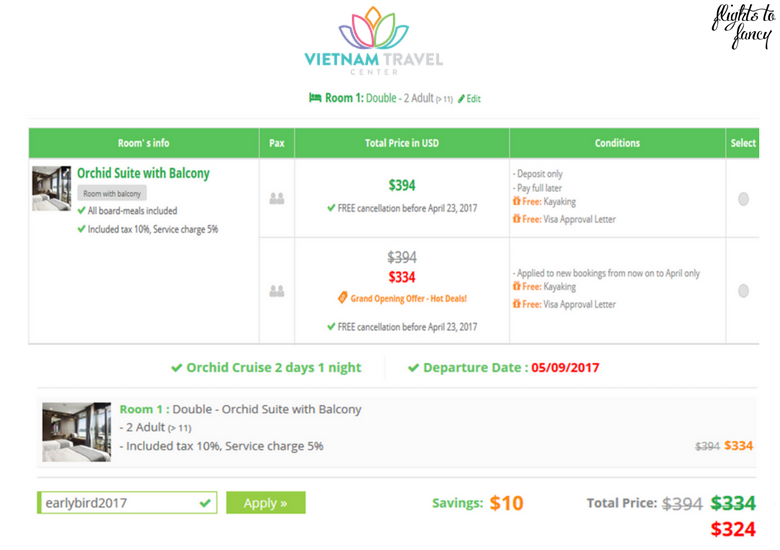 Getting To Our Halong Bay Cruise
Our driver picked us up right on time at 9.45am and we were on our way to our luxury Halong Bay cruise in minutes. The car was clean and spacious and our driver was efficient and courteous. Trang, our agent from Vietnam Travel Center, called enroute to make sure everything was proceeding to plan. We were dropped at the Orchid Cruise Halong Bay transit lounge which had a lovely covered courtyard to shade us from the heat while we sipped the complimentary ice tea. When all the guests were present a mini bus shuttled us to the dock where we boarded the tender that would ferry us to the big boat. It was a short journey and when we pulled around the corner it was a treat to see our home for the night in all her glory, complete with waving staff to great the new arrivals. Once on board we made our way upstairs (while being sprinkled with rose petals!) for a safety briefing and orientation before being assigned our cabins.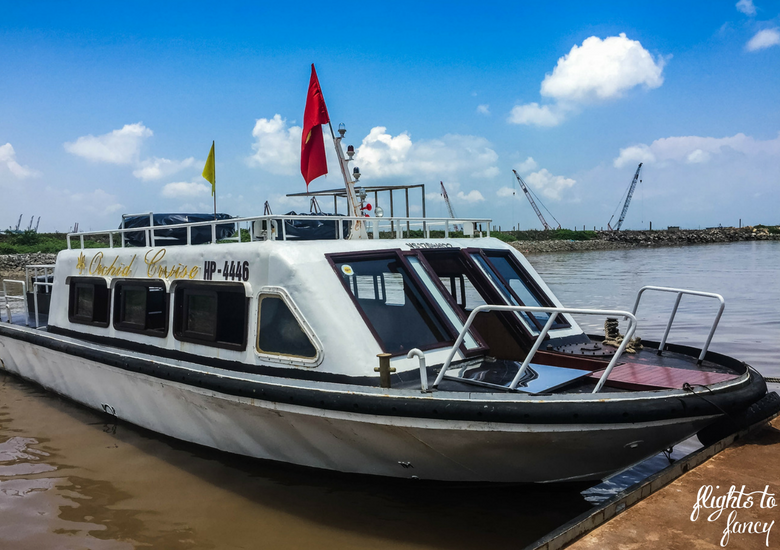 Halong Bay Overnight Cruise Cabins
Orchid Cruise Halong Bay offer a number of accommodation options; suites, family suites, premium suites and exclusive suites. We chose a bottom-of-the-range suite and were assigned cabin 102 on the lower deck. The premium suites are the same configuration but you pay an extra USD$40(ish) a night to be on level 2. On stepping inside I was blown away. I was expecting it to be good but this room exceeded all my expectations. I was like a little kid on Christmas morning running around checking everything out. The bathroom was beyond amazing and a soak in this tub with an ever changing vista going by is a must do! The balcony was compact but perfectly adequate and the views were nothing short of sensational.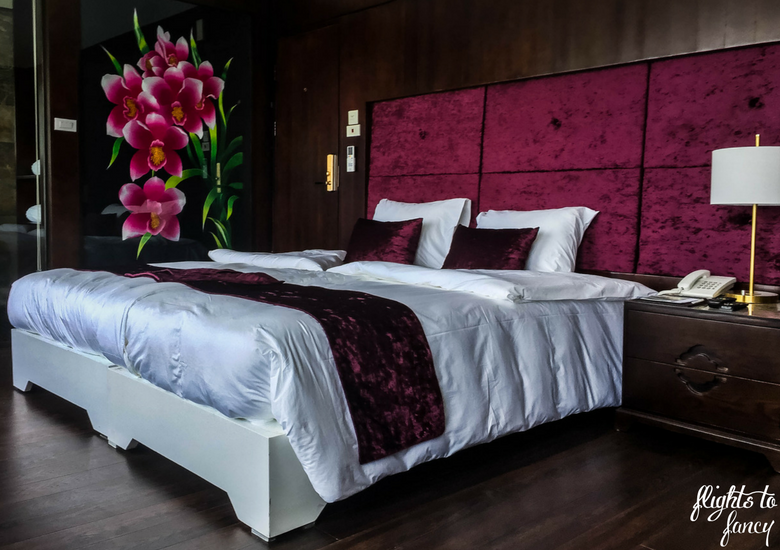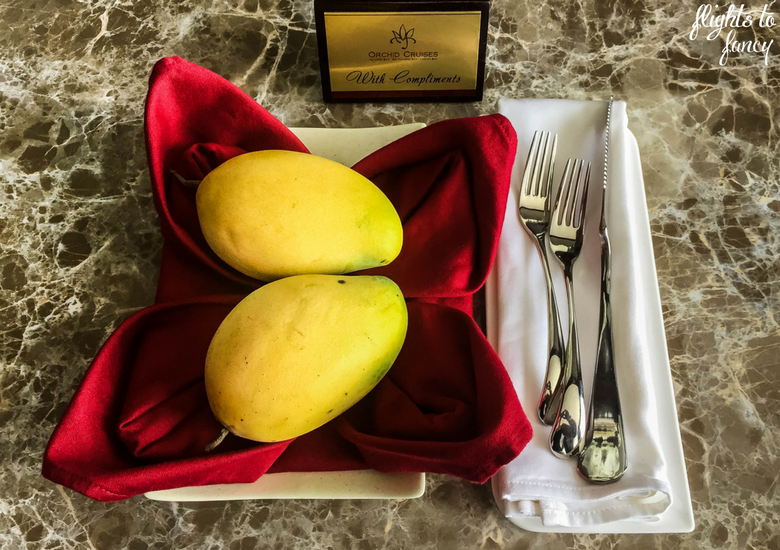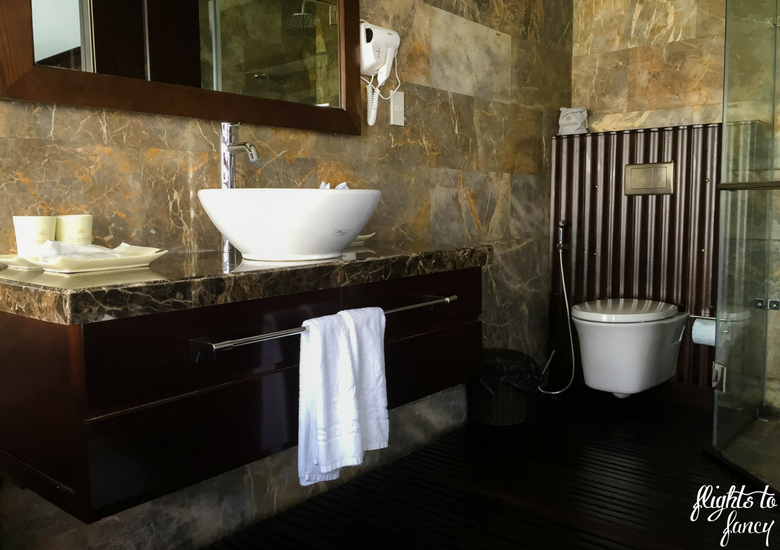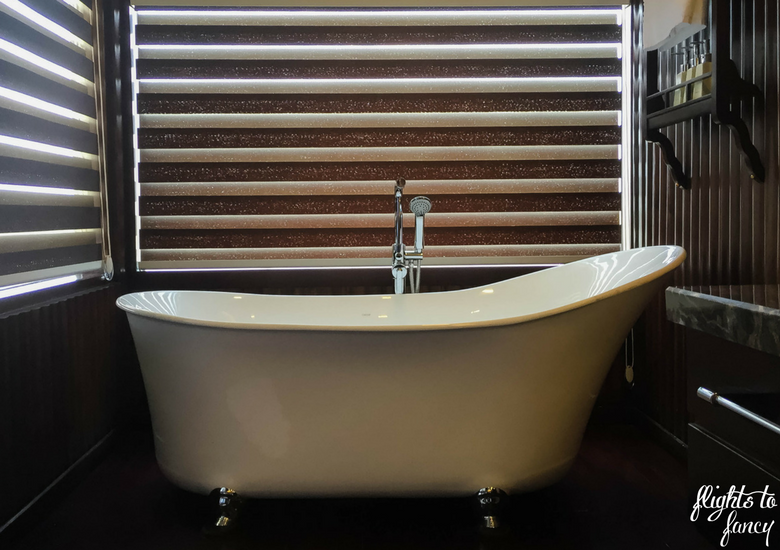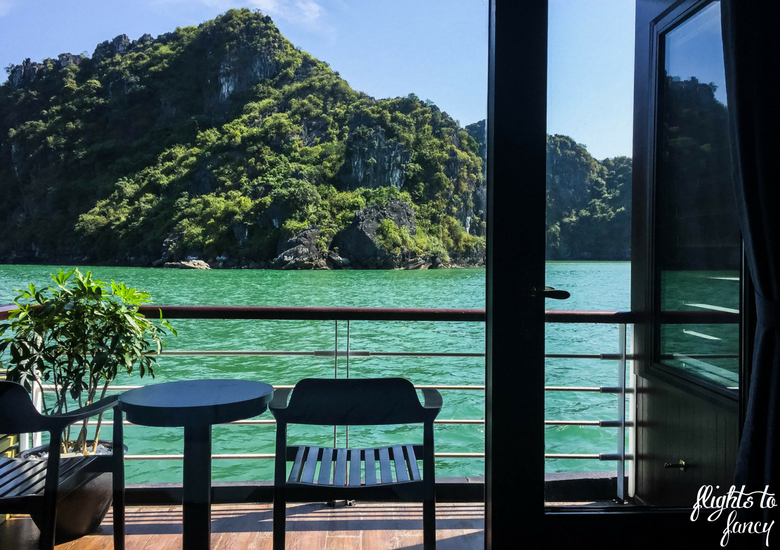 Luxury Halong Bay Cruise Vessel
With just 14 cabins this is no mega liner but I loved the intimate nature of Orchid Cruise Halong Bay. Spread over three levels you have everything you need and nothing you don't. A tasteful reception area greats guests boarding on the lower deck which houses a lovely little reading nook as well as the spa and a small gym. Head to the second level for the elegant restaurant with panoramic views and the top deck has an amazing sun deck complete with a fully stocked cocktail bar. Every element of the design has been carefully thought out and luxurious touches are everywhere, from the dark wooden floors to the fresh flowers throughout, every area shines. The scenery is the big draw card of any Halong Bay cruise and the vessel is designed to maximise the views. When the sails are up, this boat it is a sight to behold.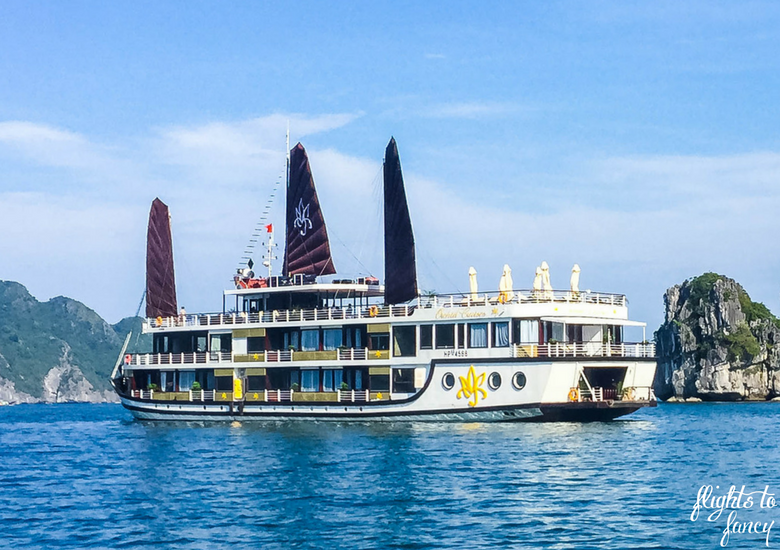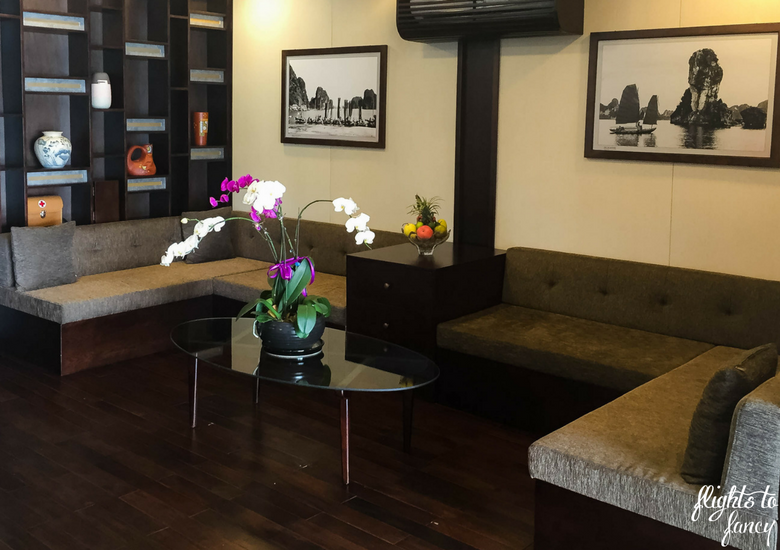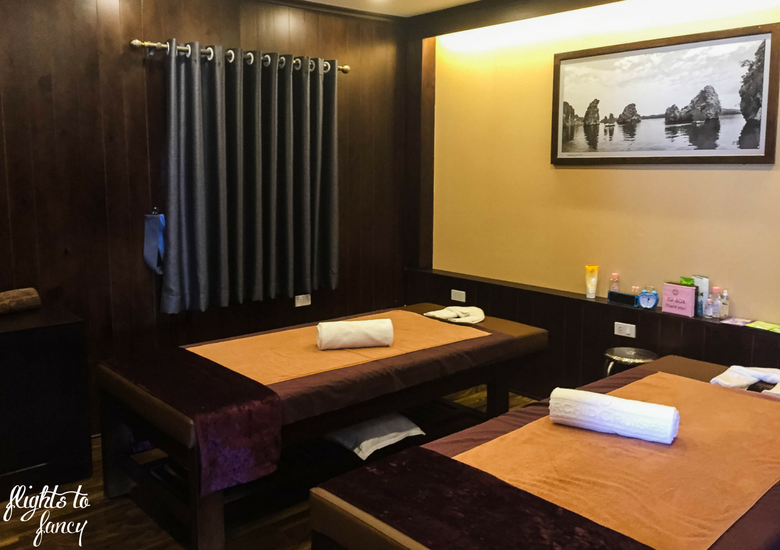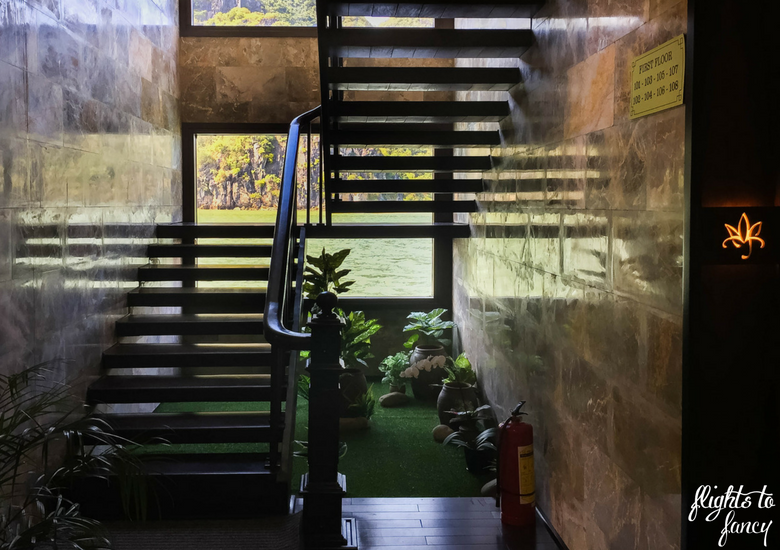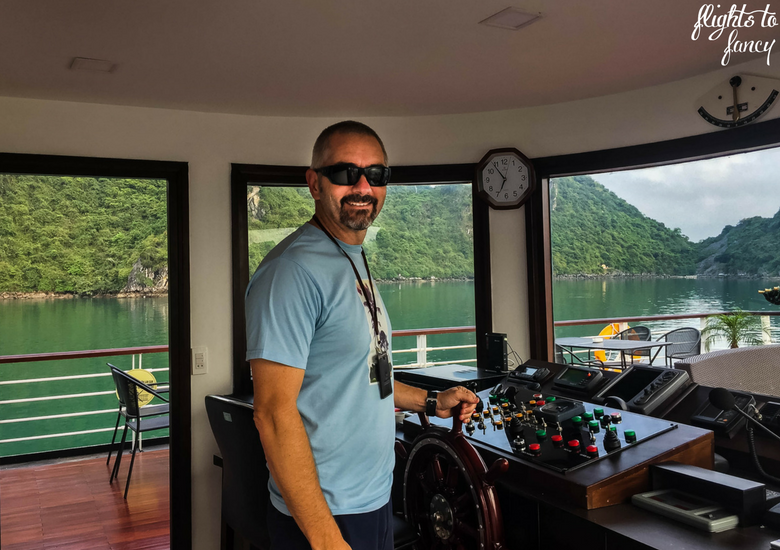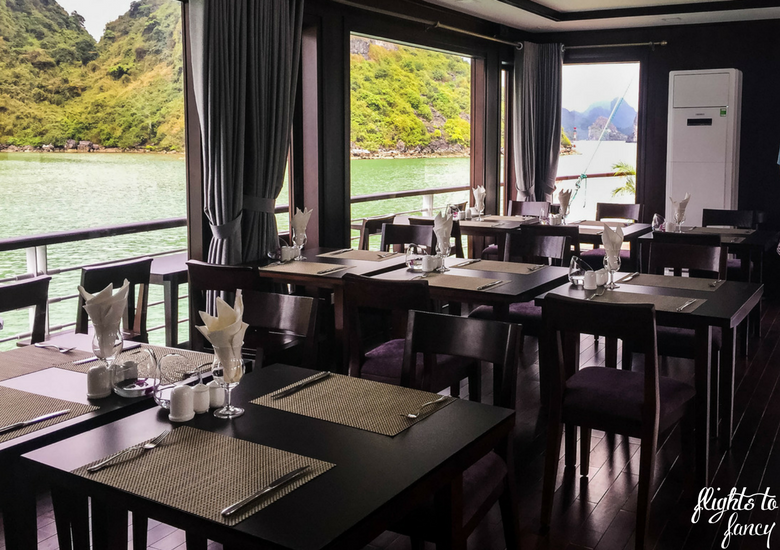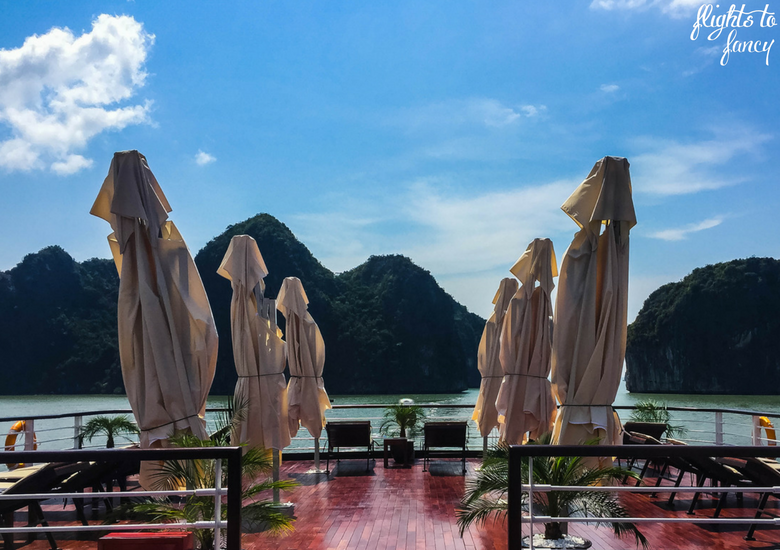 Food On Board Our Halong Bay Overnight Cruise
We were on board Halong Bay cruise for a shade under 24 hours and were offered four meals; lunch, dinner, breakfast and brunch. Lunch was served very soon after boarding and was buffet style. The food was piping hot and for an intimate boat, there was a great selection.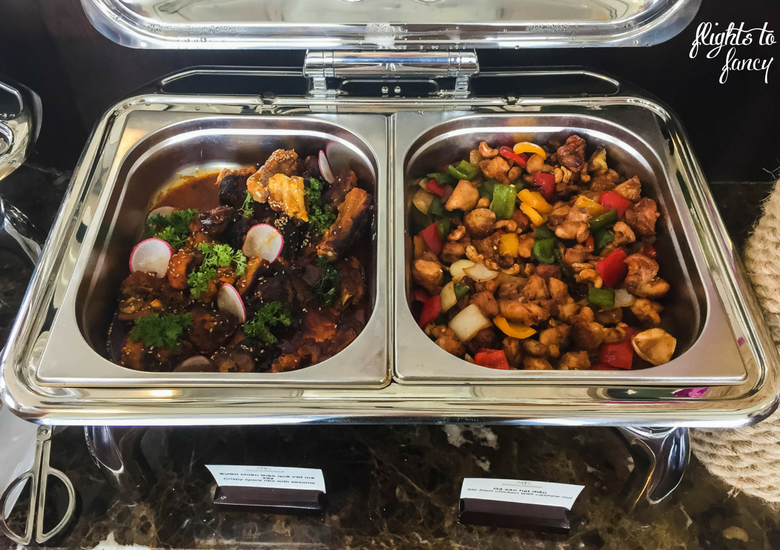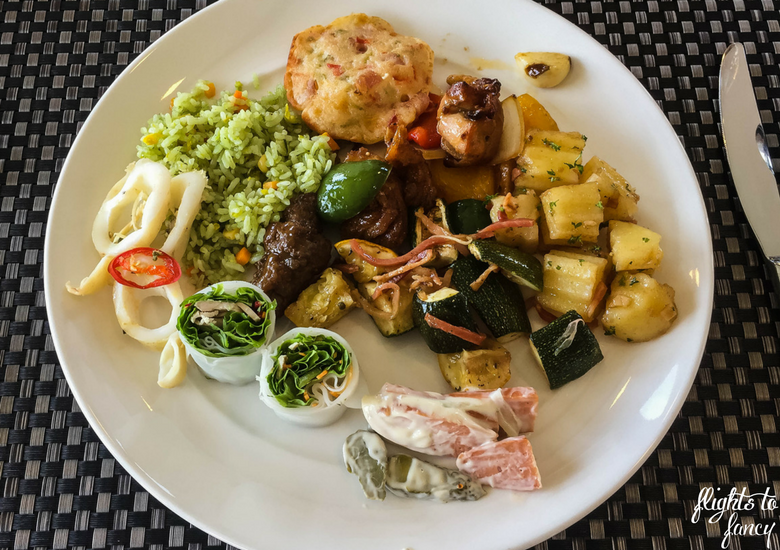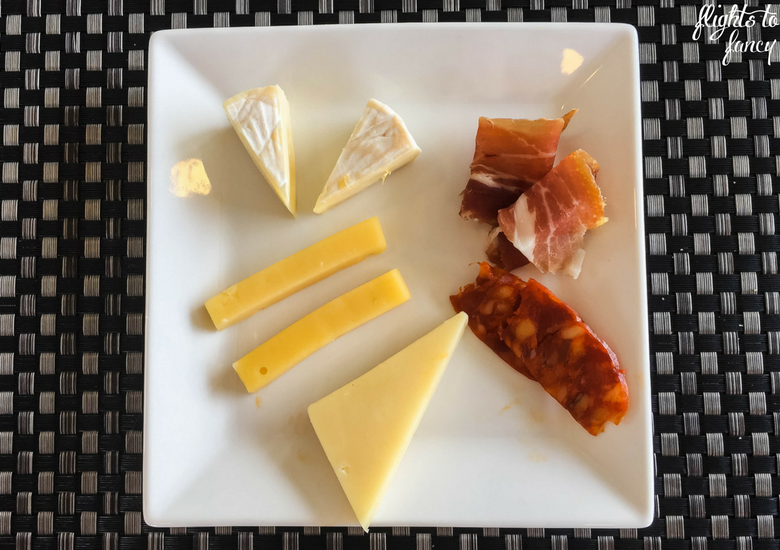 Dinner on our luxury Halong Bay cruise was a very special affair and a five course degustation menu was served to the delight of the guests. They even accommodated my no seafood rule. The lamb cutlets were sensational.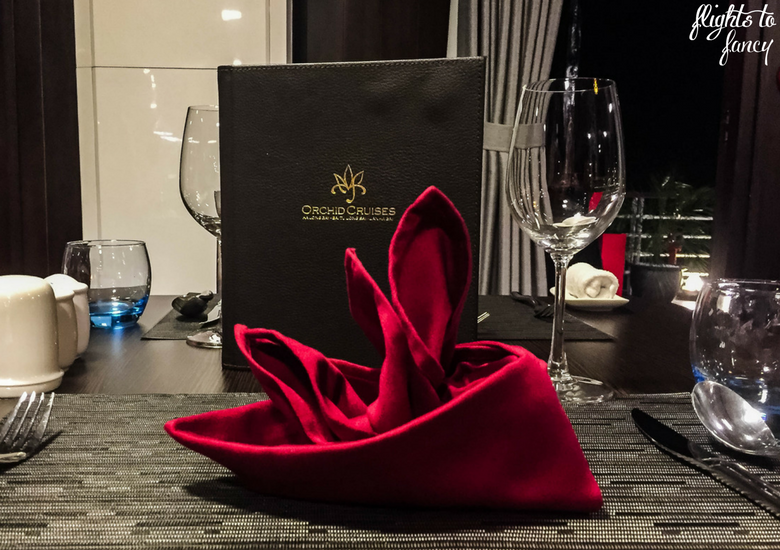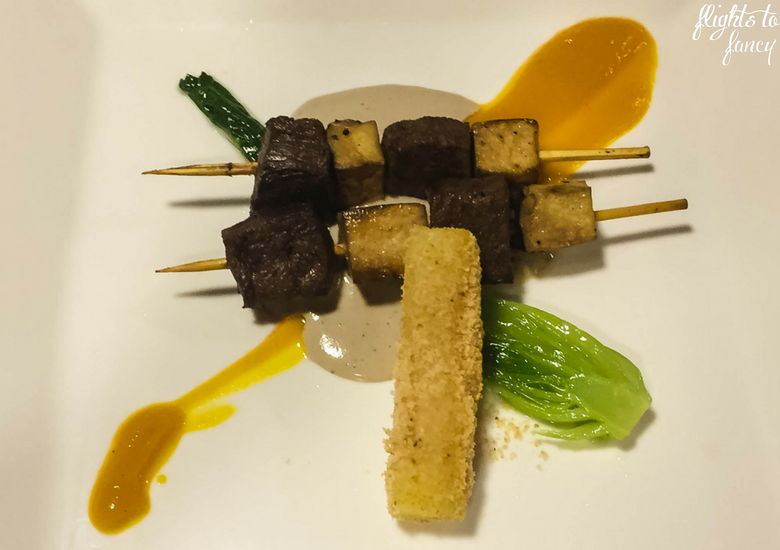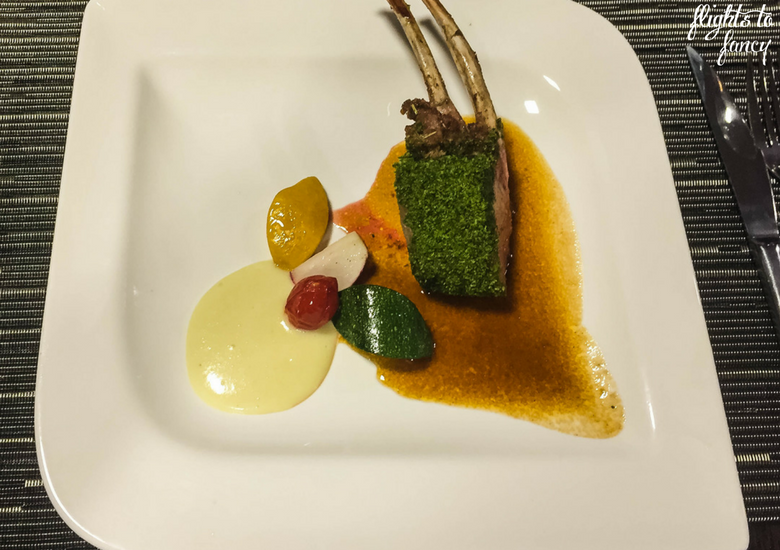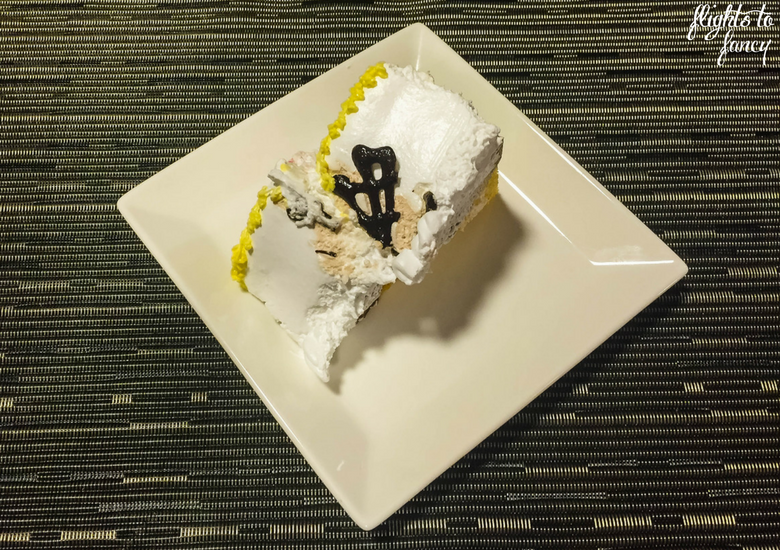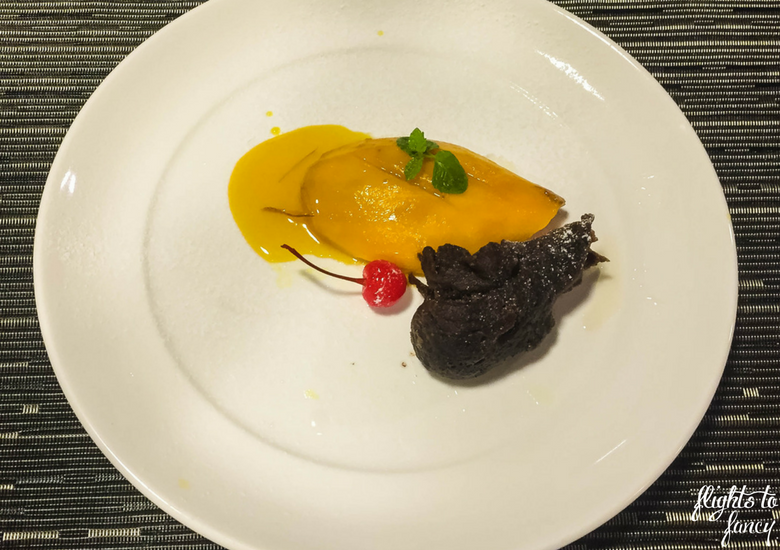 After sleeping like babies, we skipped the 7am breakfast on our Halong Bay overnight cruise and opted for the brunch. The Hubs loved the omelet station but eggs don't love me so I stuck to the buffet.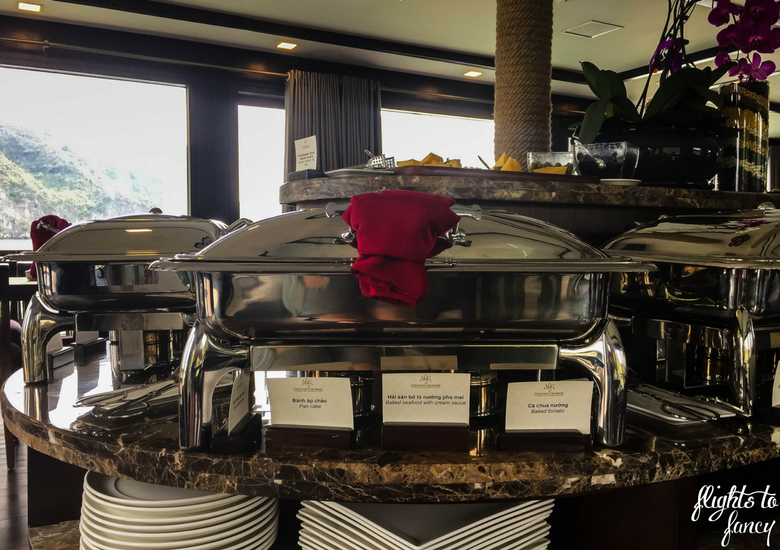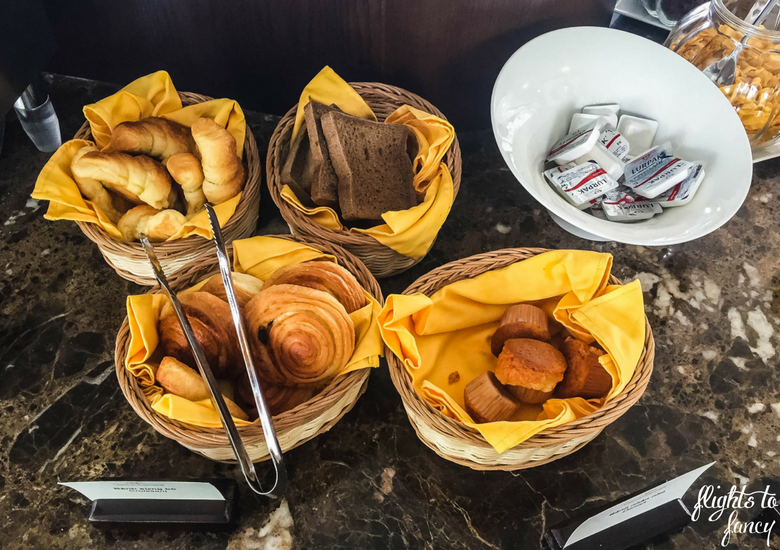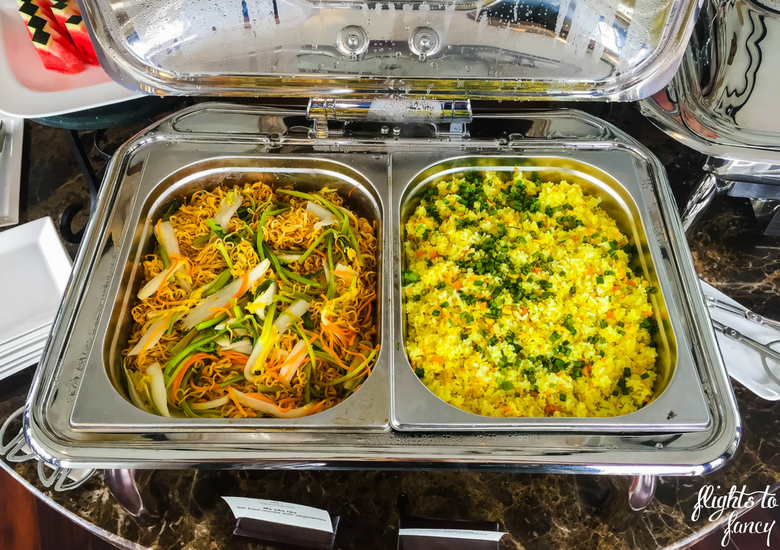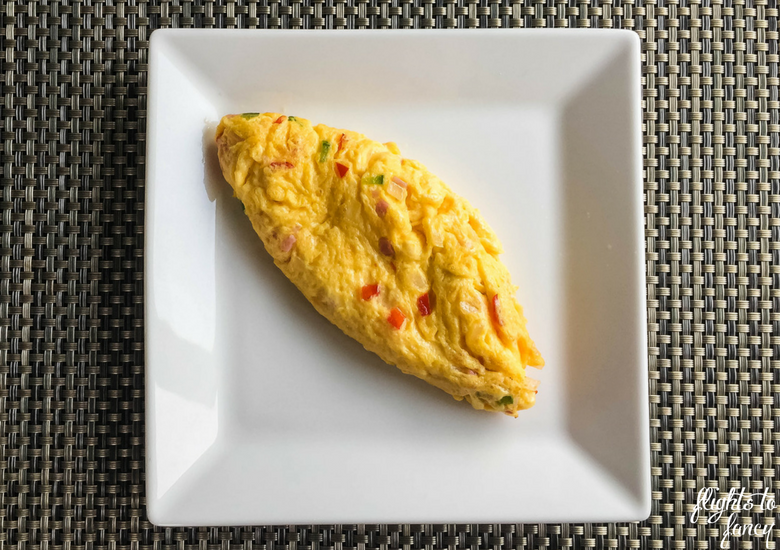 Halong Bay Cruise Activities
We fit in quite a bit during our luxury Halong Bay cruise. Straight after lunch we boarded the tender for a kayaking trip. I noticed some garbage floating around marring the otherwise picture perfect location so I did what I could and collected the flotsam and jetsam in reach between strokes. The calm waters of Bai Tu Long Bay made for an easy paddle to a secluded beach. If you don't want to kayak the crew are happy to drop you straight on the beach from the tender. The water was the perfect temperature for a dip and I was almost sorry when it came time to leave. Once back on board I washed the salt water off with a leisurely soak in the massive tub in our suite as we steamed ahead to our next destination. The ever changing view from the window was breath taking.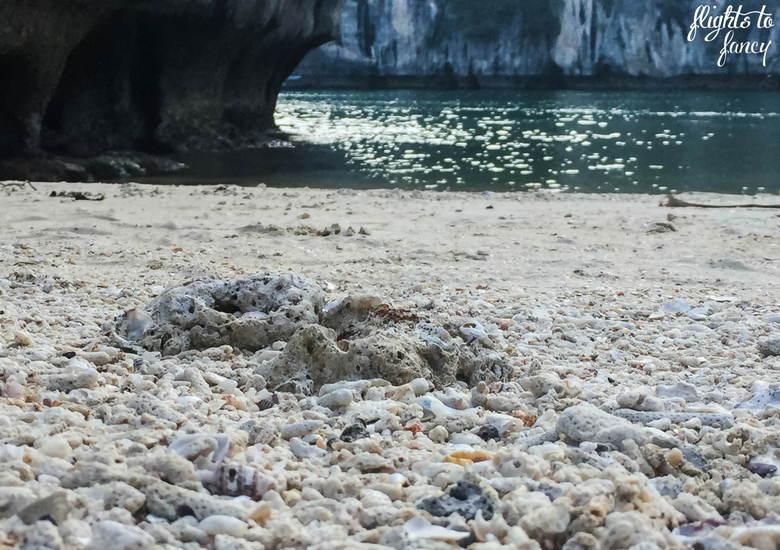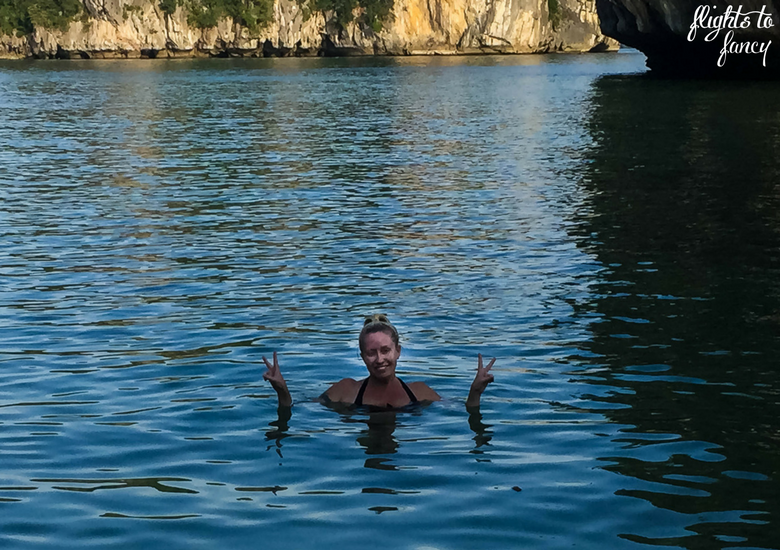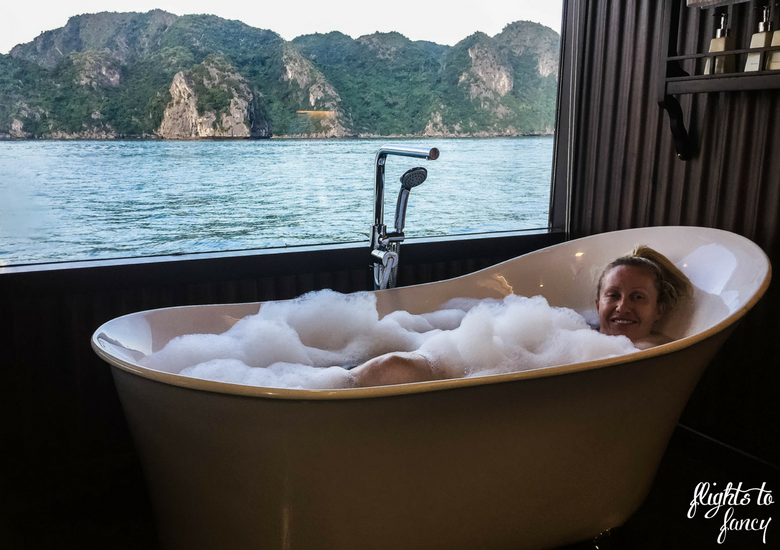 Only the best Halong bay cruises have cocktails and the sun deck is the perfect place to enjoy a tipple. Happy hour starts at 5.30pm so get in quick for buy one get one free. The top deck is also the place to view the spring roll cooking demonstration and catch a magnificent sunset before heading to dinner. Before retiring for the night we squeezed in a little squid fishing but unfortunately they weren't biting.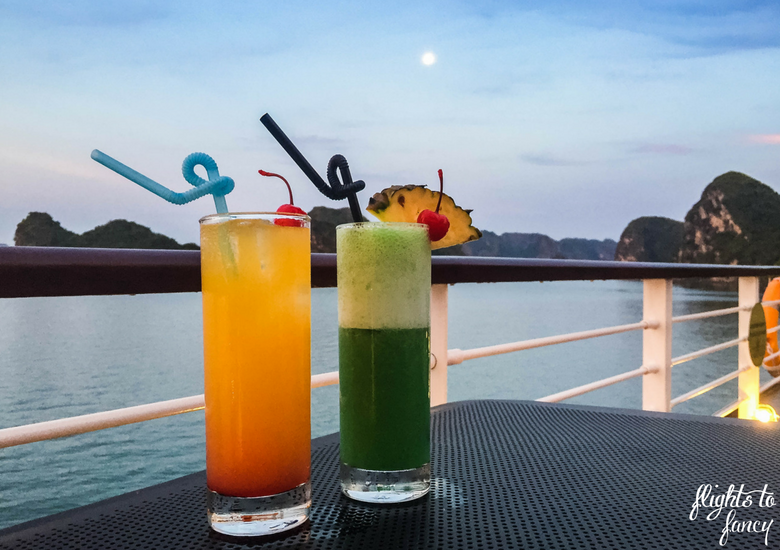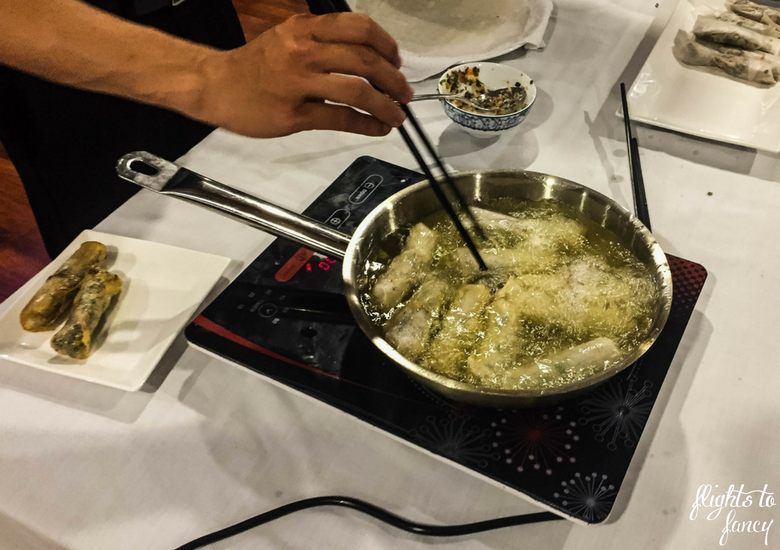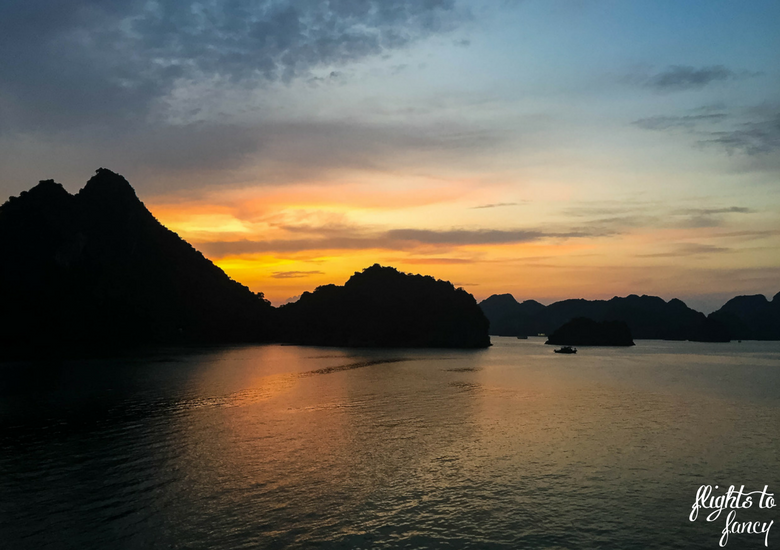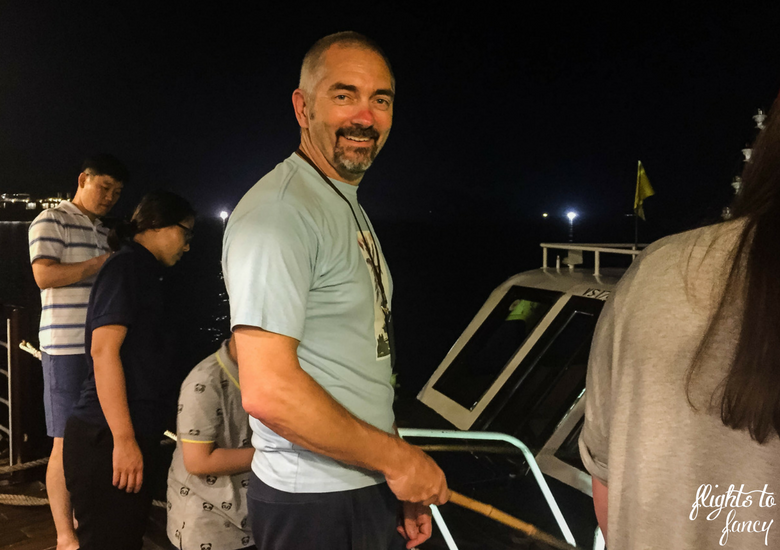 We woke up early the next morning for a trip to Cat Ba Island. The rock formations here are some of the most dramatic in the region and Cat Ba is one of the few inhabited islands in Halong Bay. We passed by the dark cave which used to be accessible but is now prohibited. The light cave is still dark enough!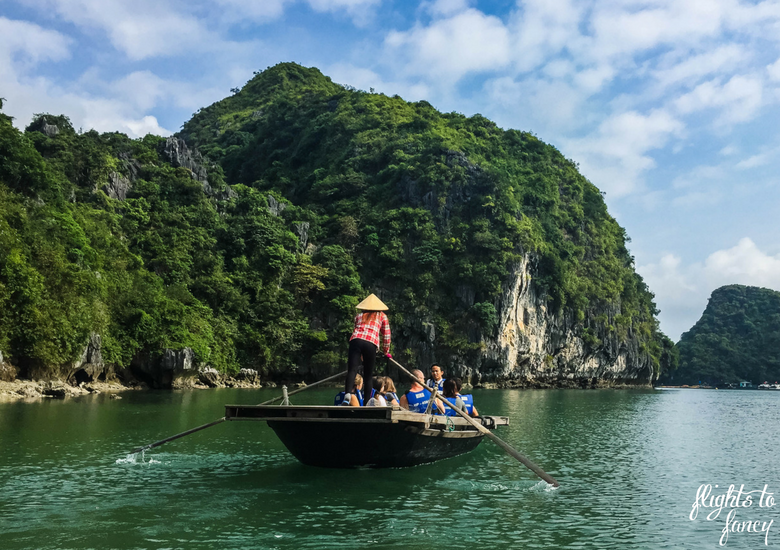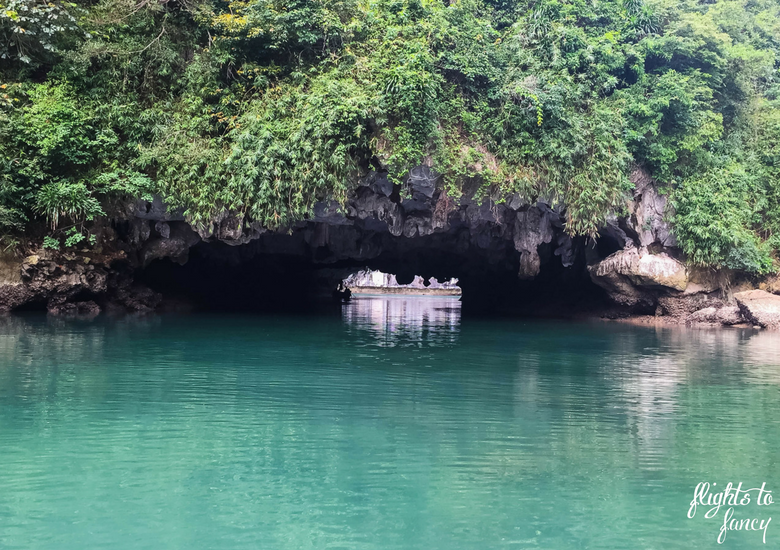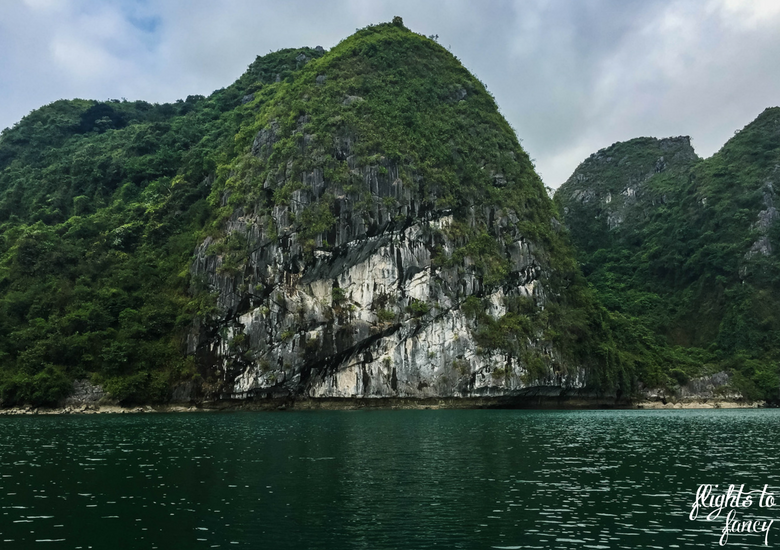 The Final Word
We loved our Orchid Cruise Halong Bay. It was truly the highlight of our Vietnam trip. There is a time to save the pennies and a time to splurge and while USD$324 might seem steep for a luxury Halong Bay cruise it was worth every penny. The staff were sensational, the boat was magnificent and the scenery was out of this world. The only disappointment was the sketchy wi-fi. While this was somewhat annoying on the cruise, it made settling the bill downright painful as the machines struggled to get a connection.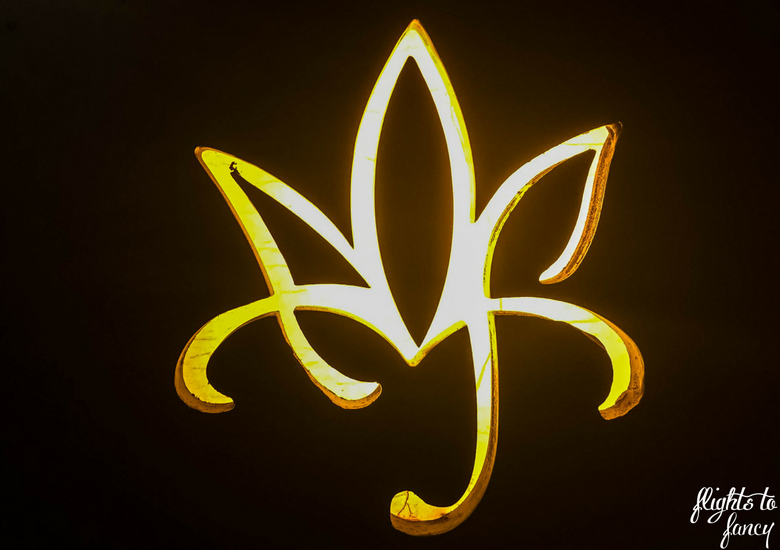 Have I convinced you that Orchid Cruise Halong Bay is one of the best Halong Bay cruises? I would love to hear your thoughts in the comments below.
Until Next Time …

Like it? Pin it!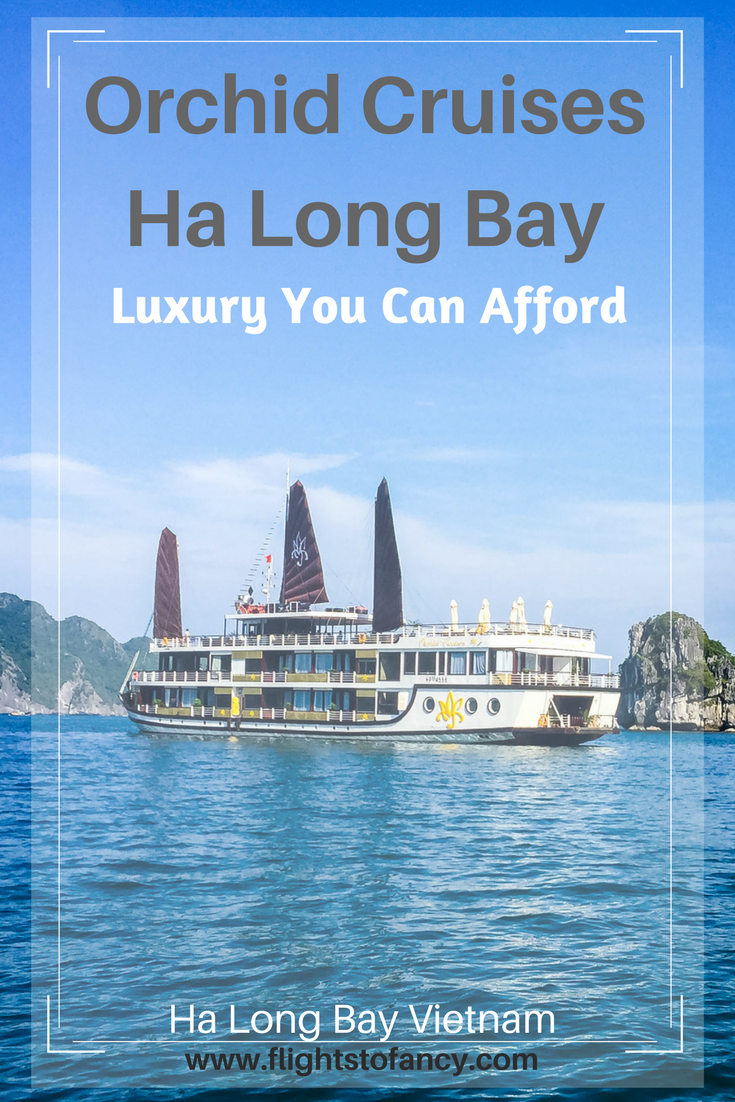 Disclaimer:  This post is not sponsored. I paid for my Orchid Cruise Halong Bay trip in full and as always, all opinions are my own. This post contains some affiliate links which will earn me a few cents to contribute to the running of this blog if you make a qualifying purchase at no extra cost to you.
Save
Save
Save
Save
Save
Save
Save
Save
Save
Save
Save
Save
Save
Save
Save
Save