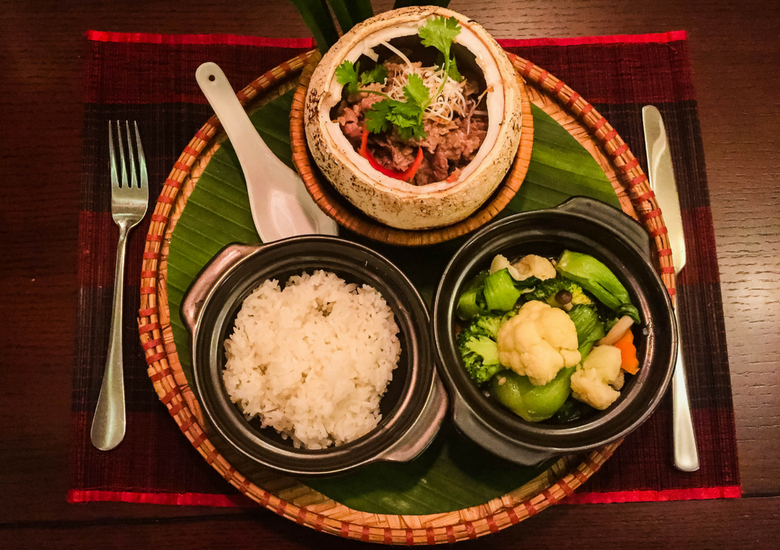 When you think of eating in Vietnam you almost certainly think of street food. The vibrant street food scene dominates the city and while we loved our beef salad at Bun Bo Nam Bo we wanted something just a little bit fancier. After doing extensive research (i.e. googling 'where to eat in Hanoi') we stumbled on Red Bean Restaurant Hanoi. I was initially drawn to the authentic local cuisine at Red Bean Hanoi and I loved the relaxed atmosphere. While I wanted to step up my game from the street, I didn't want to have to don my ball gown to do it. Who am I kidding? I don't even own a ball gown let alone have one tucked away in my luggage. Read on for all the details …
Let's Get Social!
About Red Bean Restaurant Hanoi
As we were googling where to eat in Hanoi we discovered there are actually two Red Bean Hanoi restaurants. The original restaurant that we visited and the nearby Red Bean Trendy. On one level, the restaurant takes it's name from the red bean that is so important to Vietnamese cuisine. Not only does this humble bean have a high nutritional value and adapt equally well to sweet or savoury dishes, but it has a deep and powerful meaning within Asian societies where it is a symbol of love and fidelity. On a more personal level, the owner's youngest son was nicknamed đậu đỏ (red bean in Vietnamese) because they believed he resembled a red bean when he was born and the name stuck. How cute!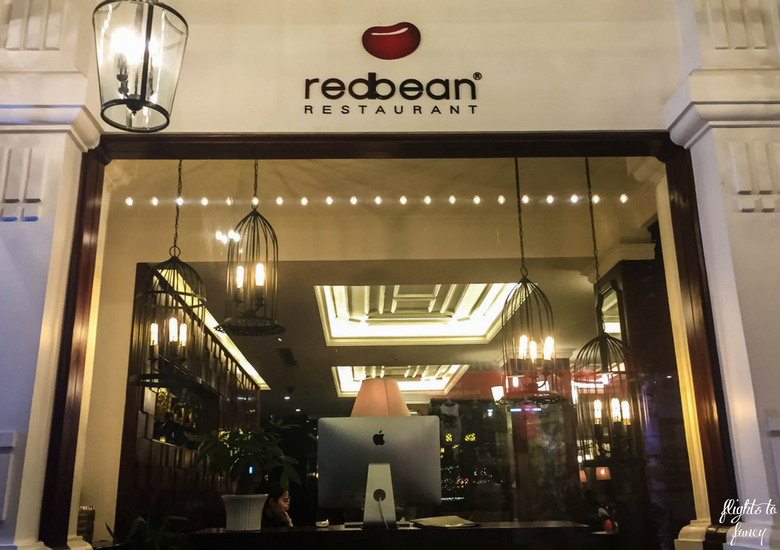 We walked the short distance to Red Bean Hanoi from the Hanoi Glance Hotel where we stayed with the help of the GPS. The gleaming heritage like exterior made a great first impression. It wasn't until we stepped inside that we realised that the restaurant is located within the La Siesta Hotel and Spa. The main dining room is large with subdued lighting, elegant furniture and ornate details which conveys a feeling of luxury without being pretentious. We were dining later than we normally would and there were only a few other guests seated when we arrived. It almost felt like a private dining experience. Grace, our server, greeted us promptly and discretely left us to peruse the menu.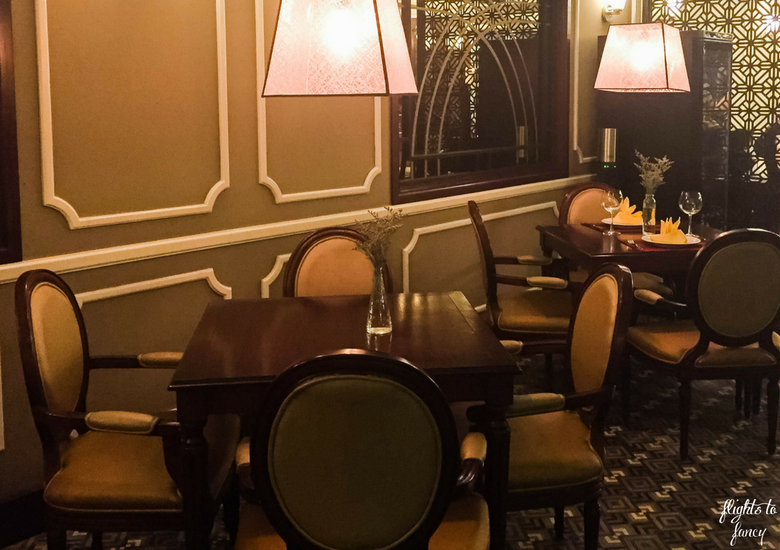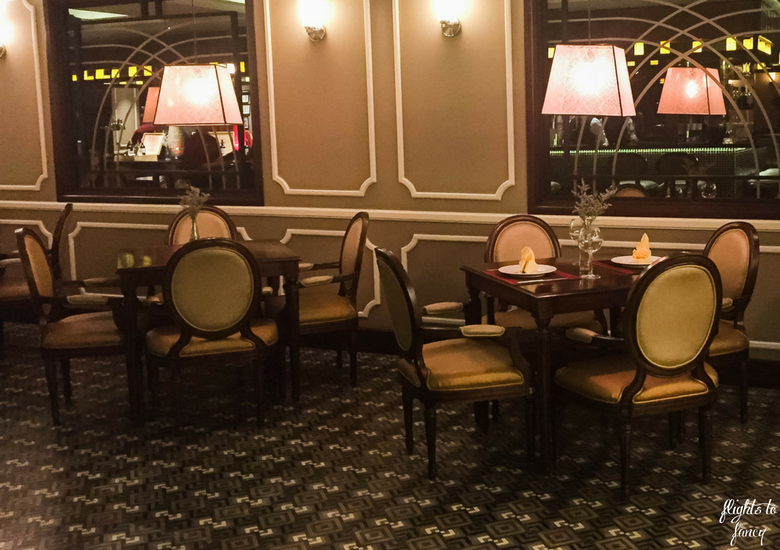 Red Bean Hanoi Menu
The menu at Red Bean Hanoi is (faux) leather bound and contains a number of set menus starting at just VND280,000 per person ($15). We knew we would never be able to eat five courses so we skipped straight to the a la carte section. Red Bean Restaurant Hanoi focuses on high quality and innovative food while remaining true to the roots of authentic Vietnamese cooking. They aim to create inspirational dishes which embody the five elements of metal, wood, fire, water and earth that underpin Vietnamese food. They also offer a select few western dishes for those who are missing the tastes of home. Need more convincing? Red Bean Restaurant Hanoi has 1,752 reviews and is listed as #8 of 2,012 restaurants in Hanoi on TripAdvisor.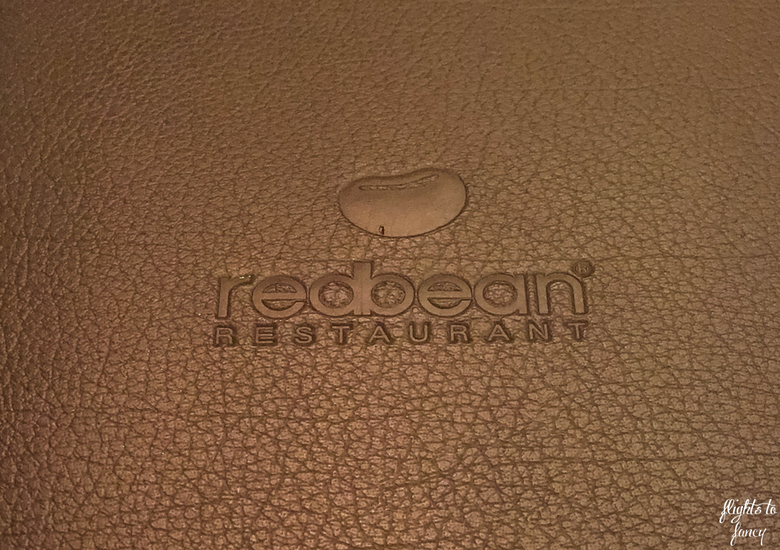 As we were finalising our choices the beer and cocktail that we had ordered on arrival were served and we were also presented with a delightful complimentary starter. It did contain mushrooms so would not have been something I would ordinarily ordered but I gave it a try anyway. The Hubs does not have the same aversion to fungus as I do and he thoroughly enjoyed the beautifully presented little morsel.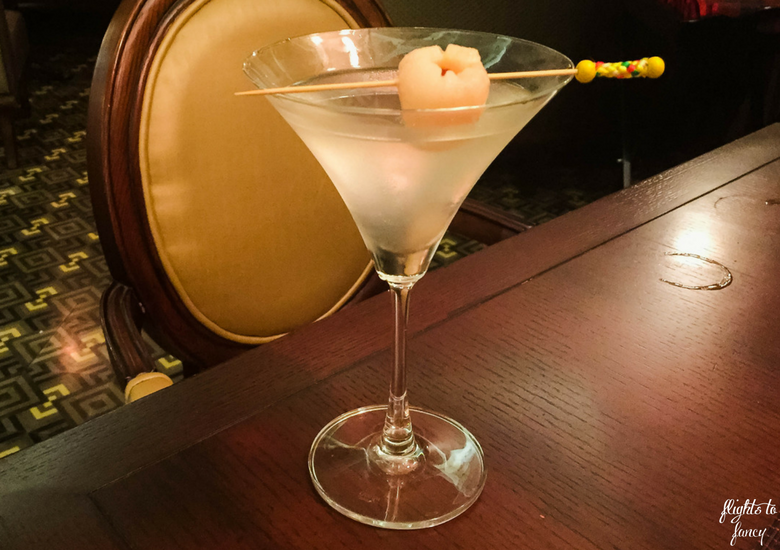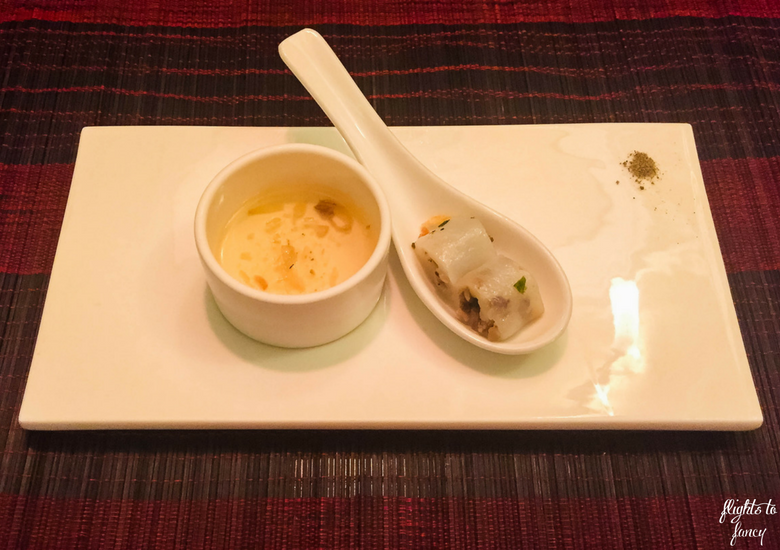 Not long afterwards our main courses arrived. I decided on the coconut beef while The Hubs chose the rolled beef. Both were exceptionally presented. The three elements of my main, the beef, the rice and the vegetables were all served individually on a large woven platter. The delicious tender beef was lovingly placed back into a coconut husk in a unique twist. The coconut flavour was delicate but unmistakable. The serving size was incredibly generous and when I was full to the brim it looked like I had hardly made a dent. The Hub's rolled minced beef was served wrapped in pepper leaves with steamed vegetables and a separate pot of rice. While the dish looks delicate it was substantial and more than satisfied his hunger.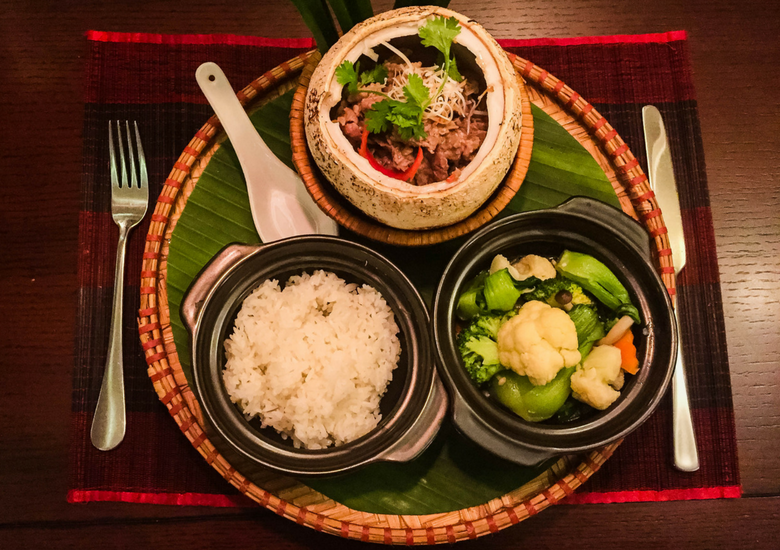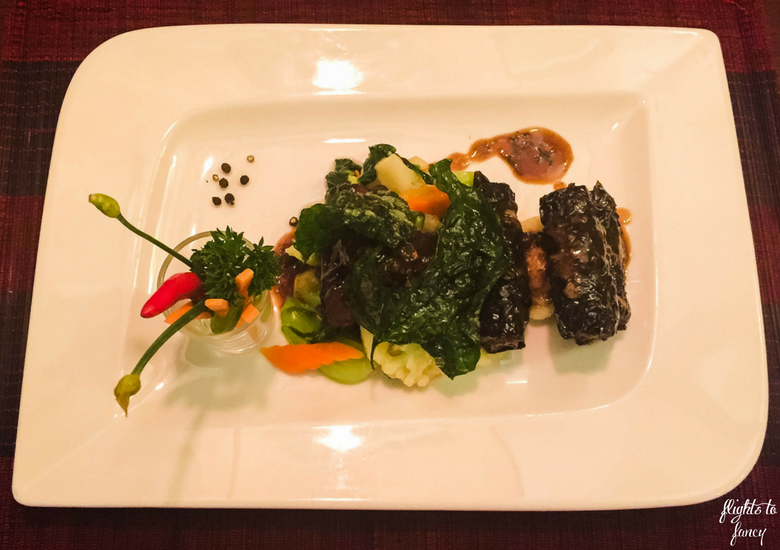 The Final Word: Where To Eat In Hanoi
Our server at Red Bean Hanoi was amazing. Grace was attentive without being intrusive and she was exceptionally polite. She expressed dismay at how much food I had left uneaten and was concerned that I didn't like the dish which I can assure you was not the case. As a finale to our meal Grace presented us with two complimentary farewell drinks which she theatrically served at our table by heating the citrus rind. Our dinner at Red Bean Restaurant Hanoi was exceptional. We were delighted to be able to experience traditional Vietnamese cuisine in a comfortable, relaxed setting. Make sure you put Red Bean Restaurant Hanoi on your must do list when you are next in town and while you are in the area check out the water puppets at the Thang Long Theatre for a glimpse into Vietnamese culture that you are unlikely to experience anywhere else.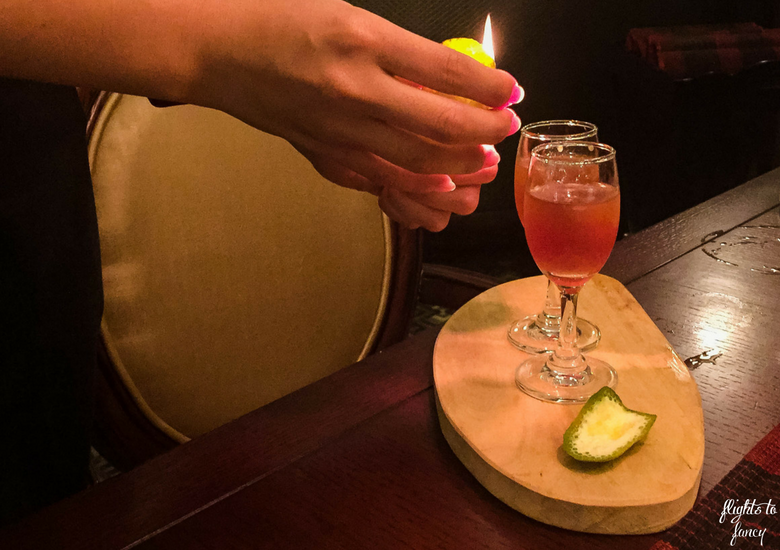 Do you like Vietnamese food? Will you consider Red Bean Restaurant Hanoi when you next visit Vietnam? I'd love to hear your thoughts in the comments below.
Until Next Time …

Like it? Pin it!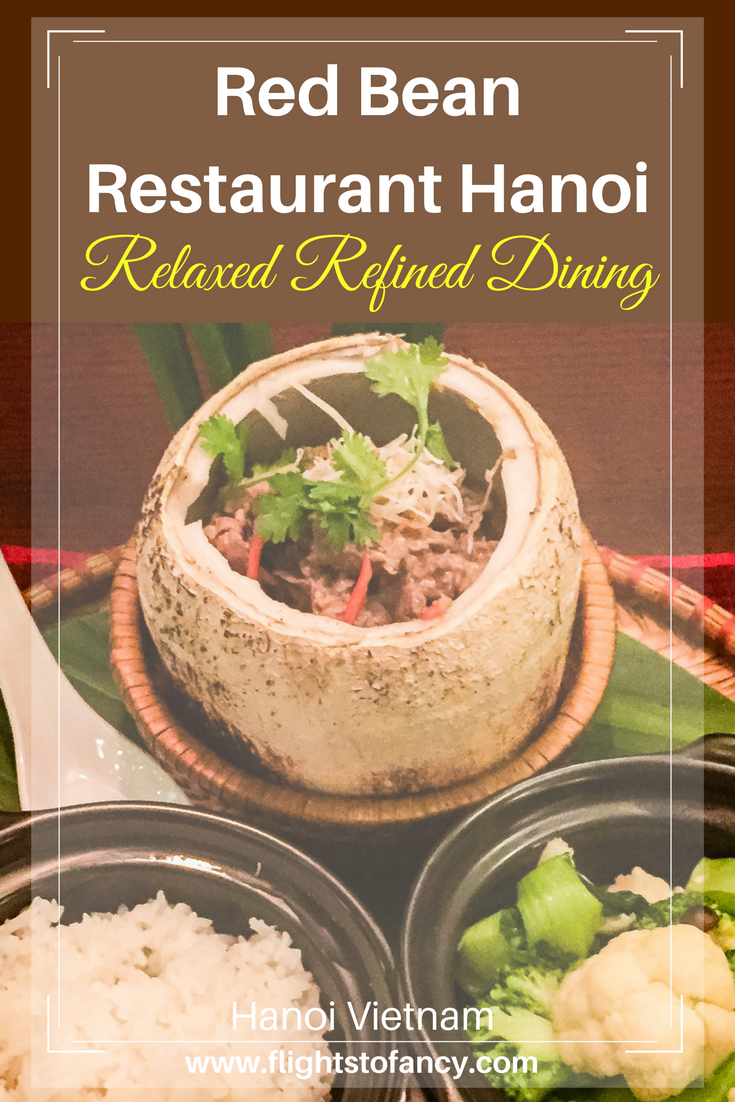 Disclaimer: This post is not sponsored. I paid for my meal at the Red Bean Restaurant Hanoi in full. As always, all opinions are my own. This post contains some affiliate links which will earn me a few cents to contribute to the running of this site if you make a qualifying purchase at no extra cost to you.