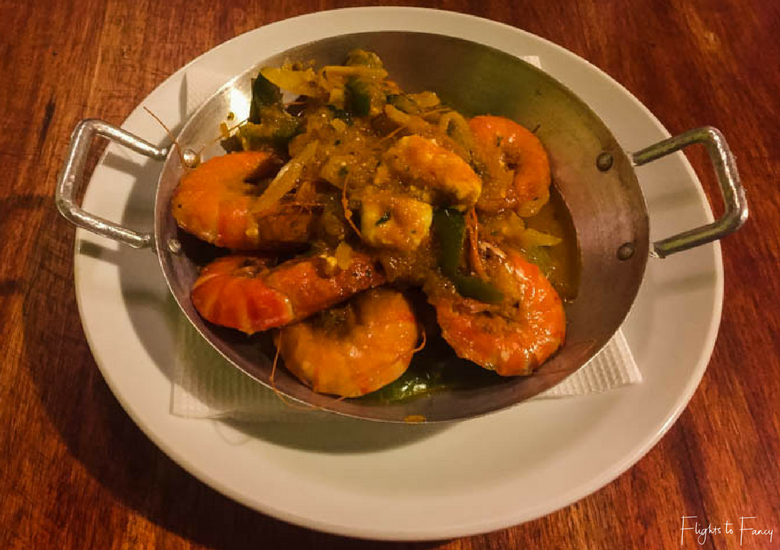 If you have visited my blog before you will know how much I love Greek food. The last time Greek featured on these pages was when we dined at Al Camino Whitianga in New Zealand. When The Hubs discovered Mix Restaurant Hoi An it was almost a forgone conclusion that we would visit. During our whirlwind Vietnam trip, we purposefully ate local fare for every meal, but when he told me about this outstanding Greek Restaurant in Hoi An it was time for a change. Greeks really have found their way to every corner of the globe and I for one and thrilled! Mix Greek Restaurant commands a perfect location in Hoi An's Ancient Town and offers an innovative menu that is sure to delight even the fussiest of pallets. Read on for all the details …
Let's Get Social!
Choosing A Greek Restaurant In Hoi An
I'm not sure how anybody else goes about finding places to eat when travelling, but I always turn to Trip Advisor. The reviews are brutally honest and rarely let me down. There are three Greek Restaurants in Hoi An and Mix Greek Restaurant topped the list. Not only did it come out on top for Greek, it is also rated #8 of 702 restaurants in Hoi An overall. After a quick flick through the reviews I was sold.
Mix Restaurant Hoi An
Mix Restaurant Hoi An is a short scooter ride away from the Sincerity Hotel Hoi An where we stayed. When we arrived the place was pumping and I feared we would miss out, but our helpful hosts squeezed us in upstairs. Our server offered us the choice of sitting at the bar on the balcony or a table inside. Despite the balmy evening, we chose the 'proper' table inside to give us a little more room.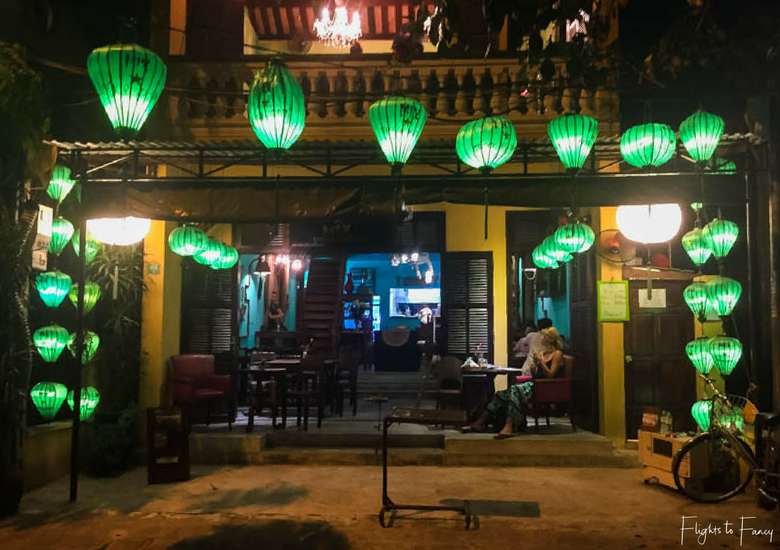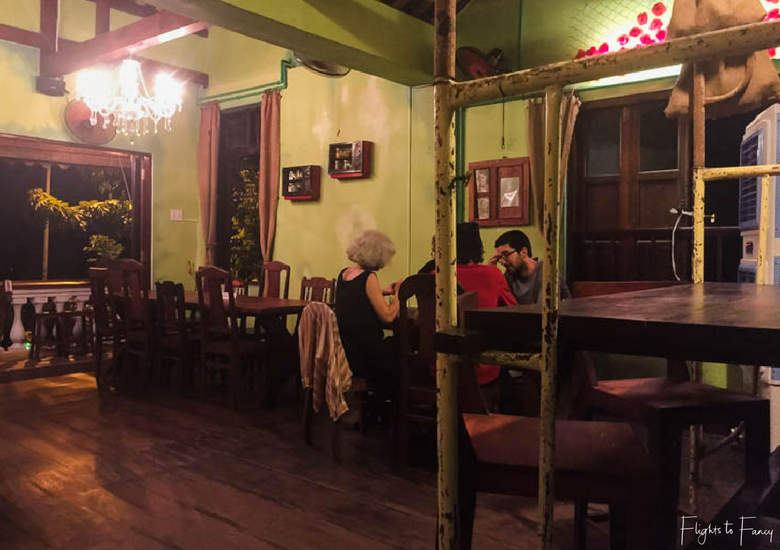 What We Ate At Mix Greek Restaurant
Mix Greek Restaurant has a large beverage menu and we settled on a local beer (for him) and a cocktail (for me) while we perused the menu. I've eaten a lot of Greek in my time and Mix's menu was comprehensive and varied. I'm surprised to say that there were dishes that I had never heard of. It took us quite some time and indecision meant we ordered more than two humans could possibly consume. For entree I opted for the Feta Saganaki (VND100,000) while The Hubs indulged his love of seafood with Garides Saganaki (VND135,000). Mix's Saganaki was unlike any I have ever had. The crumbly feta cheese was coated in batter and deep fried. It wasn't bad, just different and I am more a fan of the traditional variety. The Hubs' prawns were perfectly cooked and drenched in a rich tomato sauce.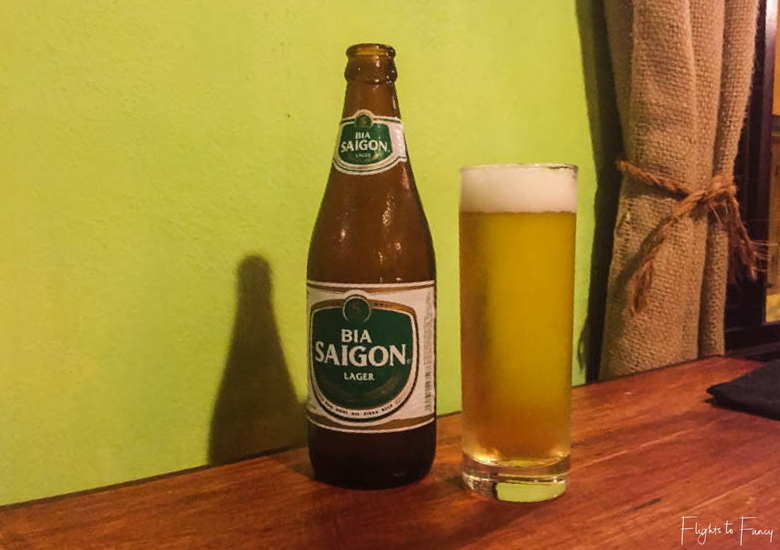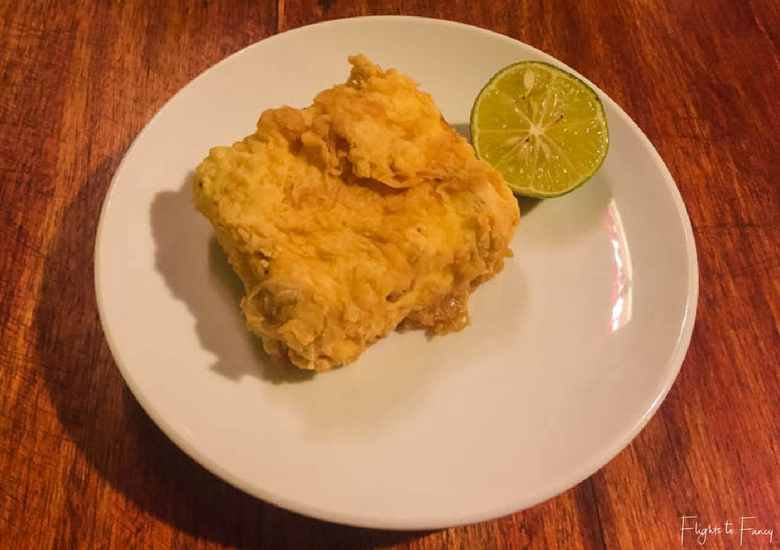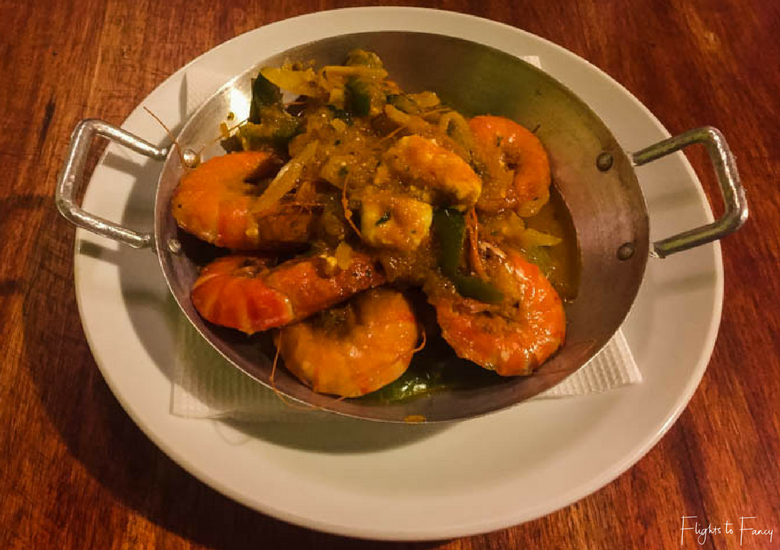 For the main event, we purposefully chose dishes we could both enjoy. Chicken Skewers (VND135,000) for me and Raefi (VND320,000) for The Hubs. Both servings were incredibly generous and when the heaving plates arrived we knew we were going to struggle. Especially after the first bite when we realised everything was perfect. The Hubs' beef was melt in the mouth tender and each bite was a delightful mix of imported Australian beef, spicy feta and pepper sauce. I was a little alarmed by the brightly coloured rice, but it was the perfect accompaniment to the dish. The Tzatziki that I ordered on the side went down a treat with the succulent perfectly seasoned chicken and traditional Greek pita.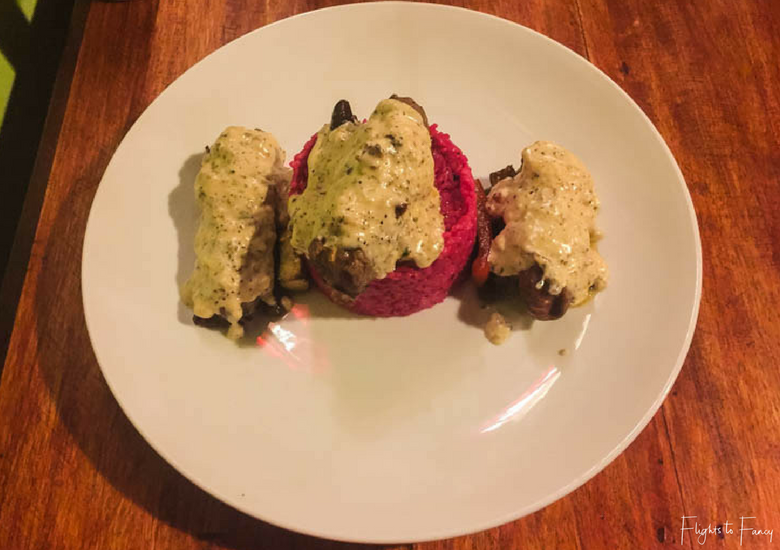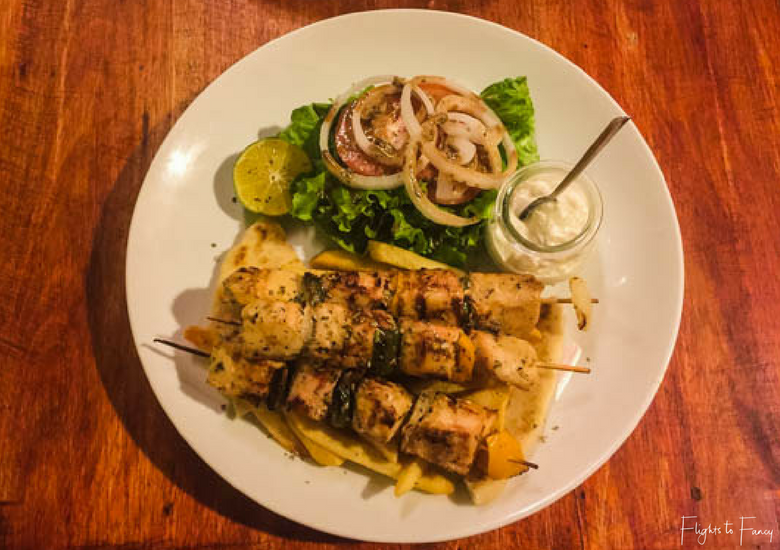 We were full to the brim when the dessert menu was offered so we politely declined and asked for the bill. While we finished off the last of our drinks Mix surprised us with a lovely miniature complimentary dessert. Well it would have been rude to refuse wouldn't it?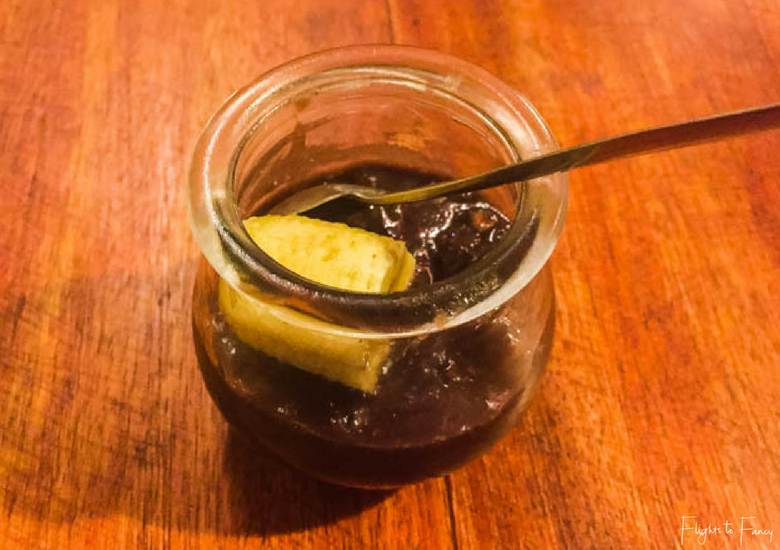 The Final Word
Mix Restaurant Hoi An was one of the best meals we had in Vietnam. It was right up there with our traditional Vietnamese feast at Red Bean in Hanoi. After dinner make sure you take the time to wonder around ancient town. The atmosphere is electric and the beautiful lanterns will delight at every turn.
Do you have a favourite cuisine you can't resist? I would love to hear about it in the comments below.
Until Next Time …

Like it? Pin it!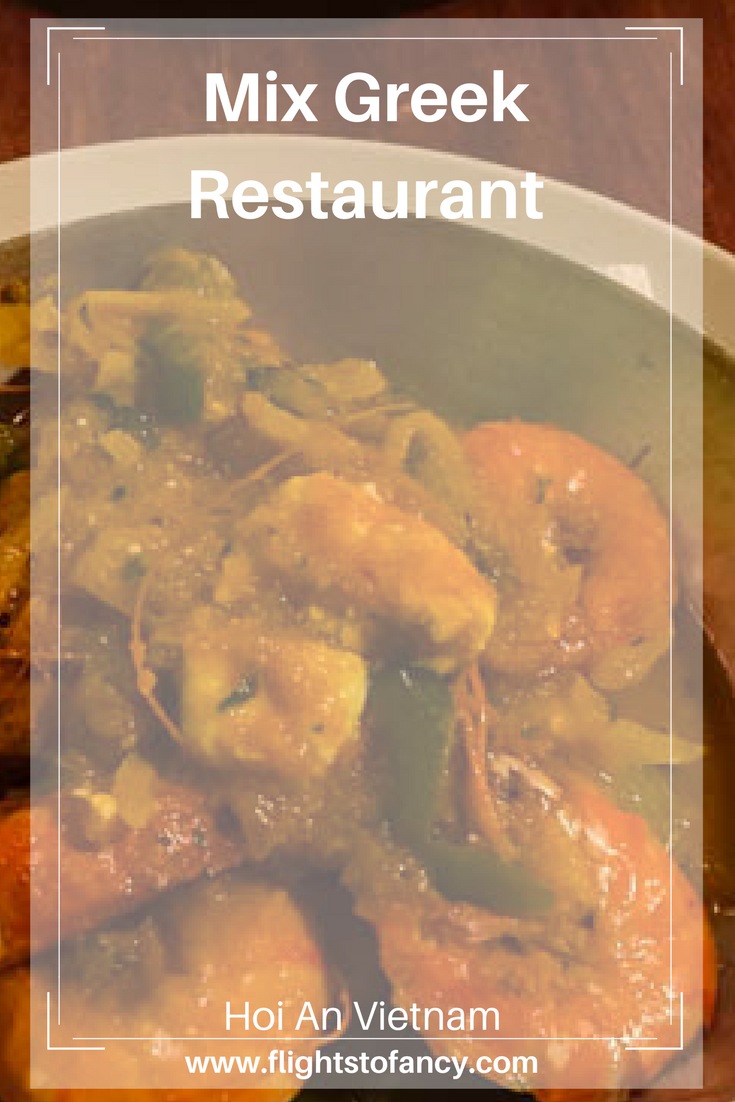 Disclaimer: This post is not sponsored. I paid for my meal at Mix Restaurant Hoi An in full and as always, all opinions are my own. This post contains some affiliate links which will earn me a few cents to contribute to the running of this site if you make a qualifying purchase at no extra cost to you.