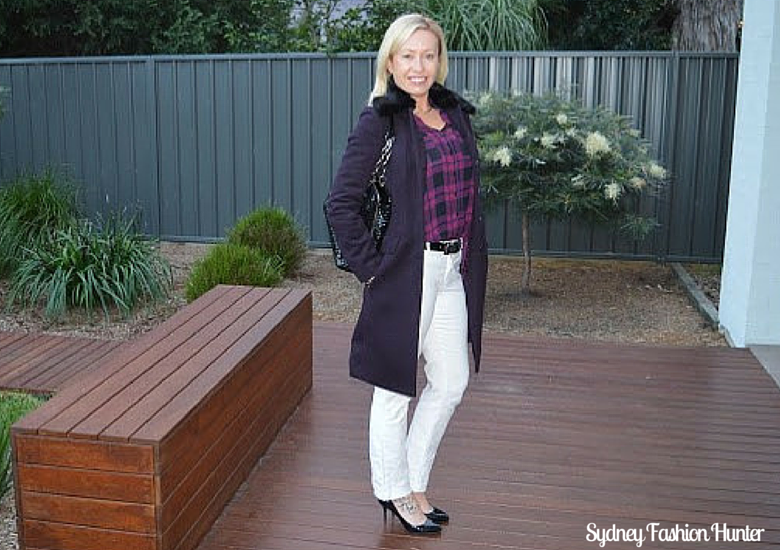 It's week thirty eight of my series The Wednesday Pants (TWP) where I feature a different white pants outfit every week for a year. Well it is officially winter and don't we just know it! I feel it was a minor miracle that I survived this morning's train trip without suffering hypothermia or frostbite. I can't say I'm exactly thrilled with the big chill but I'm rugged up in a beautiful berry coat designed to keep the bone chilling winds at bay. One of the hardest things about winter for a blogger is the short days make getting photos done with natural light a logistical nightmare when you when you leave the house at 7.30am and don't get back until 7.30pm, especially when you factor in the additional complication of having a shift working photographer. Today's were done at 7am as he was coming home from a night shift and I was just about to walk out the door. Sleep always seems to be the thing that is sacrificed to get it done. Cie La Vie! On a side note, we are celebrating a very special birthday in the house and I couldn't resist sharing a few pics from the archives to mark the occasion. Read on for all the details …
So before I show you what I'm wearing this week I'm going to ask you to indulge me in a proud Mum moment. 23 years ago today (at 3.33pm to be precise!) I gave birth to a bouncing baby boy. When he was little people used to tell me that they grow up way to fast. I couldn't see it at the time when my life solely consisted of sleepless nights, dirty nappies and feeding every three hours. You know how it goes, you kind of roll your eyes and smile weakly through your exhaustion and wonder how you are going to get through the next hour never mind the next 20 years! But sure enough in the blink of an eye he was all grown up and I'm looking back and wondering where the time went. Here's a couple of my favourite pic's from a time when I was still the most important person in his life. Plus he would probably kill me if I posted some recent ones lol. Loved him then, love him now, love him forever. Just look at those eyes! How could you not melt? No wonder he was spoiled rotten!


Anyhoo, back the the business at hand. This week I wore …
And now for the link up!
This weeks co-host is Iris. Iris works in marketing/sales by day and blogs by night. As well as being a Mummy to a beautiful little girl, Iris is the writer behind the blog La Moumous. Iris is a self confessed shopaholic who blogs about fashion, beauty and lifestyle. La Moumous is your one stop shop for all things fashion and beauty with a few tips and tricks thrown in for fun!  


Interested in co-hosting? I'd love to hear from you. Email me for more details.
Any tips on dressing to beat the cold? I'd love to hear them because if the first few days are any indication it's going to be a long three months until Spring arrives.
Disclaimer:
This post contains affiliate links, which may result in a commission.