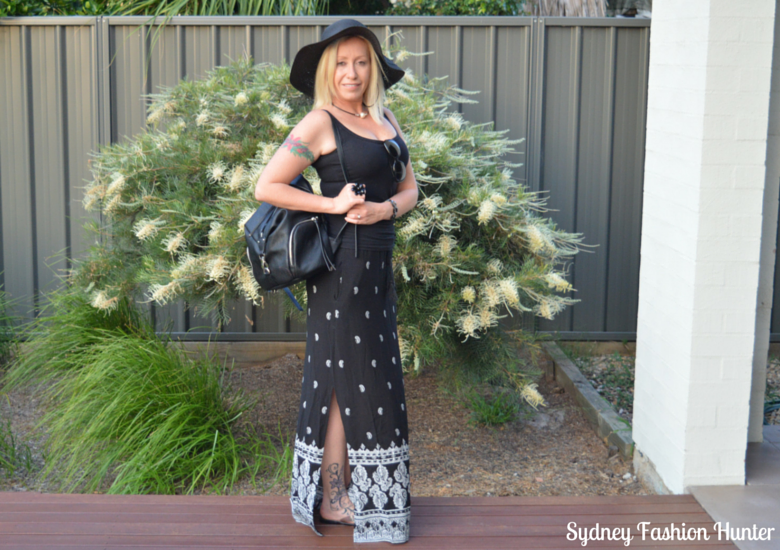 I had a whole different post planned today but my iPhone had other ideas. I spent a fabulous weekend in Melbourne with The Enabler (more about that on the blog later!) and we took a bunch of photos on location in the CBD in front of a beautiful historic building but yesterday (and literally in the middle of a phone call!) my phone decided to factory reset itself. I have lost everything … and I mean everything! I'm planning on spending hours on the phone tomorrow to the help desk trying to get it sorted. Fun day! Anyhoo, since I couldn't bring you those photos I thought I would share a couple of the items I bought while I was away. I had a very successful shopping spree. I don't call her The Enabler for nothing! Read on for all the details …
Given that I lost all my original photos I pulled this outfit together rather haphazardly. I knew I wanted to feature the simple summer maxi skirt that I purchased down south but I wasn't exactly sure what to pair it with. You may have noticed that I don't wear skirts very often and this is my very first maxi skirt, so it took a bit of trial and error to get this look down. I tried on at least five tops before I went back to this simple tank that I originally envisaged it with. It was in fact the first top I tried and discarded. When I went back for a second try, I untucked it rather than tucking it into the waistband of the skirt and this made all the difference to the silhouette. The second small choice I made was to pull my hair back out half way through taking these photos which completely changed the look of the hat. The moral of the story is keep tweaking things until you are satisfied because small changes can make a big difference to your finished look.
This week I wore:-
And now for the link up …

My favourite links from last week were Onyinye of
Modavracha
and Shellie from
The Fab Journey
.  Onyinye's khaki coat adds interest to an otherwise all black outfit and Shellie has absolutely nailed wearing leopard with the addition of the black wrap. Make sure you head over to both blogs to see more of their style.
Love link ups? See my complete list of Fashion Blogger Link Ups here. Who else will you link up with today? Let me know if there are any I have missed and I will gladly add them.
Want to be featured next week? Link up following the rules below:-
So what do you think? Did I do OK with my first attempt at a maxi skirt? I'd love to hear your thoughts in the comments below.
Disclaimer: This posts contains affiliate links for which a small commission may be paid. Items marked C/O have been provided courtesy of the retailer. All opinions are my own.