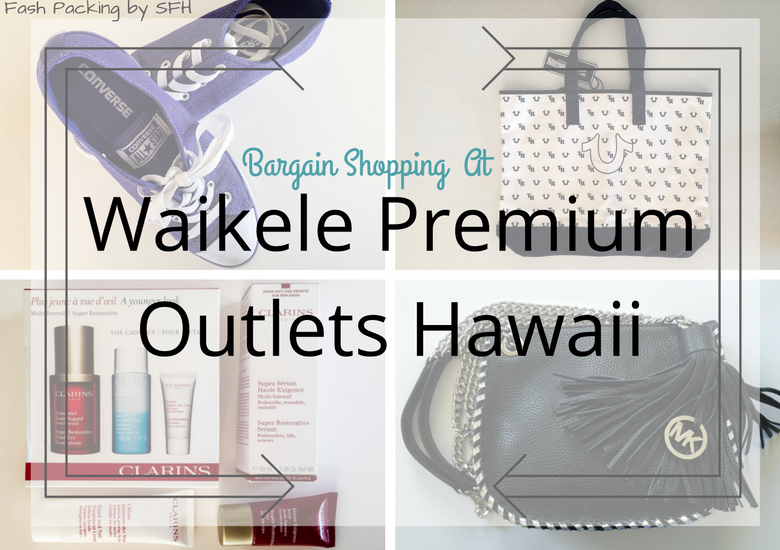 Finding a bargain in Hawaii is not as easy as it used to be. The decreased buying power of the AUD is largely to blame but that doesn't mean all is lost. If you are savvy you can still fill your suitcase for a fraction of the cost that you could at home. One of my favourite places to bag a bargain is Waikele Premium Outlets. Filled with brand name stores, It's worth leaving Waikiki for a few hours of retail therapy. Read on for all the details …
Let's Get Social!
Waikele Premium Outlets Overview
Up until about 5 years ago I had written off outlet shopping as a complete waste of time after visiting a few in Sydney. I was greeted by haphazard racks and bargain bins that meant finding a gem among everyone else's left overs was akin to finding a needle in a haystack. Soured by the whole experience, I didn't venture back until I visited Woodbury Common Premium Outlets in NY which changed my view on outlet shopping forever. I am still not a fan of Aussie outlets, but outlets in the USA are a whole different ball game and definitely worth a look. Waikele Premium Outlets (pronounced why-kel-ee) are owned by the same group as Woodbury Common and while no where near as big are certainly worth a visit while you are in the Aloha state.
Getting There
If you have a car drive yourself about 30 mins out of Waikiki directly to the outlets at Lumiaina St Waipahu, parking is plentiful and you can keep heading back to deposit your purchases throughout the day which is handy if you are buying big. If you are not so lucky, the easiest and most economical way is the Roberts Hawaii Waikele Outlet Shopping Shuttle. At only $15 per adult for the return journey it really is great value. The only downside is the last bus leaves at 4.30pm so you might not get everything done even when you leave on the earliest bus (9am). Our hotel the Sheraton Waikiki was on the pick up route which was a bonus but you will never be too far away. A cab will set you back about $50 each way but you may get a better rate through Uber. You can get the local bus (actually called The Bus) but it will take over and hour and involve multiple changes. Make sure you grab your VIP booklet as soon as you arrive and don't forget to use the coupons, they can really add up!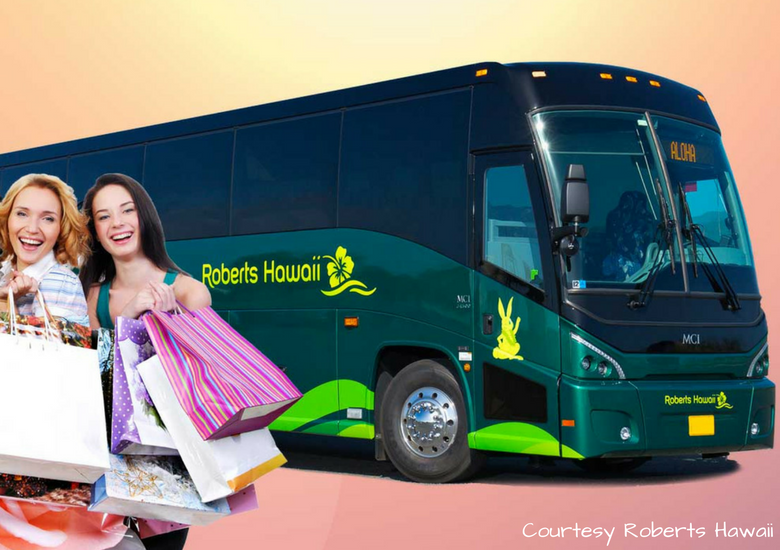 Store Map
A simple layout means getting around is a breeze. Try to resist the urge to keep ducking across to certain stores and instead do the loop all the way around. The bus drops off in the middle near Coach and picks up at the rear of Nine West. Insider Tips: 1) The toilets in the middle always have a queue, head to the ones around the back of Godiva and you should have better luck. 2) The food court in the centre is limited. Exit the centre near Armani and go across the road where you will have a number of fast food options to choose from.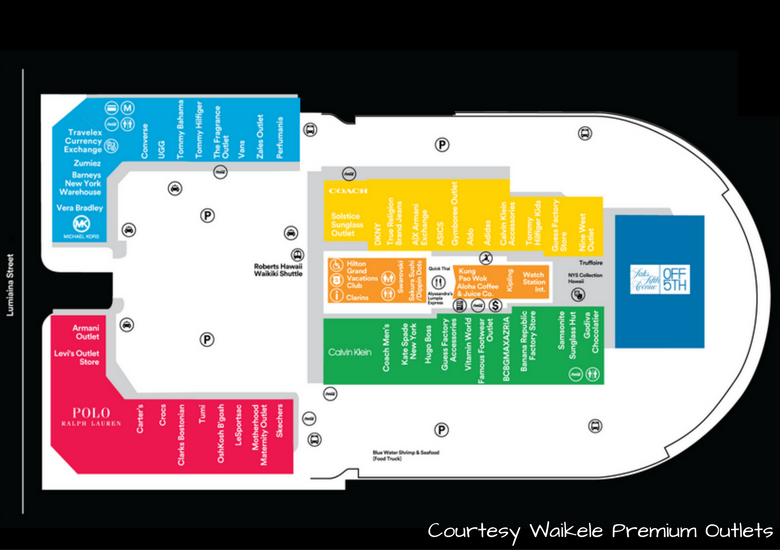 My Picks & Purchase
True Religion – I love True Religion jeans and live in them almost exclusively. In Oz a single pair can set you back around $550 but at Waikele Premium Outlets you can expect to pay about USD$100 a pair. They occasionally have buy one and get 50% off a second deals making it even better value. We rarely leave without at least 4 pair of jeans between us. This visit I grabbed a pair of black skinnies (worn here and here) and a pair of capris (worn here) while The Hubs got two pairs of coloured cargos. I also picked up a pair of kids jeans for each of the mini-enablers. They were just too cute not to and only cost USD$20 a piece. Because of the amount of money we spent we qualified a free bag which came in handy for hauling our purchases around all day. Other outfit posts wearing True Religion from Waikele Premium Outlets here, here, here, here and here. Yes they are all different! I told you I lived in them 🙂 Don't forget to use the coupon in your VIP book here.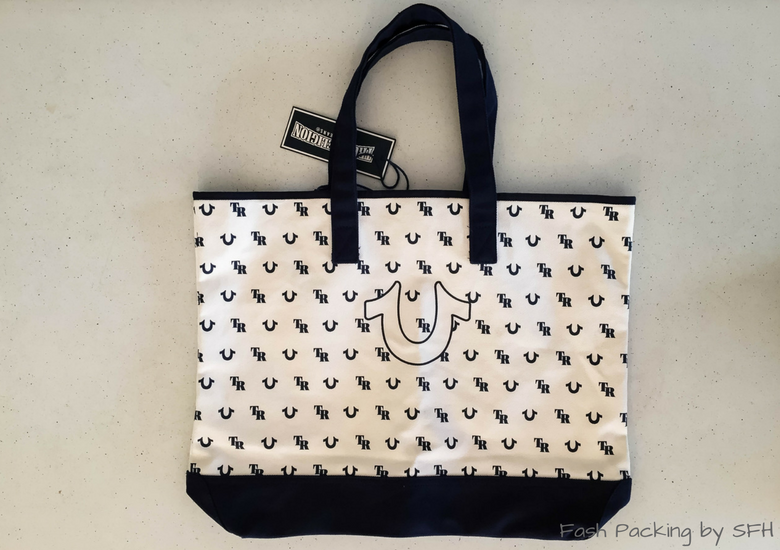 Michael Kors – The last MK bag I bought in Sydney cost me AUD$650. I picked up 3 bags here for just under USD$400; a cute grey everyday cross body, a funky tasseled black beauty (below and also worn here) and a pale blue studded number. If you ask for dust bags at checkout they will usually give them to you even if they are not normally included. I also picked up this grey snakeskin tote on a previous visit.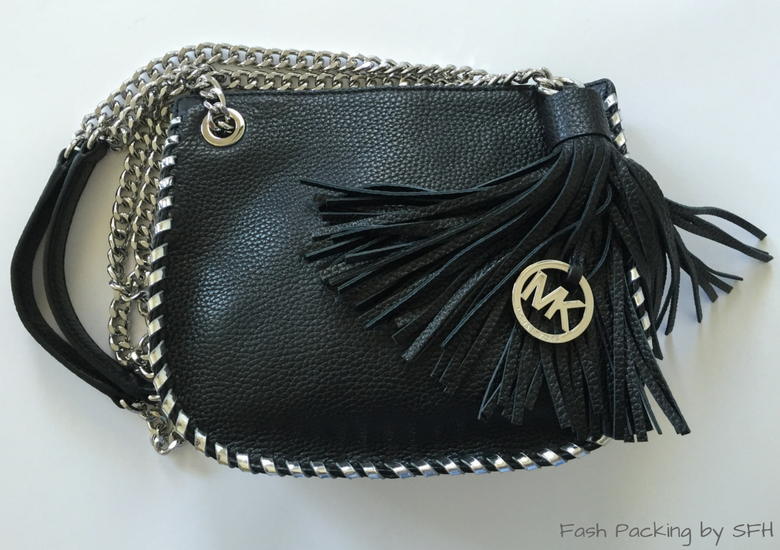 Saks Off 5Th – This one is a bit more hit and miss. I usually look here for shorts and have been lucky in the past but this time came out empty handed. The store smells a bit funny but don't let it put you off. A little more rummaging through bargain bins and random racks than I like but serious shoppers will come up with the goods.
Kate Spade – There is always a queue out the front but it moves quickly so don't be deterred. Unfortunately for me most Kate Spade bags come with gold hardware which I hate. I keep looking in the hopes that Kate will come to her senses and start adding silver hardware to everything but I have only been successful once with this black tote. I continue to live in hope. If you are not as offended by gold as I am you will find lots to love.
Converse – I have visited every time we have been to Waikele Premium Outlets but have never purchased anything for myself until now. I always thought they looked kinda weird on my feet so despite trying on a million pairs I always left empty handed. I got over my phobia of weird looking feet and grabbed these tie dye grey chucks  (worn here) for $30 and the sparkly purple cuties below (worn here) were $7. Yep $7! The Hubs always stocks up on plenty of bargain T-Shirts at 3 for $30.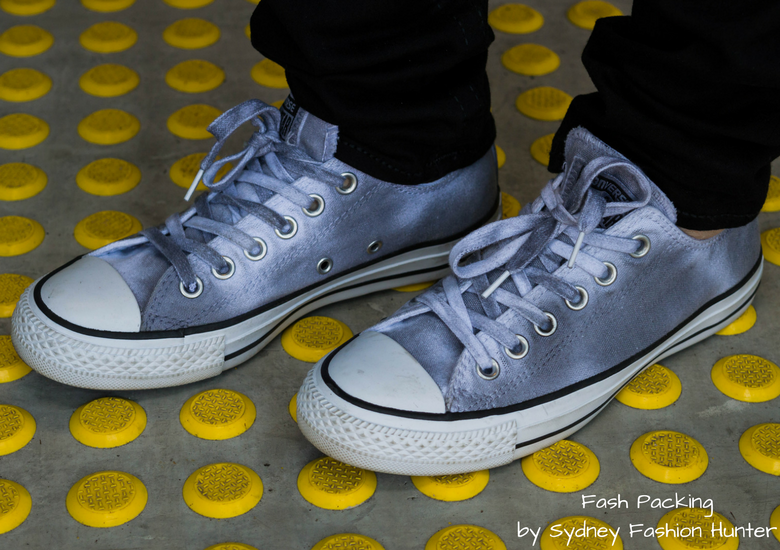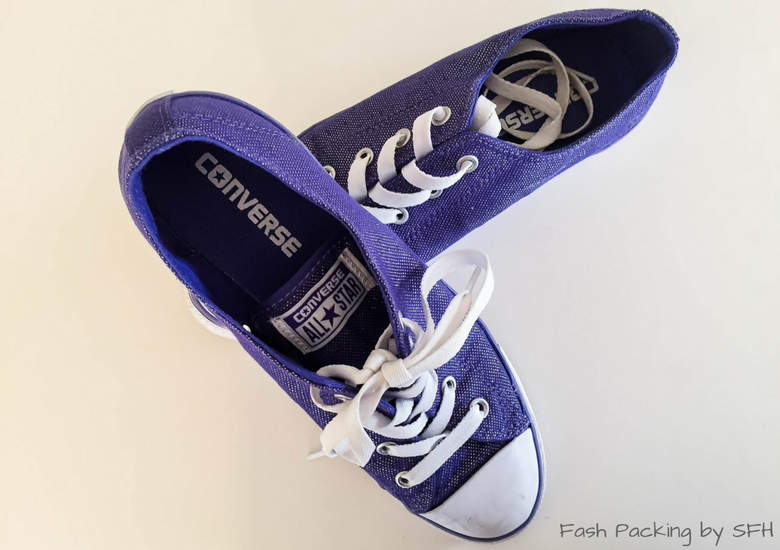 Clarins – Another one where you savings will depend on the day you visit. The standard prices are not that much under retail but it's the bundle deals where you can score some real bargains. This trip I bagged some eye cream and serum and got a couple of freebies thrown in.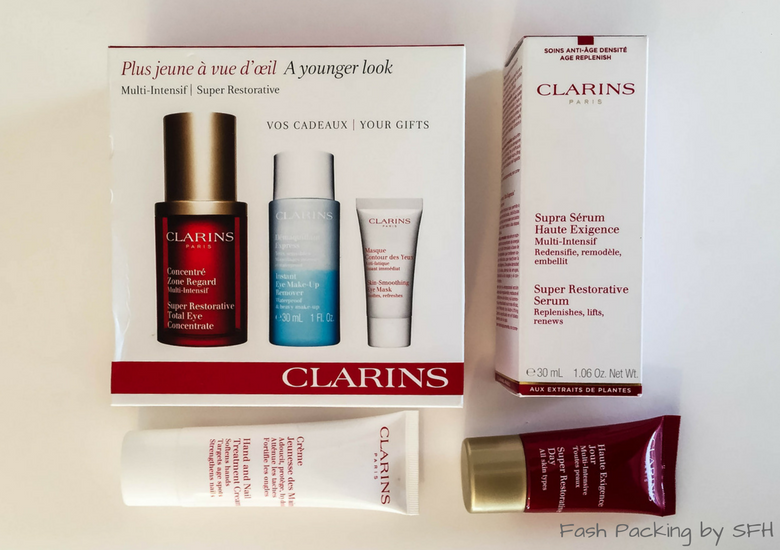 Calvin Klein – Great for work basics and this is where I picked up my famous Wednesday Pants a few years ago. I liked them so much I wore them everyday for a year on the blog. Also great for work shirts, T-Shirts and underwear. Another one to use you coupon book in.
Vans – My youngest son is a fan of the shoes and I always manage to get him a few pairs and stock up on the great value men's T-shirts and socks.
Levis – The Hubs likes Levi's for great value work jeans and usually can score some for around USD$40. Sadly this time despite trying on a lot he bought nothing. Hope you are luckier 🙂
Coach – Always worth a look but be aware that a lot of the stock is 'made for outlet'. You will find a few hidden gems from the regular coach line but you'll have to hunt for them. Coach is a favourite of Japanese tourists so don't be alarmed when they buy 10 bags at a time. I picked up a black cross body a few years ago (worn here, here, here and here) that has been my everyday bag ever since.
Guess – I always have instructions to pick up some T-shirts for the mini-enablers. This visit I managed to grab them two each for under USD$40. That's not bad at all.
DKNY – I always pop in and try my luck. This visit I came up empty but a few years ago I found this sequined sweater that I am still wearing to death.
Asics – Stock up on shoes. My sneakers were only USD$99 as opposed to about AUD$280 at home. And they are purple 🙂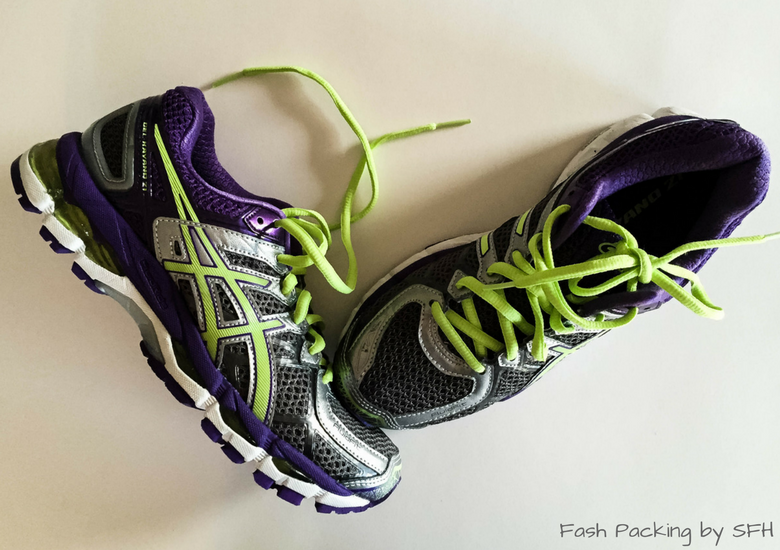 Adidas – The Hubs usually manages to find some tracksuits pants he likes but not this time. When we were here last year The Co-Conspirator boys went nuts in here!
Banana Republic – Only if you have time. Rummaging is required. May the force be with you 🙂
I have wandered into the other stores on the odd occasion but have never had any luck so I tend to given them a wide berth these days particularly because we are always struggling to get everything done before the last bus. Have you been to Waikele Premium Outlets? Tell me about your bargain buys in the comments below.
Until Next Time …

Disclaimer: This post is NOT SPONSORED. I paid for all my purchases and transport to Waikele Premium Outlets as always all opinions are my own.

Like it? Pin it!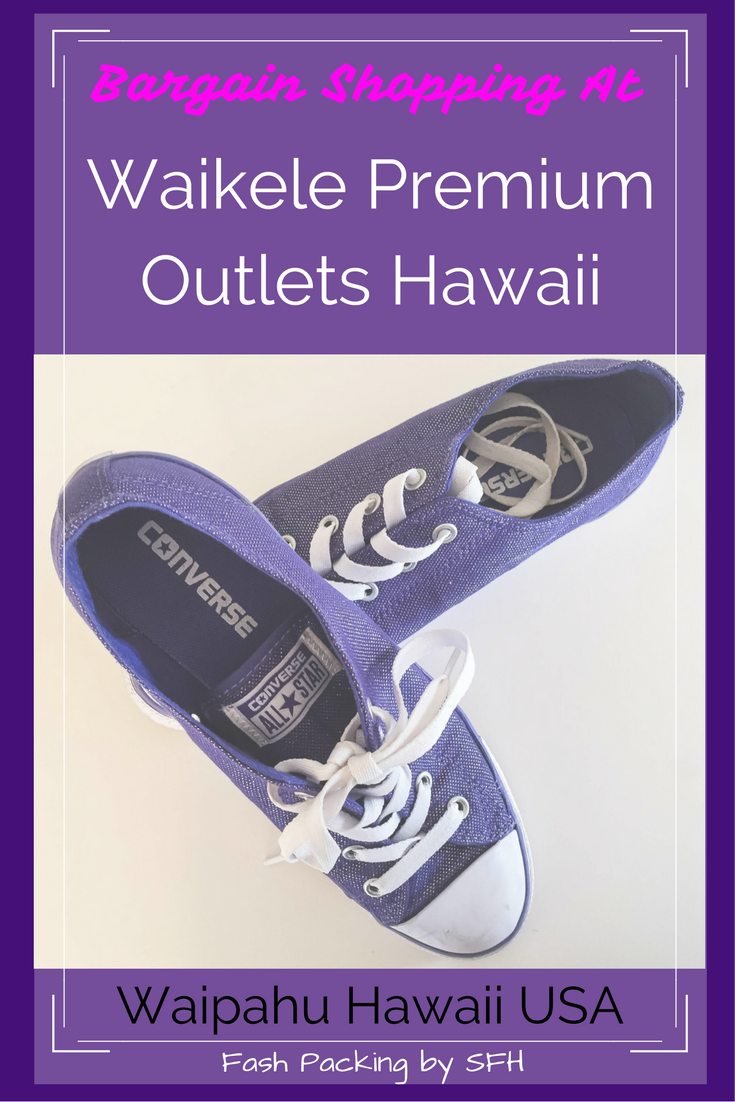 Save
Save
Save
Save
Save
Save
Save
Save
Save
Save