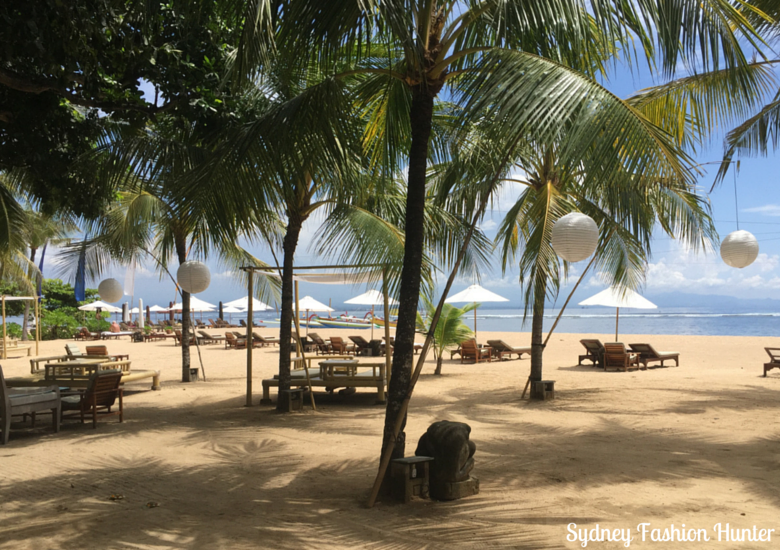 We had heard good things about Sanur Bali from friends at home so we thought we would pop over for a few hours and check it out before we committed to staying there. Sanur is just a quick cab ride away from Legian and many of the water sports in my epic list of +110 things to do in Bali are in this area. Benno's Sanur was an off the cuff lunch choice when wandering along the beach path. There are no shortage of restaurants here but most seem to offer the same type of fare. We were hungry, hot and tired and didn't have the inclination to put much thought into it. Benno's Sanur Bali seemed like a safe bet given there were already a few diners settled it. I hate walking into an empty restaurant don't you? Read on for all the details …
Let's Get Social!
Benno's Sanur Bali Overview
It was hot, hot, hot when we dined at Benno's Sanur. The sun was high in the sky and we have been walking for a few hours before succumbing to hunger pangs. First up was a couple of coldies before we even looked at the menu, Smirnoff Ice for me and a Bintang for The Hubs. They barely touched the sides. Once our initial thirst was quenched we ordered swiftly (including two more drinks!) and settled in to admire the view which is one of Benno's greatest assets. Situated right on the sand with tropical palms and gentle oceans breezes it really doesn't get much better than this. We spotted a few lanterns hanging from the palms hinting that the setting would be even more magical at night.

Lunch Fare
I love a Fettuccine Carbonara and find it difficult to pass up when I spy it on the menu. I often find mild pastas like carbonara are best slathered in toppings such as shaved parmesan, cracked black pepper and fresh chives. The pasta was perfectly pleasant but not mind blowing. It had the potential to be great but there were no chives and the white powdery pepper on the table just doesn't cut it.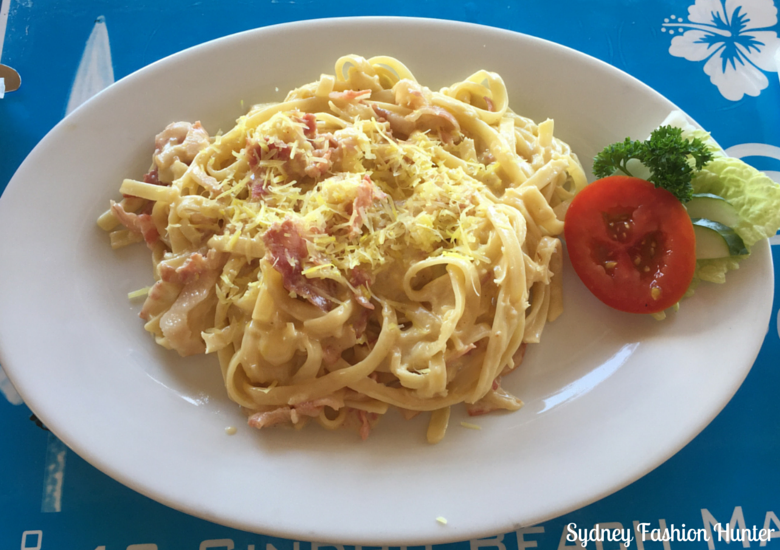 The Hubs had the Nasi Goreng. He eats a lot of Nasi Goreng in Bali but I am intolerant to egg and have to steer clear. Like the pasta it was pleasant but nothing special. The highlight was the chicken skewers. The satay sauce they were basted in was pretty damn tasty.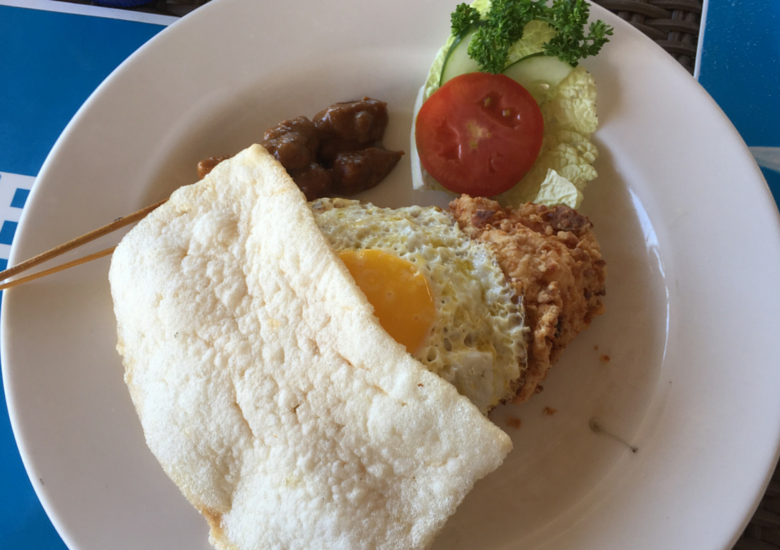 If you liked this you should check out my other Bali restaurant reviews. Have you been to Benno's Sanur? Are you keen to try it? Let me know in the comments below.
Until Next Time …

Psst! My Bali basics post is also a must read for Bali first timers. 🙂
Disclaimer: I paid for my meal at Benno's Sanur in full and as always, all opinions are my own.

Like it? Pin it!