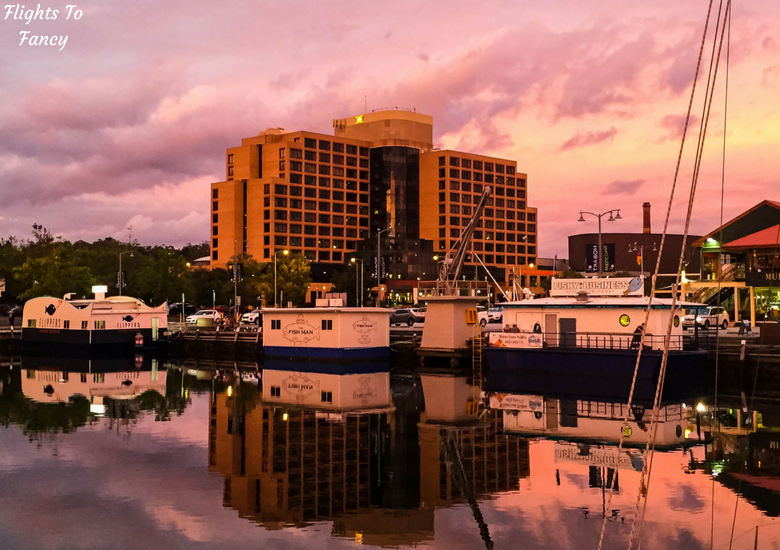 Hobart is Australia's southern most capital and for a small town it sure packs a punch. I arrived with few expectations but left vowing to return. Tasmania's capital is a city with a country town feel and I liked it much more than I expected to. The buzz is all around the water and Hobart's harbour is the place to be. The Hotel Grand Chancellor Hobart commands an enviable position directly across from the harbour, is steps from the CBD and within striking distance of Salamanca Place and Battery Point. Guests will be delighted with the spacious modern rooms, excellent facilities and outstanding service. Read on for all the details …
Let's Get Social!
Hotel Grand Chancellor Hobart Overview
The Hotel Grand Chancellor Hobart is one of Hobart's largest hotels with a universal appeal that is sure to delight both business and leisure travellers alike. The large reception is flooded with light from the central atrium making for a very pleasant welcome. Guests can choose between mountain or harbour view rooms across a number of categories including an executive suite.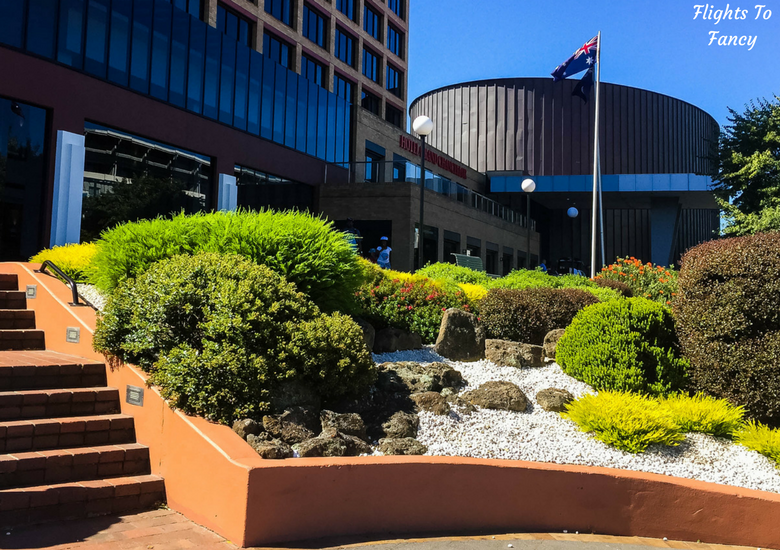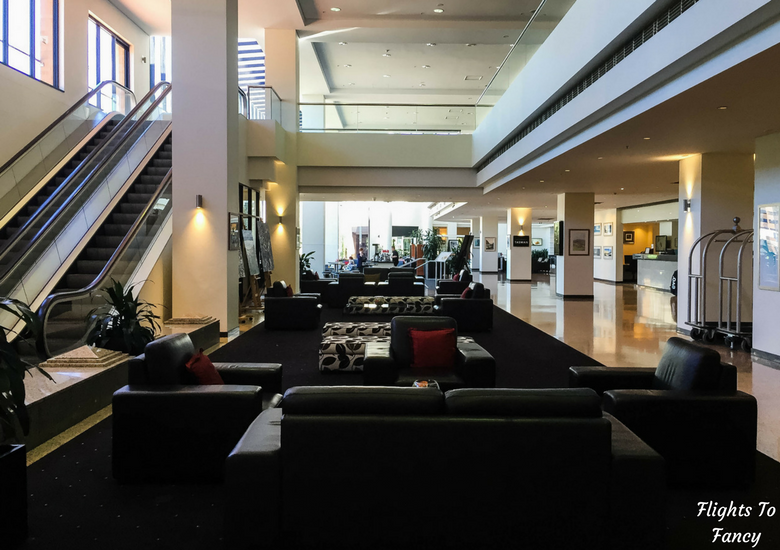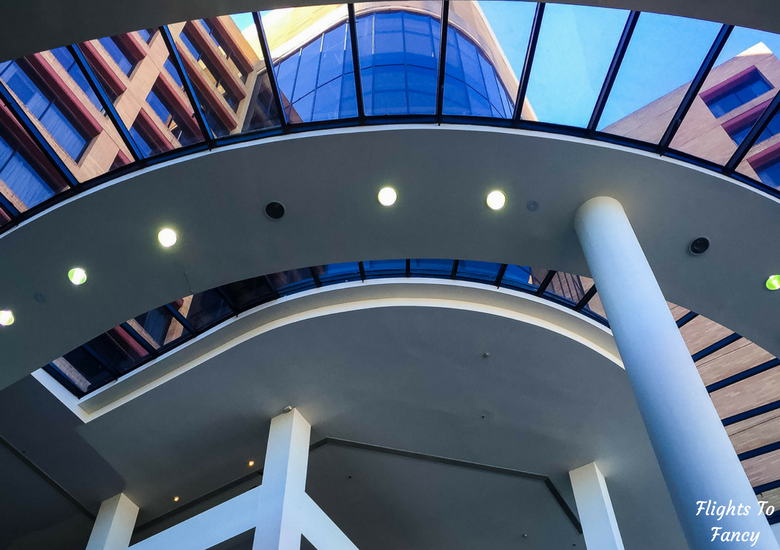 The Rooms
We checked into room 1215 and were pleasantly surprised on opening the door. The room was light, bright and contemporary. Crisp white linen adorned the generous king size bed that dominated the space. A small lounge area and functional desk were welcome additions. A good nights sleep is always my primary concern and the bed was just a touch too firm for our liking but the pillow menu was much appreciated. The Hotel Grand Chancellor does not have any power points next to the bed which is frustrating as it makes charging your phone and using it at the same time a whole lot more uncomfortable than it needs to be.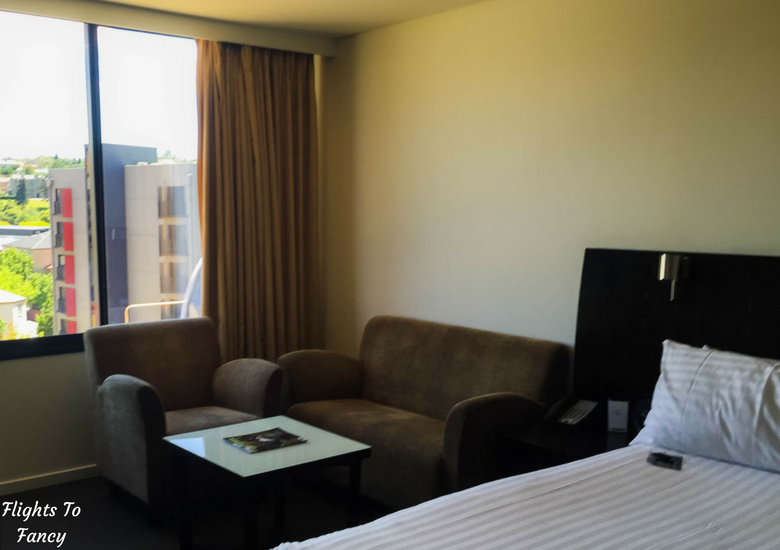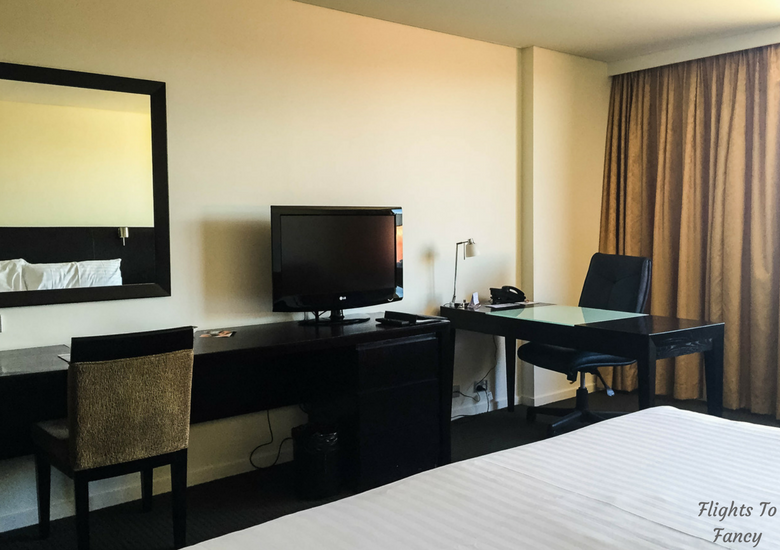 The bathroom was generously sized if a little dated and the pinkish marble was not exactly to my liking. The shower has a fancy overhead rain nozzle which would be a dream for most, but the fact that I like to keep my hair dry meant showering was a little tricky. The water power was exceptional but no matter how hard we tried we couldn't seem to have a shower without flooding the whole bathroom. The toilet paper provided was thin and nasty but the vanity offered excellent bench space which was a bonus.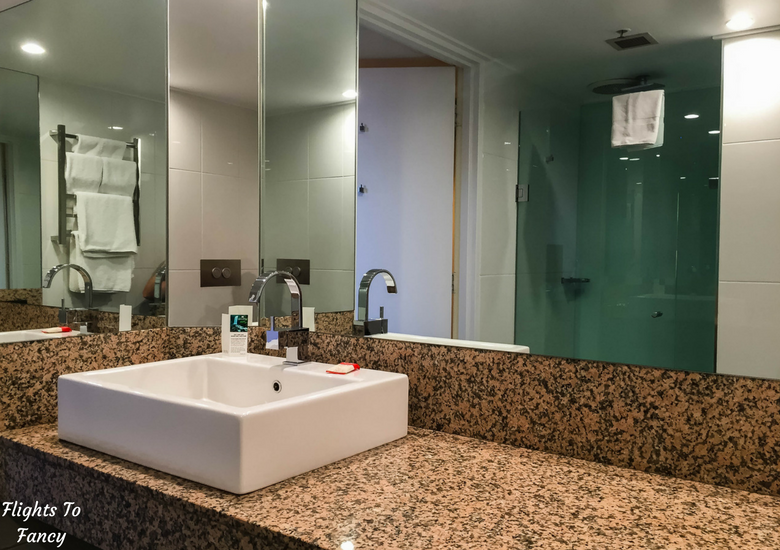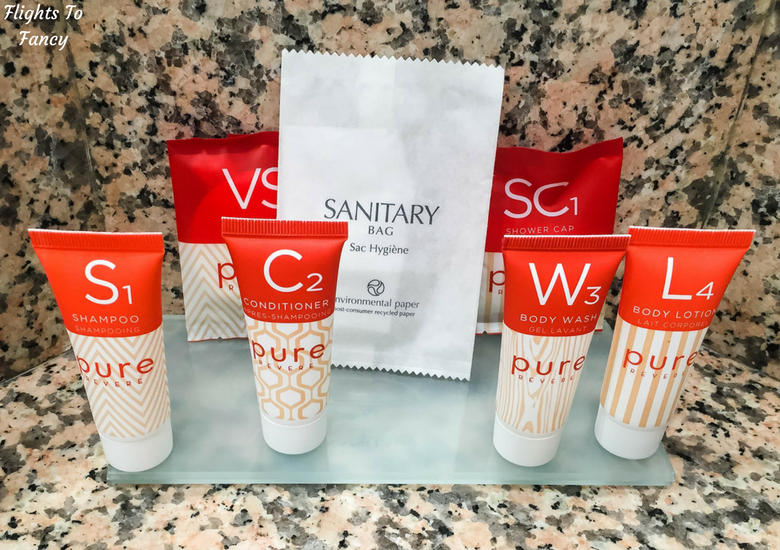 Th rooms were wonderfully appointed with just about everything you could hope for. The fridge is generous in size and handled all my wine ease. Welcome chocolates were on the pillows when we arrived but were not refreshed on subsequent days. The bowl of mints on arrival was a nice touch. The mini bar offered a nice selection of snacks but we preferred to stock up at the nearby Woolworths. The TV remote control was particularly painful to use and we gave up and watched whatever came on because it was just too hard to change the channel.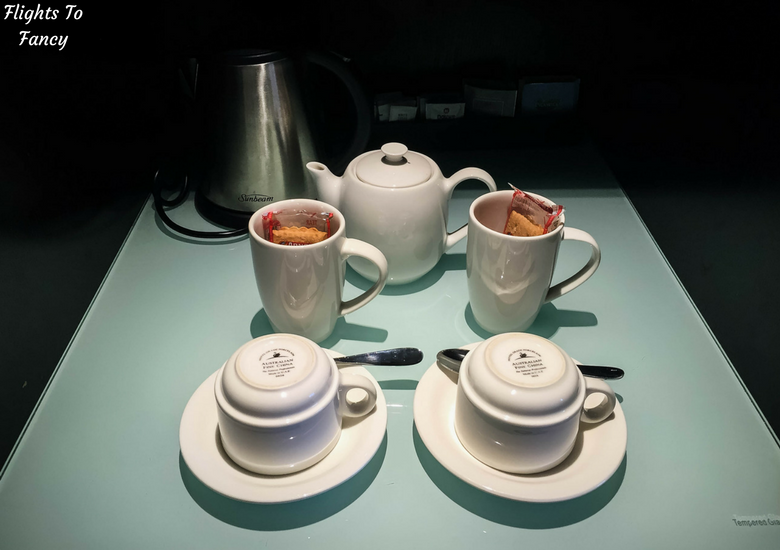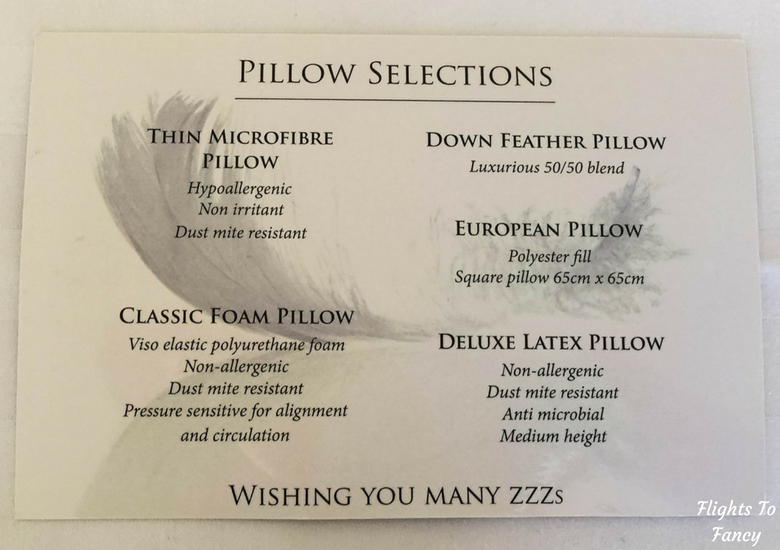 The views from the front of the hotel across the harbour are stunning and I wish we had splurged the few extra dollars on an upgrade. Our room was at the rear and the views across the roof tops to Mount Wellington were not as impressive but we were treated to a rather nice rainbow on our last day in town.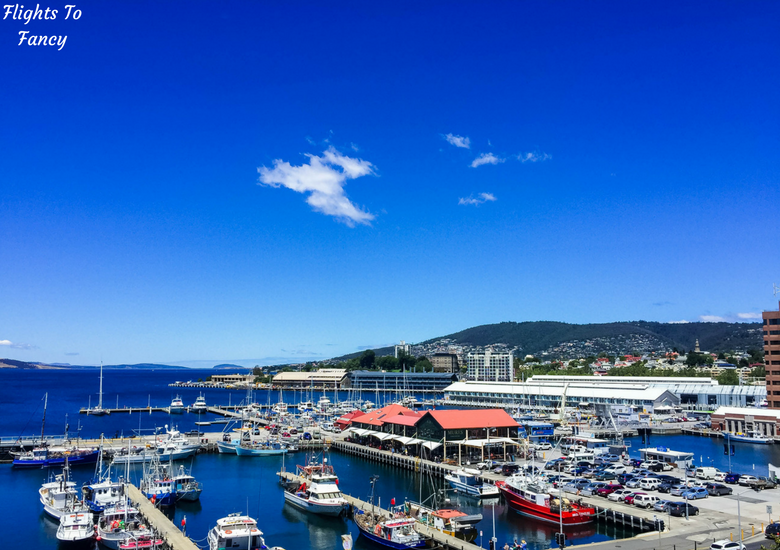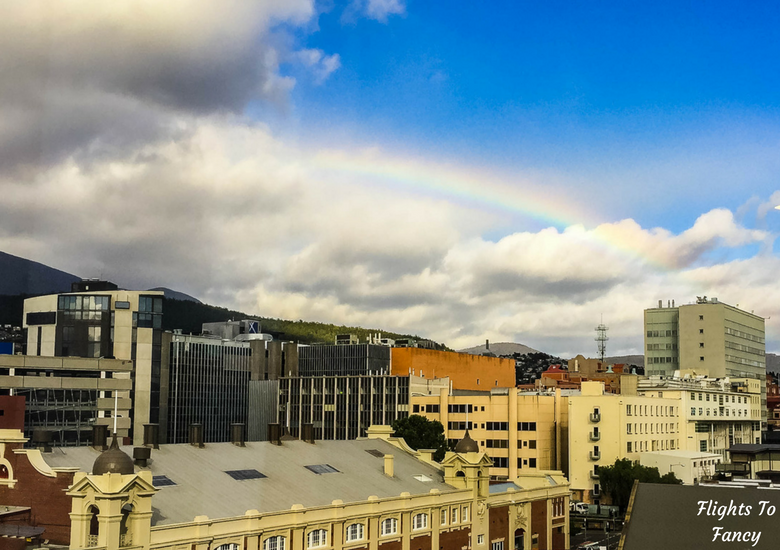 Facilities
There are no shortage of facilities on offer at the Hotel Grand Chancellor Hobart. The pool and gym were in high demand and snapping a couple of pics sans guests was no easy feat. We rarely swim in city hotels but with an hour or so on our hands we decided to indulge in a quick dip. The water was a little cooler than I would have liked but we made the most of it. If you have a car, parking will only set you back $9 a night which is exceptional for a CBD hotel. The self-parking lot does get busy and we had to navigate around quite a few fellow guests who selfishly double parked. One of the most surprising offerings at the Hotel Grand Chancellor Hobart was the courtesy push bikes available from the lobby for when you want to leave the car behind. Nice one!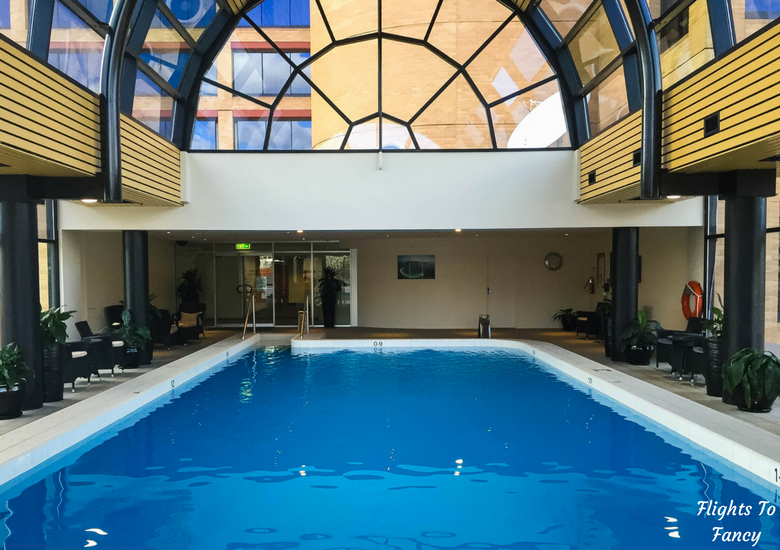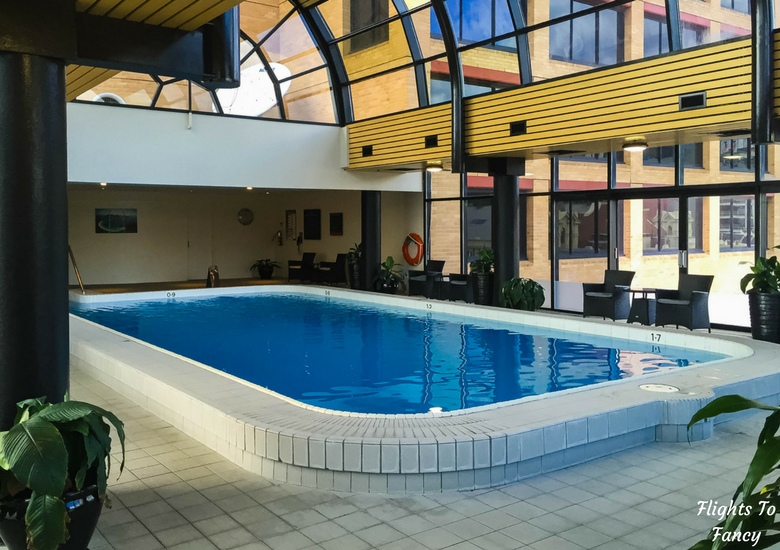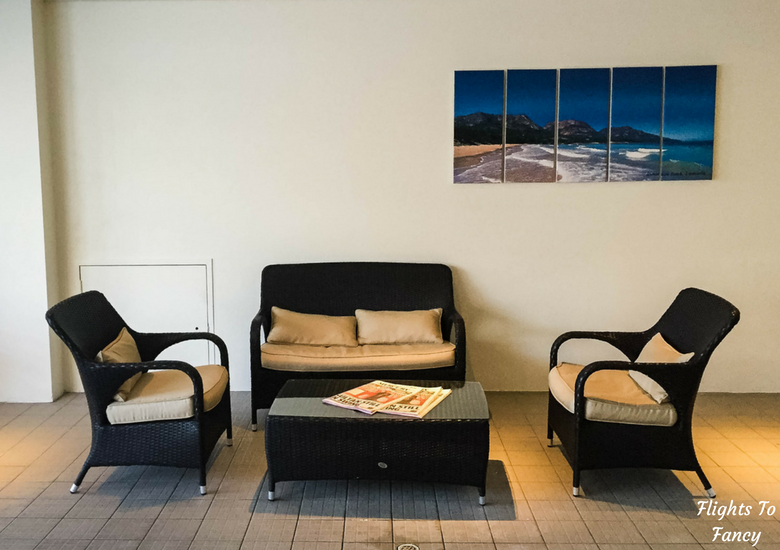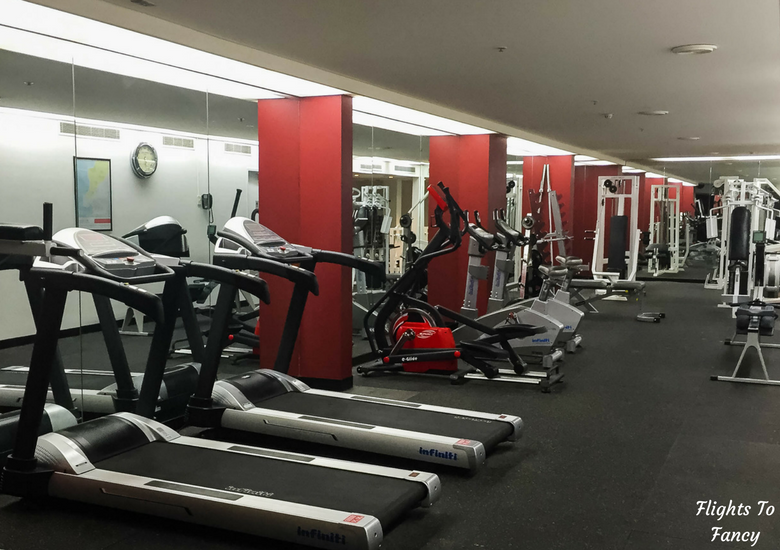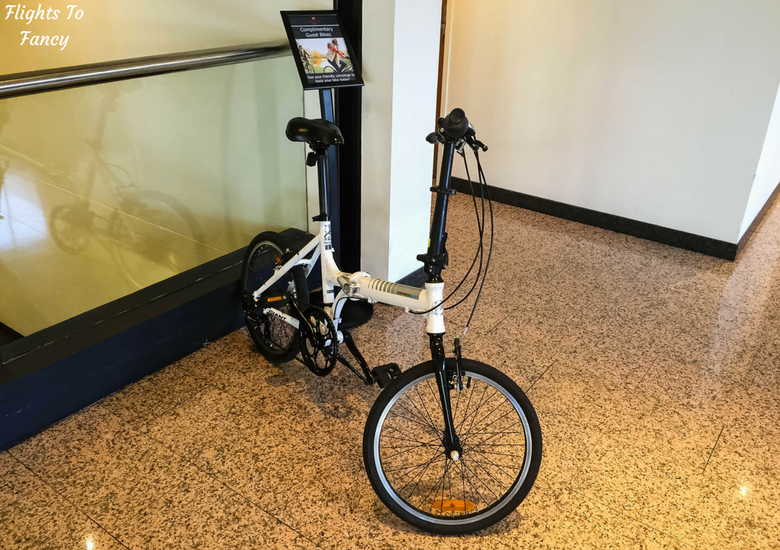 Wining & Dining
The Tasman restaurant on the ground floor of the Hotel Grand Chancellor Hobart was always busy so they must be doing something right! The menu is seasonal and reasonably priced. The lobby bar houses a grand piano and has panoramic views across the harbour. A room service menu is available for those who wish to dine in the comfort of their room.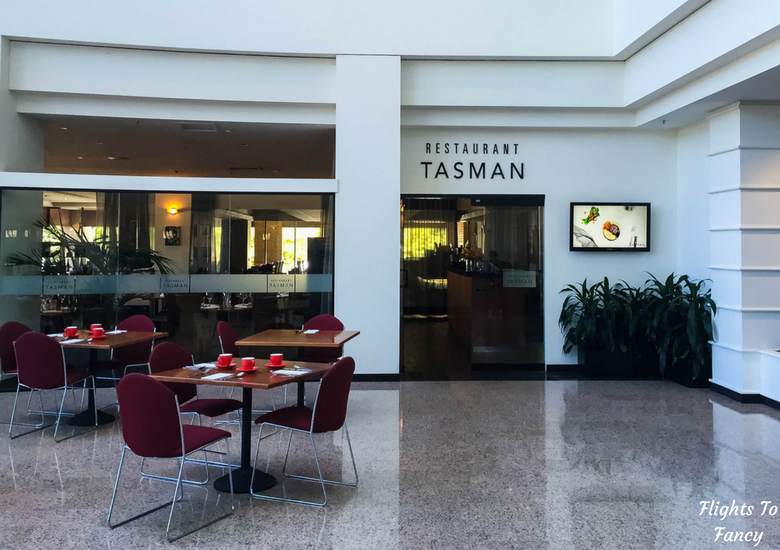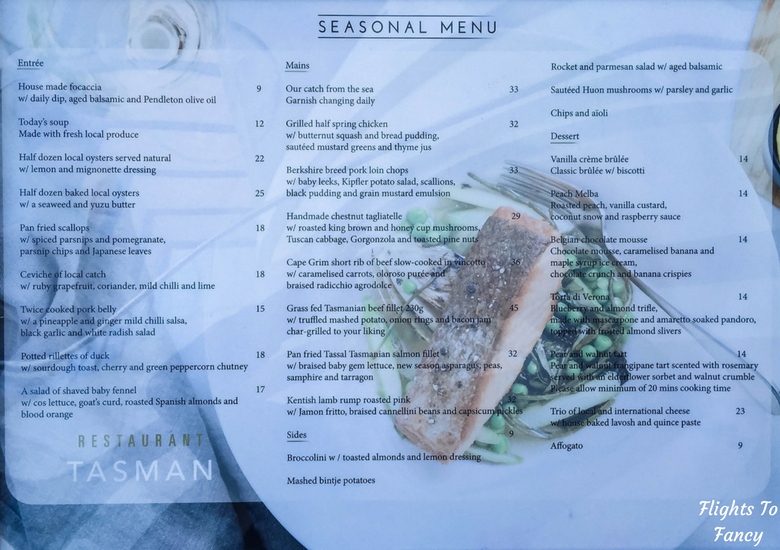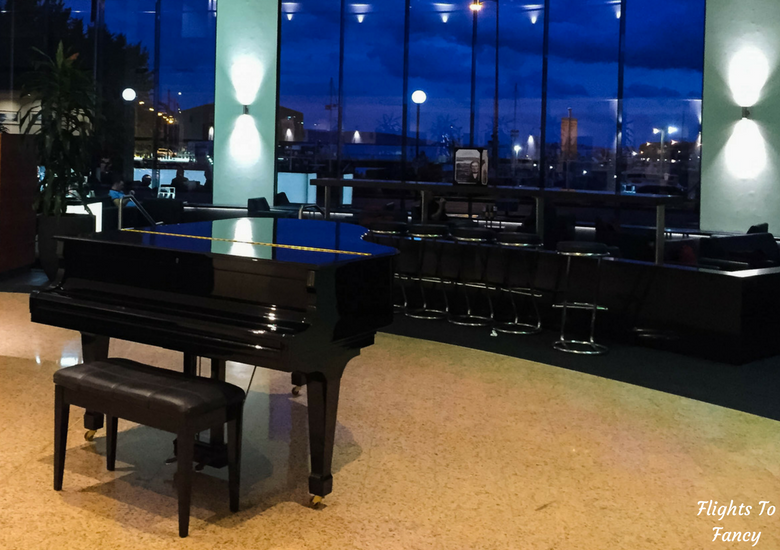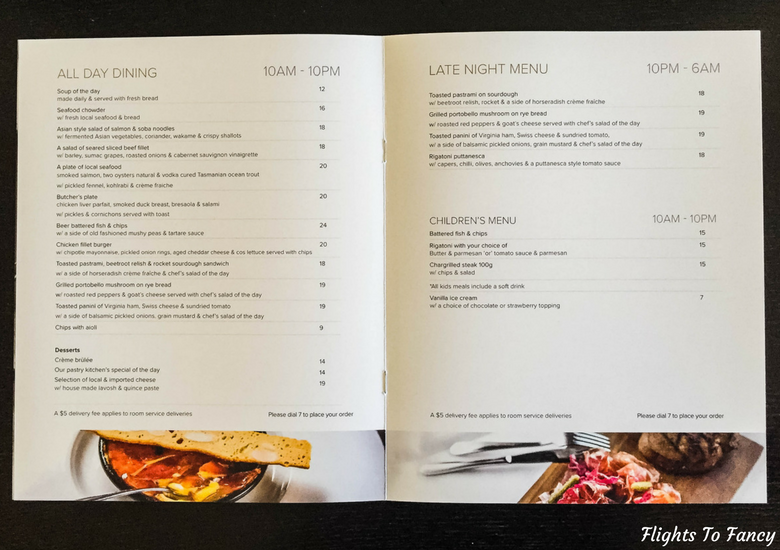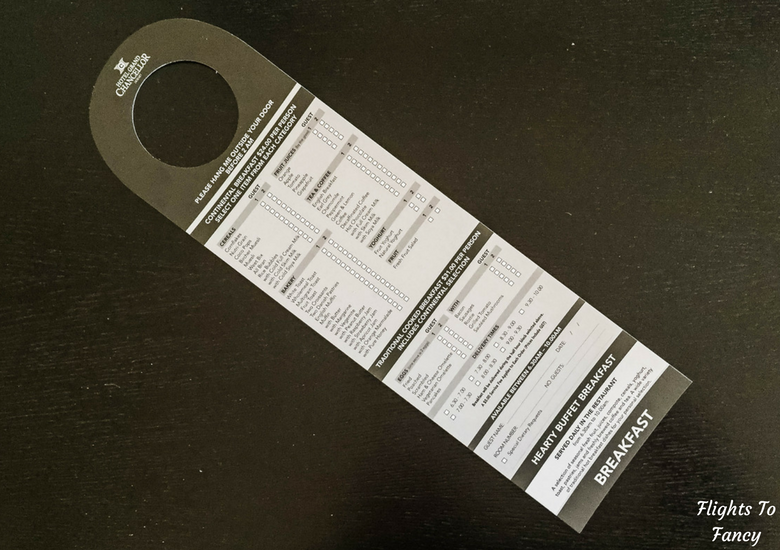 Nearby
Hobart's beautiful harbour is steps away from the entrance of the Hotel Grand Chancellor Hobart. Follow it around to your right and you will find yourself in Salamanca Place, a bustling cosmopolitan hive of activity that is perfect for a casual alfresco dinner. Try Jack Green for a unique burger or Cargo for a great pizza. The Wrest Point casino is also close by for those that want to try their luck and Hobart's CBD and shopping district is a mere 5 minutes away on foot. Hobart was the first stop on our Tasmanian road trip and we took a day trip to Port Arthur Historic Site which is just over an hour out of town. A morning visiting the fabulous wineries near Hobart is a must. For those who wish to explore a little further afield, I would highly recommend a trip to the stunning Freycinet Peninsula. The beaches are some of the most spectacular I have even seen and our Wineglass Bay Cruise was a highlight. Hobart is also perfect for viewing Tasmania's Southern Lights at certain times of the year.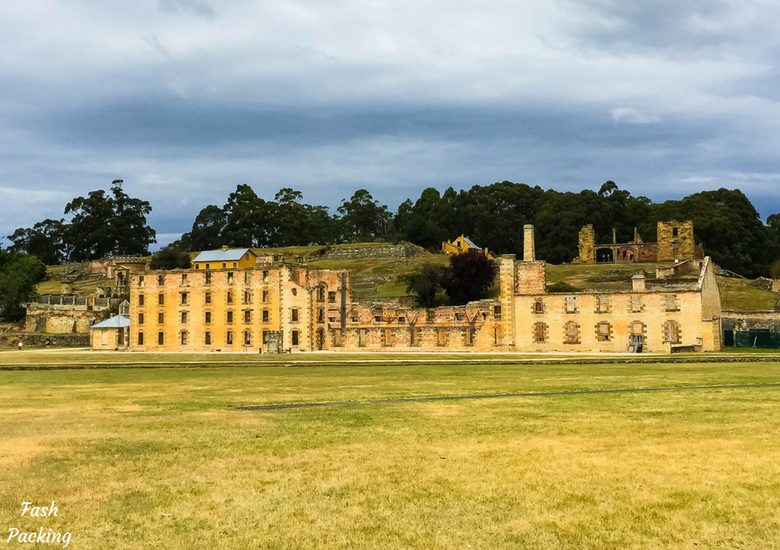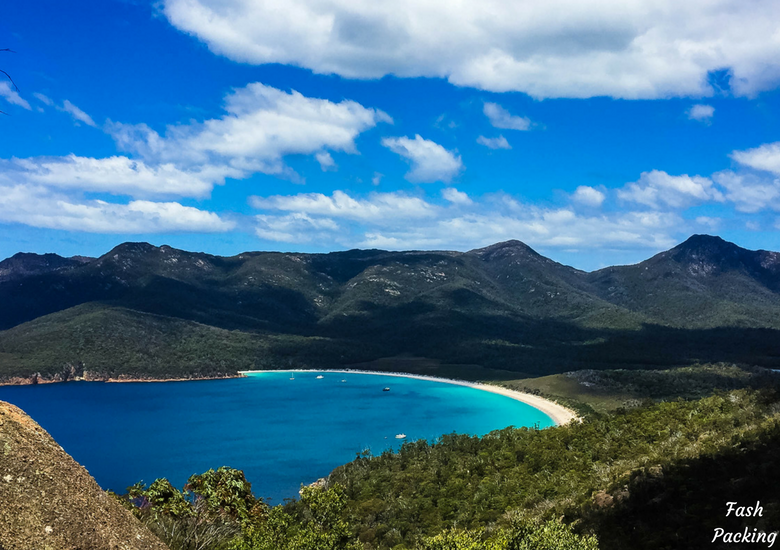 The Final Word
We were delighted with our two days at the Hotel Grand Chancellor Hobart. The staff were attentive and greeted us warmly each time we moved through the lobby. The superb location puts you right in the midst of all the action and offers easy access to the freeway when it's time to leave. The onsite facilities provided everything we needed for a comfortable stay, however the hotel does not award Qantas frequent flyer points which was disappointing. After having perused all the hotels Hobart has to offer, I believe we made the perfect choice and would have no hesitation in returning. Rooms start at about $230 a night and you can book with ease through Expedia. If you like this review you should also check out my review of the Hotel Grand Chancellor Launceston.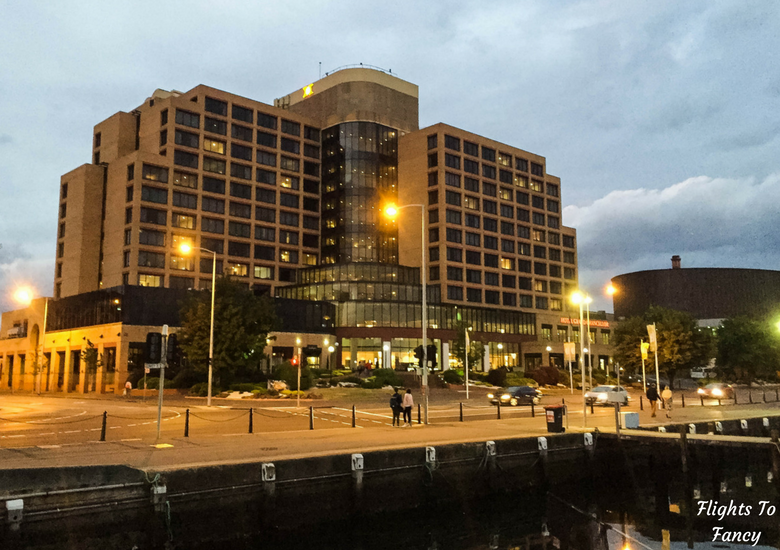 Are you planning a trip to Tasmania? I would love to hear what's on your itinerary in the comments below.

Disclaimer:  This post is not sponsored. We paid for our stay at the Hotel Grand Chancellor Hobart in full and as always, all opinions are my own.
Like it? Pin it!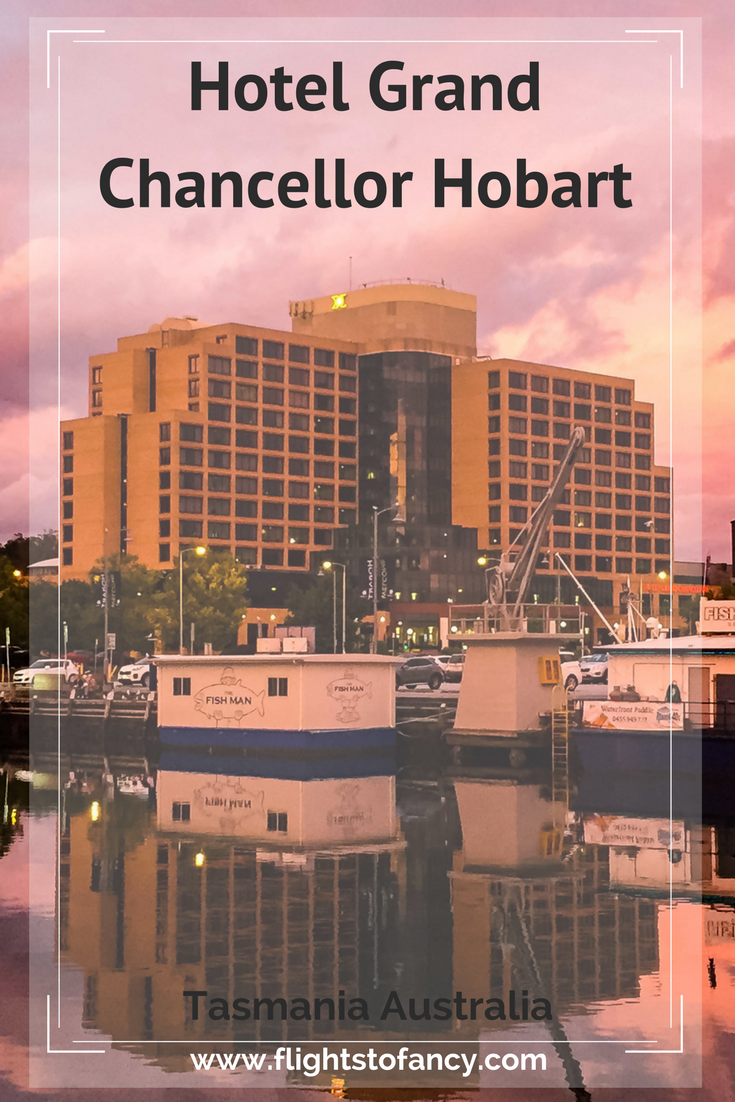 Save