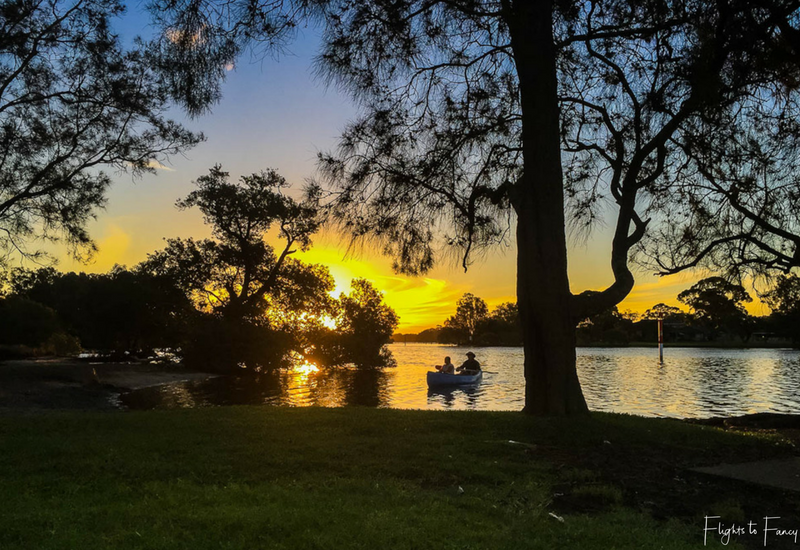 I love the nostalgia of a road trip. My recent stay at the Great Lakes caravan park Forster brought back memories of my childhood when Mum and Dad would throw me and the dogs in the back of the unseatbelted, unairconditioned, unreliable Kingswood and drive from dawn til dusk on bitumen turned molten under the harsh Australian sun to some far flung caravan park in the middle of nowhere because it was cheap. I remember spending a lot of time on the side of the road listening to the stream of expletives that spewed from my Dad's mouth while his head was buried under the bottle green bonnet. No wonder I can swear like a sailor! Later, as newly licensed, cash-poor teenagers, we would pool our pennies for gas, pile into one of our bangers and speed out of Sydney most Friday nights with an exuberance reserved only for the young. Those were heady days and we reveled in that joyous space between childhood and being a 'real' adult where you are invincible. 30(ish) years on, I itch to explore all the world has to offer and travel means boarding a flight to fancy rather than starting up the family car. With one exception. Our annual group trip. As we settled into our Forster accommodation, the menfolk unpacked the cars, the kids ran excitedly from one cabin to the next and I nursed a freshly poured wine while taking a moment to study the now laugh lined faces of those once carefree young women I road tripped with a lifetime ago. And I felt blessed. Blessed to still have them in my life. Sure it's a harder to get together now. Gone are the days when we would simply ring around on a Thursday night to see who was 'in' for the weekend as none of us yet possessed (or even imagined) smart phones capable of instant group chat. These days our technology has improved but hectic schedules, kid's weekend activities, shift-working husbands and a general level of exhaustion must all be juggled with military precision to find time to catch up. Even though my grown up boys have long since stopped tagging along, I still enjoy the simplicity of these trips and spending quality time with a group of pals I love with all my heart. Read on for all the details …
Let's Get Social!
Finding Forster Accommodation – Caravan Parks Forster Tuncurry
Straight up I am going to say that Forster accommodation goes against my mantra. It is not luxury and it most certainly is not for less. We take turns to organise these trips and last year I chose Lake Conjonla. This year I was more than happy to hand over the reins and had very little input into the final choice. Forster is a sleepy coastal town about 3½ hours drive north from Sydney. The mid NSW coast is renowned for its mild climate, pristine beaches and relaxed attitude. Forster accommodation is dominated by holiday parks which are perfect for groups and families with energetic kids in tow. I've been to Forster several times over the years and can personally recommend BIG 4 Forster Tuncurry Great Lakes Holiday Park and Smugglers Cove caravan park Forster. If pennies are tight, take the tent. Forster is one of the best places to camp in Australia.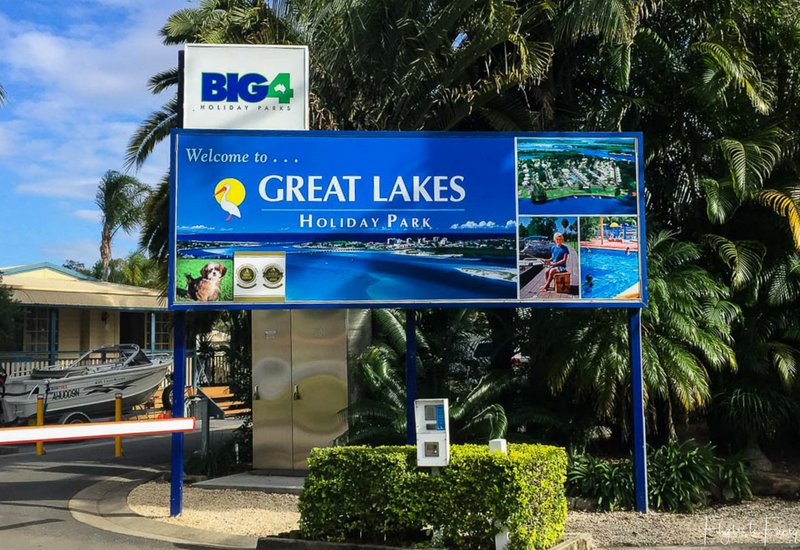 Great Lakes Caravan Park Forster Location
Great Lakes Holiday Park is situated just this side of the bridge leading into Forster. Take the last right hand turn and follow the signs. Water lovers will be delighted to know that this Forster caravan park is surrounded on three sides by water. It goes without saying that the sunsets across the bay are magical. Forster town centre is just a few minutes drive away and comes complete with a Stockland Mall. Head there before you settle in to stock the fridge. The littlest campers might enjoy a day at Big Buzz Fun Park but you'll probably get an eye roll from anyone older than 12. Whale watching, dolphin watching, surfing and scuba diving are just some of the attractions in Forster Tuncurry so get out and make the most of this stunning region. If you are flying in, Taree airport is just 30 minutes north of Forster and is serviced by Pelican Airlines.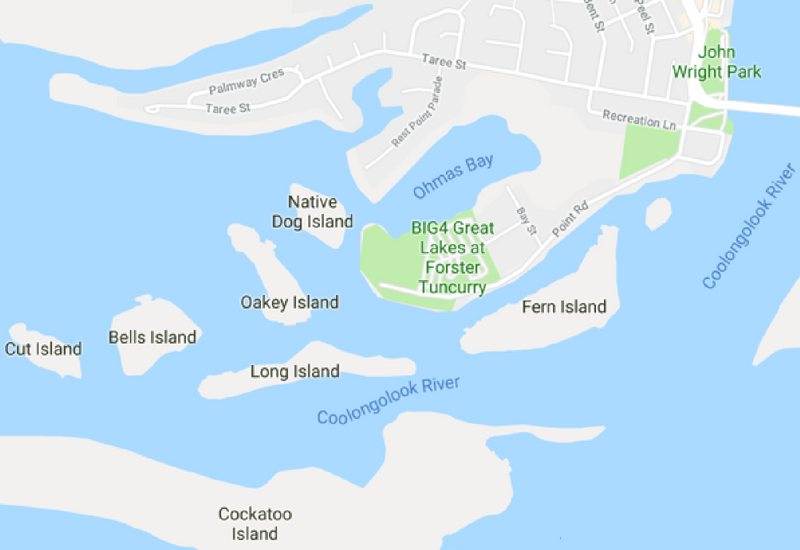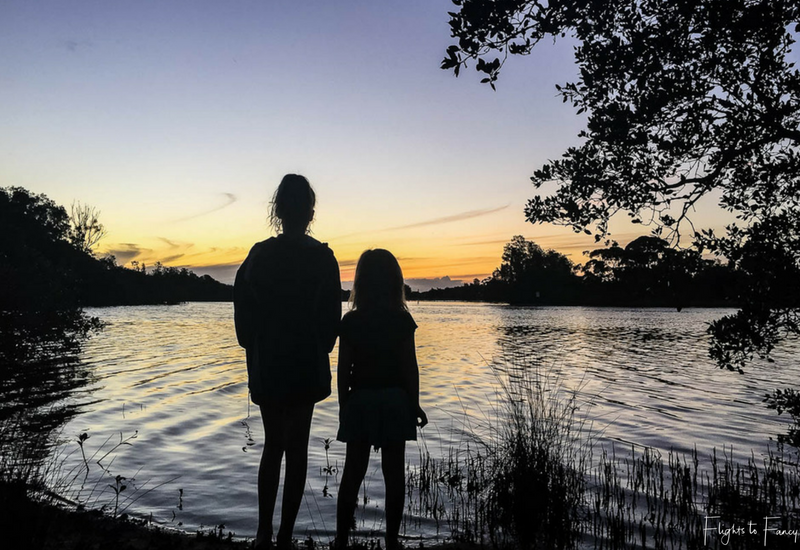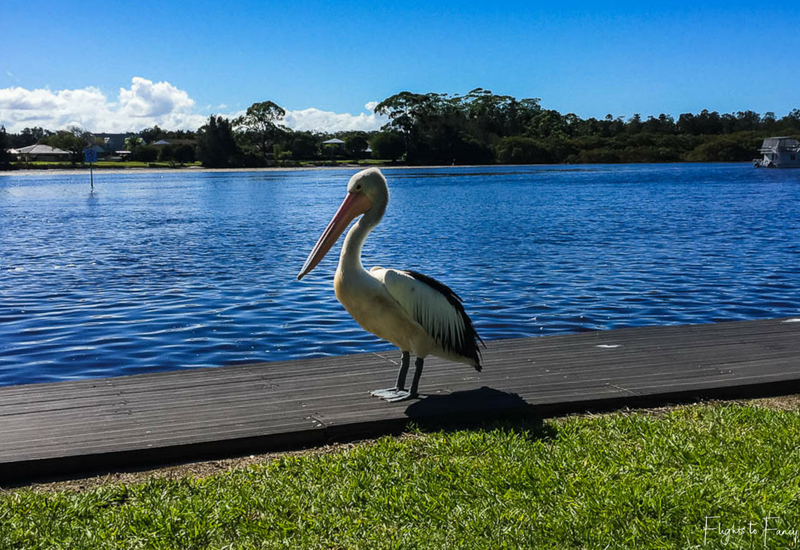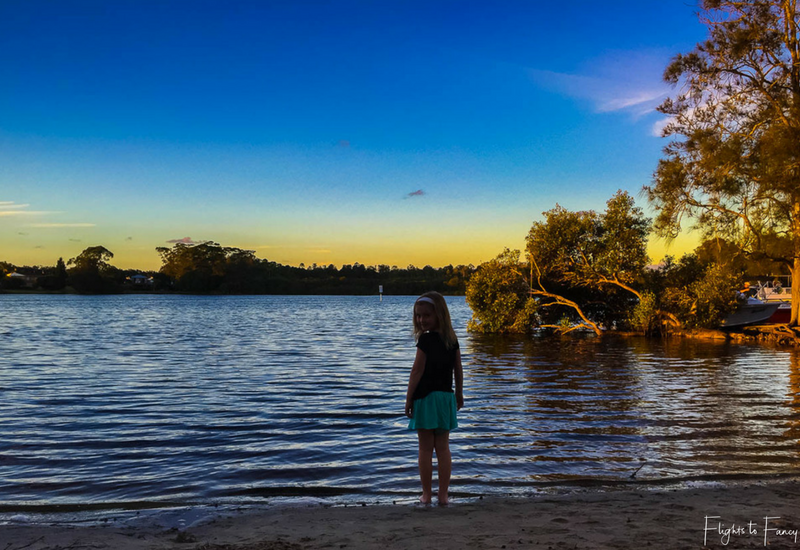 Cabin Accommodation Forster Caravan Park
We chose the 2 bedroom waterfront cabins  which sleep five or six and we needed three to accommodate our group (22, 23 & 24). All the cabins had slightly different floorplans and easily accommodated the occupants but it was a little tight when we all piled into one cabin. There is strictly only one car allowed per cabin and extras vehicles must park outside the park. Despite the fact that all the cabins slept either five or six, there was only seating for four on two x two seater lounges that were looking just a little bit tired. The kitchen was functional and the oven did a decent job of turning out 15 homemade pizzas on our first night. The bench space was tight, particularly as TV takes up a decent chunk of it. The bedrooms are equally compact and there was not enough floor space to open our Samsonite Cosmolite suitcase while still allowing access to the bed. It was a little annoying to have to keep opening it, closing it and stowing it each time I needed to grab something. The accessible cabins are far more spacious and easier to navigate.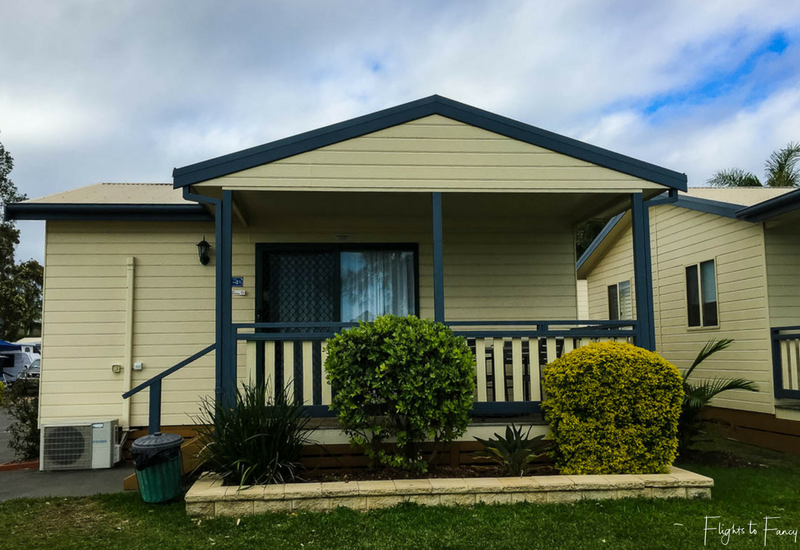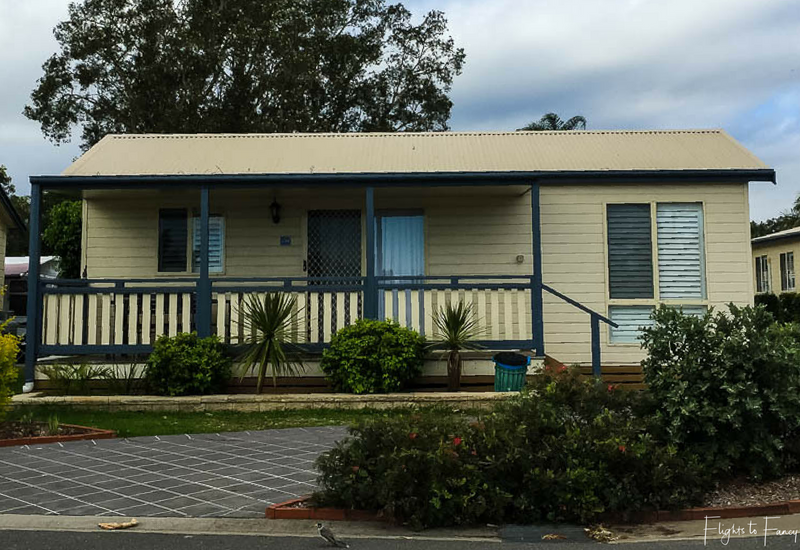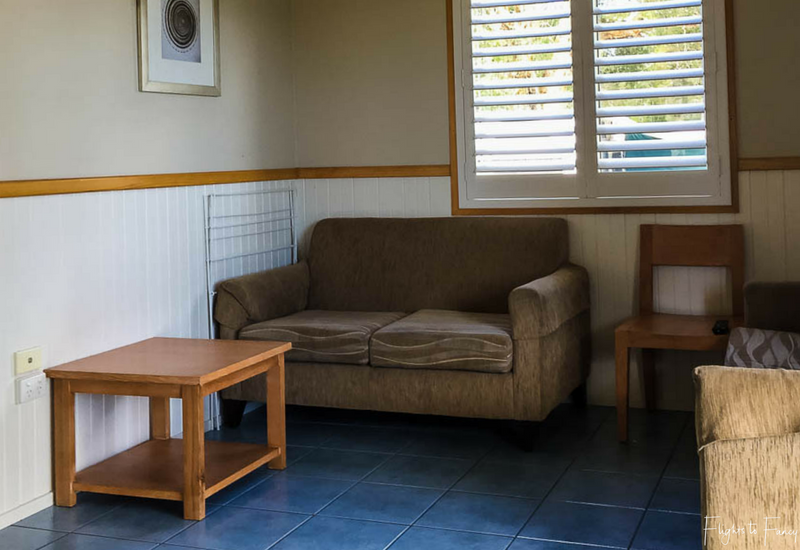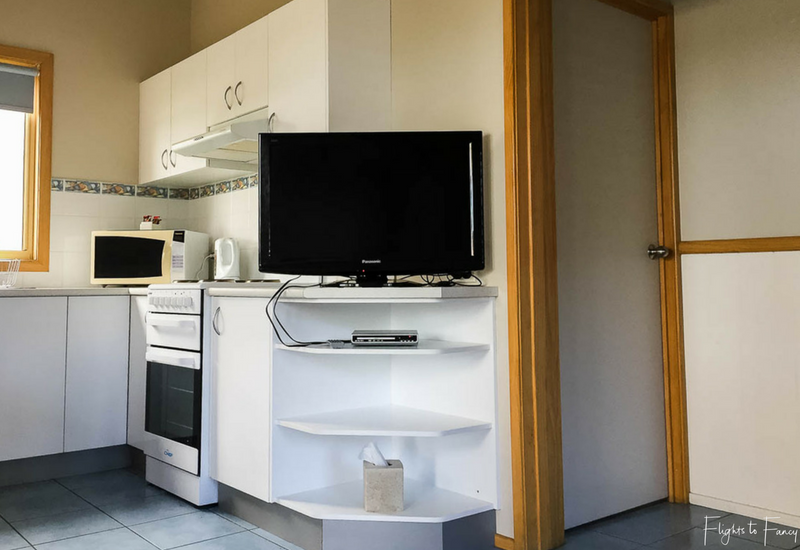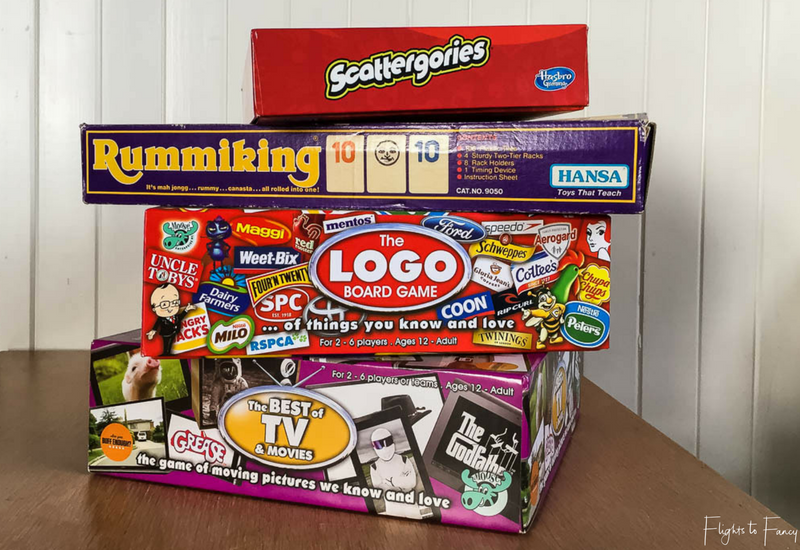 Forster Camping @ Big 4 Great Lakes
If the cabins don't appeal and you are looking for a more rustic stay why not try camping? Great Lakes has a number of options including safari tents, ensuite suites and powered sites. With full access to all the parks facilities, Forster camping had never looked this good!
READ MORE ON NEW SOUTH WALES:
Hunter Valley NSW: Simply Breathtaking
Emirates Lounge Sydney Airport
How To Successfully Plan A Blue Mountains Day Trip From Sydney
15 Amazing Sydney Weekend Getaways
Facilities At Big 4 Caravan Park Forster
Great Lakes Caravan Park Forster is packed with facilities. The on site shop is handy for everything you have forgotten and serves a great burger. There is a very generous camp kitchen and multiple BBQ pavilions for you to whip up a gourmet delight if you would rather self-cater. Keep the kids amused by sending them to the heated pool, jumping pillow, playground or movie room when you need a moment of peace. During school holidays Great Lakes have a full school holiday program with lots of activities for all ages. Given we had the waterfront cabins, many an hour was spent by the menfolk fishing right in front with a beer in hand.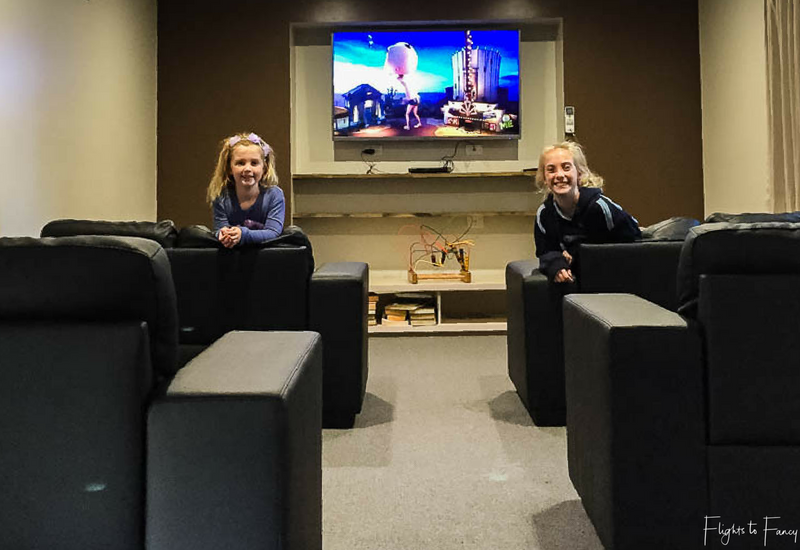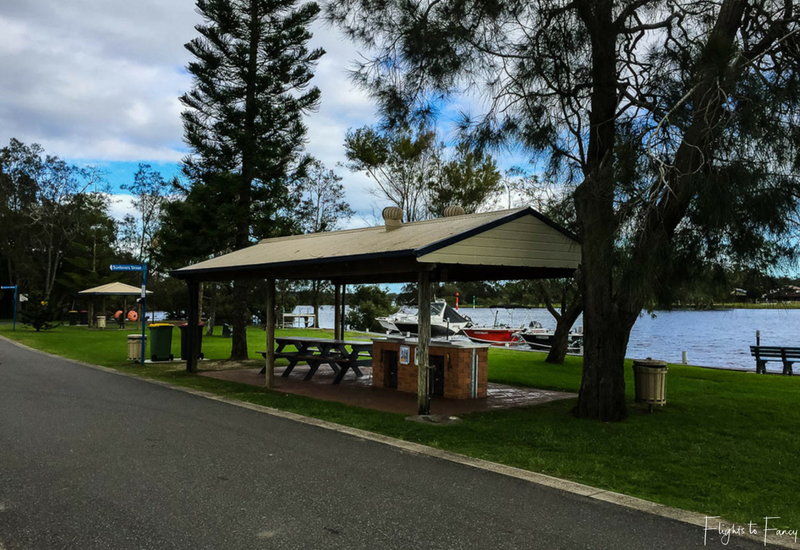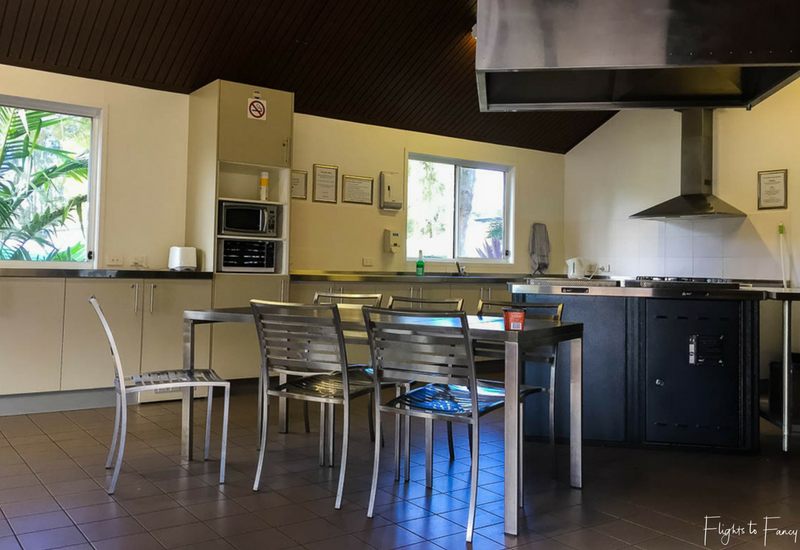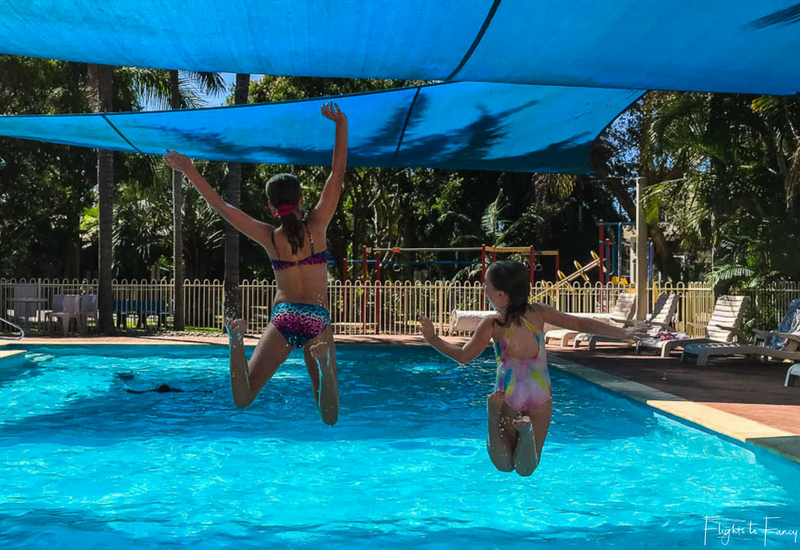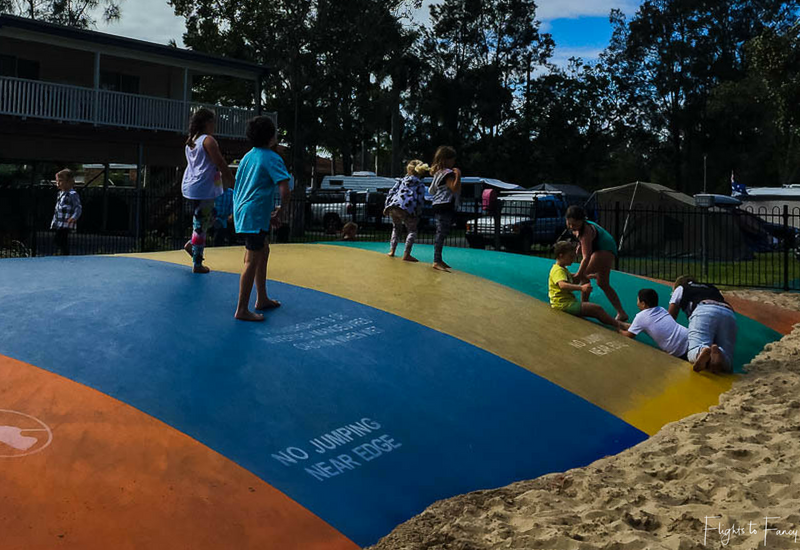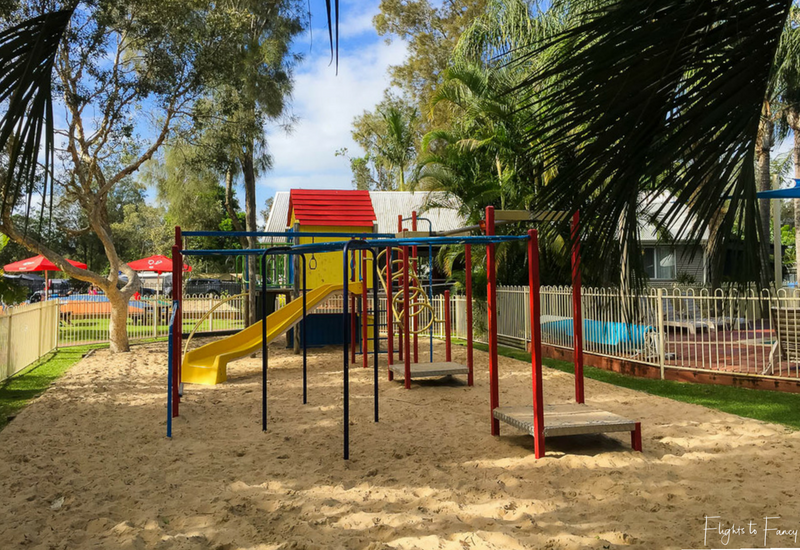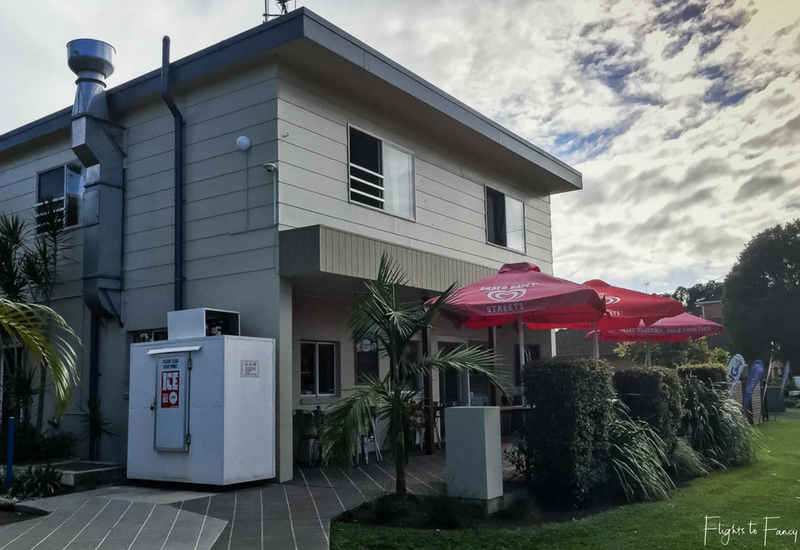 The Final Word on Accommodation Forster NSW
While The Great Lakes holiday park did not offer the level of luxury of the 5 star hotels I have grown accustomed to, it did provide the perfect solution for our group weekend away and was a standout among the many caravan parks in Forster Tuncurry. Lots of stories were told, lots of wine was consumed and a good time was had by all. Oh and those sunsets … just breathtaking! Book here.
Do you ever stay in holiday parks? Let me know some of your favourites in the comments below.
Until Next Time …

Pin "Big 4 Great Lakes Forster Caravan Park "

for later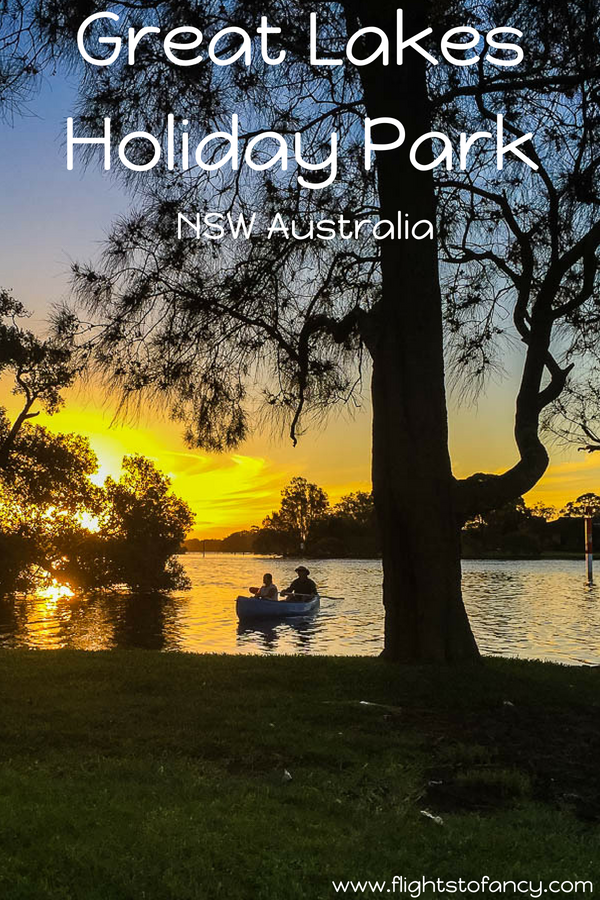 Disclosure Statement: This post is not sponsored. I paid for all my stay at Big 4 Great Lakes Caravan Park Forster in full. The information in this article is based on my own personal experiences and has not been influenced in any way by the brand(s) featured. This post may contain affiliate links which if clicked may earn me a small commission on purchases at no extra cost to you.