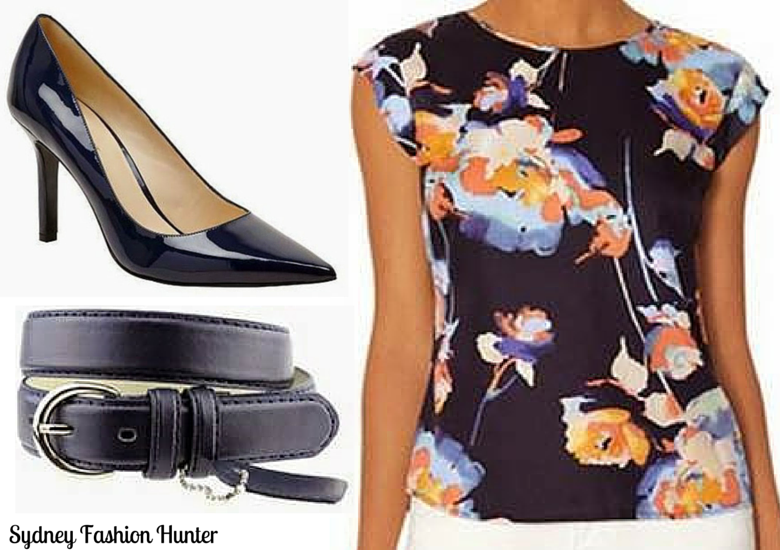 It's Sunday evening and time for The Weekly Wrap. This week my Prada shoes from Bluefly arrived (see previous post). Extreme excitement turned to major disappointment as soon as I opened the box. I was expecting a 3 1/4 inch heel (as stated on the website!) and these babies were sky high … at least 4 inches, so while I deliberated for a while, very sadly they had to be returned. There is just no way that I would be able to walk comfortably all day at work in those heels. I'm over sacrificing comfort for style … I want both! While the black pair were a back up, the nudes were needed so the hunt was on for a replacement. Another dentist appointment this week dipped into the shopping budget and the down time saw me hunting on-line. A mid-week lunch shop with The Co-Conspirator and a great Saturday afternoon shopping jaunt with The Enabler (and more dangerously, her mini enablers aged 5 & 8) yielded some success. Read on for all the details …
Hunting Grounds …

Westfield Sydney *** Sydney City *** Westfield Bondi Junction *** Westfield Chatswood


Kurt Geiger Petal Nude Patent Pumps ($365)
To replace the returned Prada's which I'm still devastated about! I stumbled across this pair in DJ's while shopping with The Co-Conspirator which are a pretty good match. Quickest pair of shoes I have ever bought. Score! Buy here. (Sydney City)




Holster Thongs ($50)
These caught my eye last week in David Jones but I didn't purchase. This week the mini enablers encouraged me to buy and how could I say no? These were probably the safest option from the shoes that they made me try on and I think these will be perfect for dinners in Thailand, Bali and the like where the dress code is still very relaxed but a bit of bling distinguishes from the day look. The SA, whose name sadly I didn't catch, was absolutely brilliant dealing with Miss 5 as she took her behind the counter, allowed her to scan my item, take payment and bag it up! She loved playing 'shops' for real and SA's patience was very appreciated. Buy here. (Westfield Bondi Junction)




Nine West Martina Navy Pumps ($97)
Navy pumps have been on the most hunted list for a while. Clearly, these are not the Manolo's I'm coveting (see below) but they will do the job and as a bonus I got 25% off as part of Westfield's Fashion Saturday. Yay! Mini Enabler approved 🙂 Buy similar here. (Westfield Bondi Junction)



Chinese Top ($25)
I'm liking the idea of this with TWP, not quite sure how I'm going to style it yet but it's just too cute to pass up. Buy here. (aliexpress.com)



Floral Print Shell Top ($30)
I stumbled across a new on-line hunting ground this week while reading Miss Sassy's blog and seeing a very cute red and white polka dot blouse she was wearing. Sadly, the blouse was no longer for sale but I did find a few more items from The Limited. All the tops I bought were already 30% off and when I signed up for their emails I got a promo code for $15 off for every $50 spent. Tack on reasonable shipping prices and you can't go wrong! I don't often do prints and never do florals so this one is taking me right outside my comfort zone but I like the colours so we'll see how we go. (The Limited)




Ashton Blouse ($25)
Perfect for warmer weather as the sleeves are long enough to cover my tattoo's for the office without the need for a cardigan or jacket. This colour sold out but buy similar here. (The Limited)




Grid Top ($20)
Great safe choice to add a bit of interest to a monochrome look. Sold out in this colour but available in red here. (The Limited)




Leather Belts ($12 each)
Finally found a white leather belt to wear with TWP and at this price I decided to get the pink, beige and navy as well from NYFashion 101. Belts were priced at $5.99 each but with shipping to Australia all 4 came in at $48. I'm a bit skeptical as to how good the quality is going to be at this price but I thought it was worth the gamble. Buy here. (amazon.com)



The One's That Got Away (TOTGA's)
Made To Order Manolo Blahnik navy patent shimmer leather pumps with a 90mm heel ($595). Too nervous to order MTO without being able to check the size so I opted or the Nine West ones above.

Burberry Long Cotton Sateen Trench Coat ($2,950). It's beautiful but I just can't justify the spend at the moment. One day …

Forever New Mikko Mac Trench ($139). Since I can't afford the Burberry this seemed like a reasonable substitute. I tried the size 8 in Chatswood but it was too big. No size 6's available on-line and the only store in NSW showing stock was in Albury (12 hour round trip drive). Ridiculously Forever New do not transfer items between stores so given I'm in Melbourne next week I tried the two stores down there that customer service advised me had stock, Chadstone and Eastland. Neither store could locate the coat in the store. As a last ditch attempt I rang Albury to see if they would take payment over the phone and post it to me. Sadly the answer was no. It's time to throw in the towel and admit defeat, clearly this was never meant to be mine. 

Until Next Time …
Happy Hunting

SFH
xoxoxo