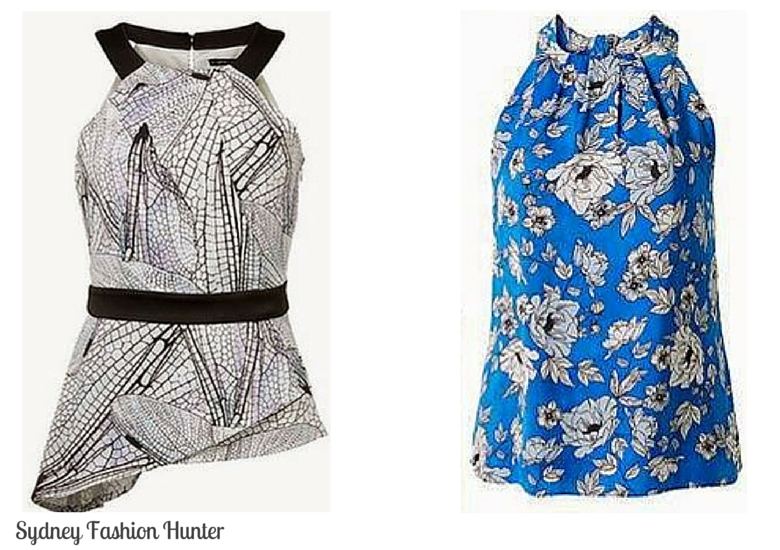 It's Sunday evening and time for The Weekly Wrap. I've been an annual leave all week and for once I've actually spent the time in Sydney rather than jetting off somewhere. This is more to do with the fact that it is impossible to get a bargain flight in school holidays than anything else lol. Given I'm on leave you might think that I spent all week in the shops but actually I didn't. Mr SFH is also off work and trawling the malls is not really his thing so in the interests of spending some quality time together I kept the shopping light on this week.  All three items I bought this week are from Target! I know right! No one is more shocked than I am, especially since I don't think I have shopped there since I was 13 but I am really liking these so far. Read on for all the details …


Hunting Grounds …
*** Online *** Westfield Miranda *** Westfield Liverpool *** Macarthur Square ***
This Weeks Purchases …
Runway To Rack Contrast Halter Top (
$79
) 
Spotted this one at Miranda but of course they didn't have my size. No worries … an online buy solved that. Free shipping on orders over $75 was a bonus! Buy Here. Target
 (Online).
I love the cut of this top and the one underneath which is identical. Perfectly cut around the arms to hide all the wobbly bits that you don't want anyone to see. The fabric is silky soft and this looks much better than you would expect of a $35 Target top. Buy here. Target
 (Macarthur Square).
Floral Target Halter (
$35
) 
Stopped here specifically looking for TOTGA which they didn't have but this one was super cute so I grabbed it! Buy here. Target
 (Westfield Miranda).
Sadly nothing arrived this week 🙁
The One(s) That Got Away (TOTGA) …
1. Floral Target Halter Top
($35
)
Similar to the 
floral
 one above but with a white background and blue flowers. They had it in Macarthur Square but not in my size, of course mine was the only one they didn't have! Didn't have it at all at Miranda or Liverpool. Clearly it seems that different stores are all going to have different options and this is not going to be easy. The search continues … next to try is Bondi Junction! Not available on line. 
XXX
Disclaimer:
This post contains some affiliate links, which may result in a commission.