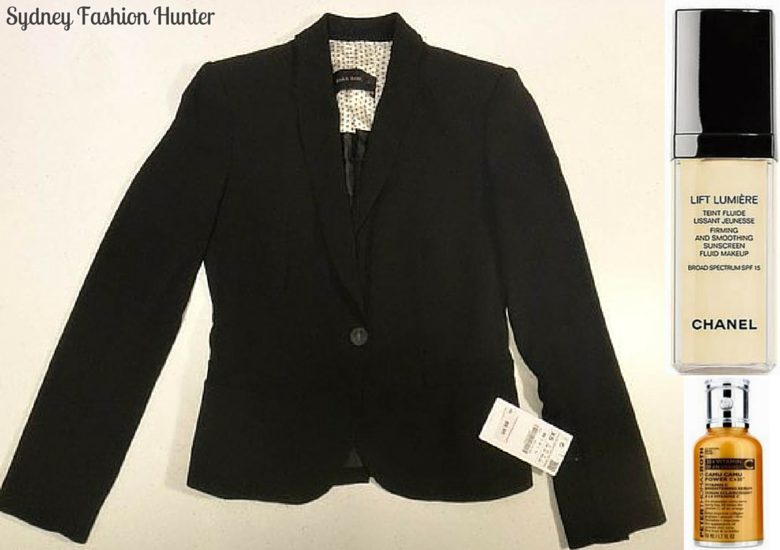 It's Sunday evening and time for The Weekly Wrap. It's been a busy week with lots of drama so I only ventured out once on Sunday afternoon. I finally made it to Macquarie Centre in time to actually enter the shops, although it was touch and go for a while given it took me two hours to drive there instead of 40 minutes thanks to the traffic on the Hume. Fair to say there was road rage and I was not a happy camper! When I finally got there I was underwhelmed by the two big draw cards H&M and Uniqlo as everything looked cheap and nasty in my opinion. I did kinda like one scarf in H&M which was only $10 but after lining up to get in (No I am not kidding!) there was no way that I was going to wait in the mammoth queue for a single scarf. Thankfully Chanel, Zara and Mecca Maxima delivered a few treats to make the journey worthwhile… Read on for all the details …


*** Macquarie Centre ***
Crepe Jackets (
$90 each)
The thing about stores like Zara (and the previously mentioned H&M and Uniqlo) is that they are cheap, generally on trend and are always getting new stock in which creates a buzz. Don't get me wrong I love a bargain as much as the next gal but the problem with this is that the frenzy created around shopping there inevitably leads to disappointment when you realise that everything actually looks cheap. As someone who enjoys the finer things in life this was never going to be a match made in heaven. I've been into Zara dozens of times and always walked out empty handed but not today as I managed to find a couple of roses among the thorns. These lovely soft crepe jackets will be great for the office and much less restrictive than their more structured cousins. I may change the buttons … Zara. (Macquarie Centre)
Peter Thomas Roth Vitamin C Brightening Serum. Been wanting to try Vitamin C for a while given I am now on the other side of a certain age. Hope it's good! Mecca Maxima. (Macquarie Centre).
Chanel Powder Blush & Lift Lumiere Fluid Foundation (
$71 & $99)
I love to test out new stuff and I've been using the same MAC foundation for the last four years and it's time for a change. I was served my Lyly. She was brilliant and showed me a bunch of stuff. I haven't used blush since I was 18 years old and have always used a bronzer instead but the shade she tried on me today (85 Evocaton) changed my mind and I had to buy it 🙂 Next on my list the Sublimage Texture Supreme Creme and L'Essence. They are pricey ($500ish each … eek!) so will need to pace myself. Chanel Boutique. (Macquarie Centre).
On-Line Shopping Update
Portofino Shirts from The Express featured in The Weekly Wrap #9 OMG I'm in love with these shirts and they have restored my faith in shopping online after last weeks disasters. I've already worn the leopard to work on Thursday. Will feature in TWP

soon!

Everything from The Limited featured in The Weekly Wrap #9 Everything is a keeper! How good is this store? Such great value for money. The Banded Bolero is so soft and great to pop over a dress when the weather cools. The Boatneck Blouse is such a perfect shade. The Wrap Sweater is a great fit. I may need to move the buttons on the pncho but otherwise wrapped in my purchases 🙂 Next time they have 50% off I'm there!