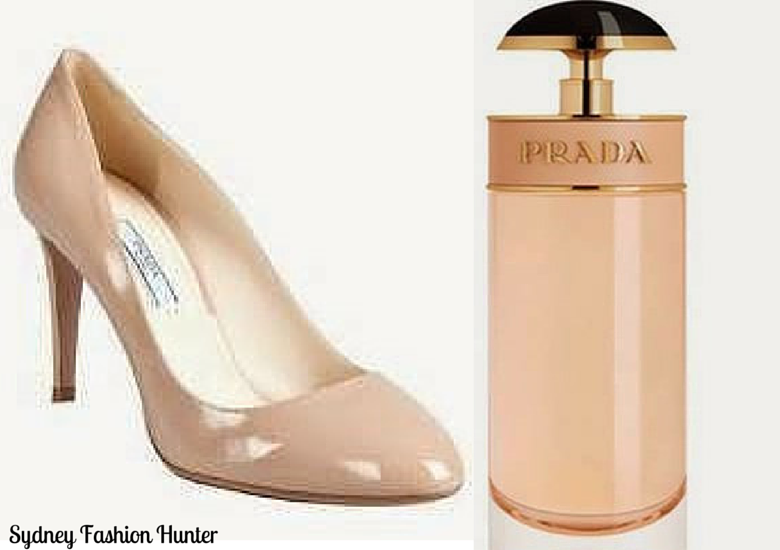 Massive Budget Blowout this week! The culprits? Four pairs of Prada shoes. Four Pairs! In one week! You will understand why I HAD to do it if you have read my other post "Four Pairs of Prada Shoes in One Week … An Accidental Love Story". Read on for all the details on this weeks hunt …
Hunting Grounds …
Westfield Sydney *** Westfield Bondi Junction *** Bankstown Central *** Myer Sydney *** David Jones Sydney *** Bluefly.com ***
Successfully
 Hunted
2 Pairs of Prada Pumps (Bluefly.com). USD$485 each (plus USD$30 postage). See separate post on this subject. RRP USD$650 on bluefly.com, however these babies were priced at AUD$850 in Australian Boutiques. As a bonus I also got a $30 credit to go towards my next order from BlueFly. If you want to grab some for yourself you better be quick as sizes are limited (39 & 39.5 in Nude and 37, 37.5, 38, 38.5 & 40 in black). 
Savings AUD$700
2 Pairs Custom Made Prada Pumps
 (Westfield Sydney) $920 each. See separate post on this subject. I got two pairs of point toe pumps with an 8.5cm heel. One in teal satin and one in hot pink patent. Only down side is that they will take 12 weeks to make.
Prada Candy L'Eau 
(David Jones Sydney) $135. T
he experts say "An oriental vanilla scent which is crisp and sweet with top notes of Italian Citrus, heart notes of sweet pea and base notes of banzoin, white musk and caramel". I say … It smells like summer and I love it! I bought the gift pack for the same price as the perfume alone which came with a bonus make-up bag, body lotion and 2 mini's which are so damn cute I don't want to use them for fear they will run out! This was good luck not good management because I was at the counter with the perfume when the sales assistant told me about this offer. Nice one! Buy it here online for a lot cheaper than I got it!
Grey Leather Saba Belt
 (Westfield Sydney) $80. I have been looking a grey belt for absolutely ages to wear with white jeans. This search has gone on long enough and maybe the perfect one isn't out there. I even tried to get one custom made on-line and in Bali. This is about as close as you can get to what I was looking for. An extra 2cms wider would have made it perfect. 
Coach Silver Ring (Westfield Bondi Junction) $95. Impulse purchase. To wear on my thumb. I Love a chunky ring!


Chanel Eye Shadow Palette in 226 Tisse Rivoli (Westfield Bondi Junction) $95. If you haven't heard nudes are really on trend this season but all nudes are not created equal and I think these are just perfect. Very luxurious feeling … silky soft and perfectly blendable. Buy it here.



Dior Nail Polish in Pied-De-Pole 206 (Myer Sydney) $39. Dior has a great range of modern nudes and this one has just a touch of grey. A great change from my usual french mani especially when you have a couple of broken nails and a french just isn't doable. Buy it here.


Supre Tank Tops
 (Westfield Bondi Junction). $12 each. Cheap as chips so I bought three in basic black. Wider straps cover all manner of bra straps, perfect cut around the arms so the baggy bits don't show and of course the required two way stretch. How can you go wrong? Limited range of colours though with just black, white and grey in the store when I visited. Here's hoping they bring out some pastels for spring. Sizes XXXS – XL
SES Fashions Cardigans (Bankstown Central) $13 each. I got mine in baby blue, pastel pink & white. A perfect every day staple for work when you don't want to be confined in a structured jacket. Great range of colours with some pastels which are perfect for spring which is just around the corner. Sizes 8 – 14 but are on the small side so go a size up. Buy a bunch at this price.
So that's my week in review. How did your hunting go this week?
Until Next Time … Happy Hunting!
P.S. While not fashion related these bargains are too good not to mention …
2 free Salt & Pepper stemless wine glasses with the purchase of two Philadelphia products. Score! (Coles Wattle Grove).

2 return flights to Bali in March during Jetstar's Friday Fare Frenzy for $860 all in. (Jetstar.com.au).

Living Social Voucher for lunch in the city for two people with a glass of wine each for $22. (livingsocial.com).

Amazing Anti Aging Facial $19 using a Living Social Voucher (Cheveux Skin Clinic Padstow).

$25 Event Cinema Gold Class Tickets.