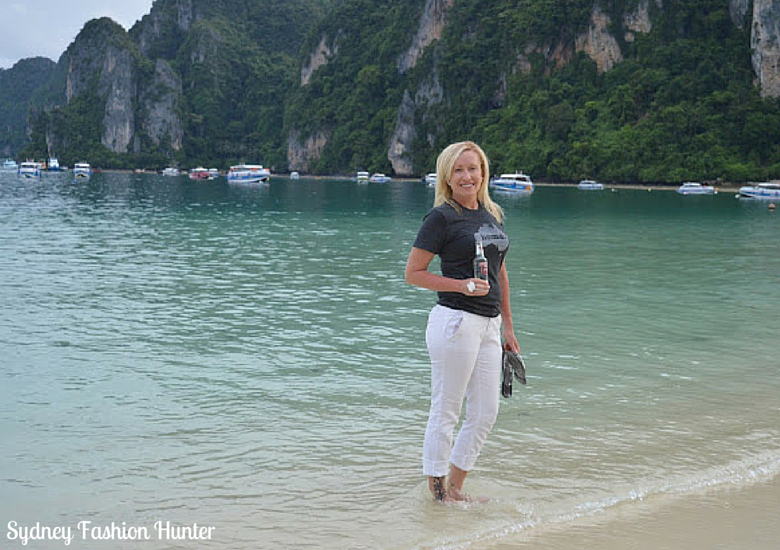 It's week fifty one of my series The Wednesday Pants (TWP) where I feature a different white pants outfit every week for a year. I'm on stunning Koh Phi Phi, a speck of an island in the Andaman Sea in Thailand. It really is stunningly beautiful, but the Internet connection in our hotel seriously leaves something to be desired. It has been a nightmare to get this post up and I finally roped in Mr SFH to sort out the dodgey internet. This week I'm going super casual and rocking my Home T with a Smirnoff in hand. Exactly what a holiday should be like! Read on for all the details …
This week I wore …
And now for the link up!
This weeks co-host is Shian Knuth the curator of The Fashion Investigator, a fashion blog written for women of all ages who are seeking affordable, realistic fashion inspiration. She grew up in a small town in Florida and now lives in New York City, exploring the latest trends, popular and emerging designers, and the how-to's of fashion. The Fashion Investigator is a destination to learn, ask questions, and share your thoughts. Love bright colours, fun patterns and completely straight forward human beings? Shian is your girl! Make sure you stop by her blog real soon.
Interested in co-hosting? I'd love to hear from you. Email me for more details.

Thanks to everyone who linked up last week. I always love looking through your posts! The most clicked link was Jessica from Wear It For Less in a stunning grey maxi skirt and my personal favourite was Annie from Sweet Bananie. I really love those jeans and you simply cannot go wrong with a white shirt. 



See who I link up with here.

Want to be featured next week? All I ask is that you follow these simple rules when you link up:-
Have you been to Koh Phi Phi? I love to hear about your adventures in the comments below.
You Might Also Like … 
Disclaimer:
This post contains affiliate links, which may result in a commission. Items marked C/O have been provided free of charge. All opinions are my own.

Save