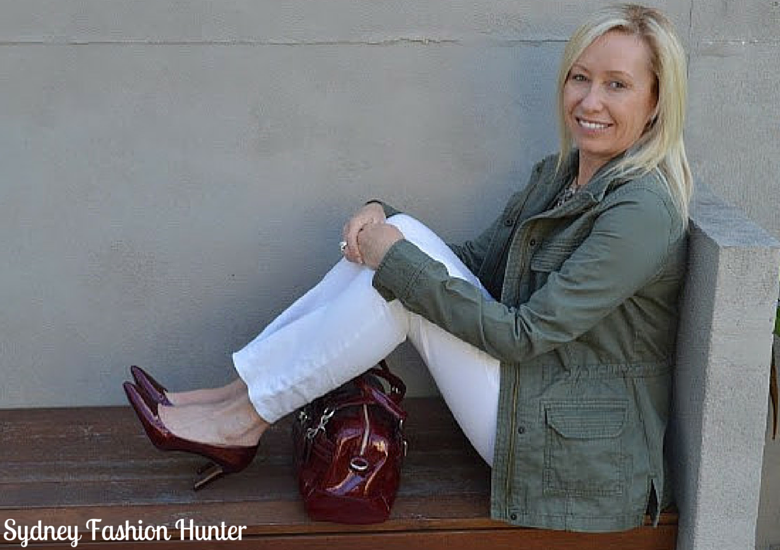 It's week forty nine of my series The Wednesday Pants (TWP) where I feature a different white pants outfit every week for a year. I've been feeling a bit under the weather over the last two days and I'm well and truly over sniffling, snuffling and sinus pain. Here's hoping for a speedy recovery! I'm going a bit military today in olive green. Like the orange last week, it's not a colour I wear often but to keep bringing you fresh looks with the same white pants I'm being forced to step outside my comfort zone. I picked up this jacket on my recent trip to Hawaii and it is normally more casual than I would wear to work but I went there anyway and given I didn't have it on sitting at my desk all day I think I just about got away with it. It helped not to have any external meetings! The down side was that the jacket didn't offer much warmth as Sydney's temps dipped again today. I tried this with a bunch of shoe/bag combinations before I settled on the burgundy. I think it works but would love to know your thoughts. Read on for all the details …
This week I wore …
And now for the link up!
This weeks co-host is Meek from Skinnee Girl Confidence, who created her blog to jot down her thoughts on life and her love of fashion all in one place and share them with the world. The word 'skinnee' has nothing to do with weight or healthy living but rather represents what Meek considers her skinnee in her skin and the confidence she has with her body type and who she is. While even "skinny" people have complexes about weight and well being this is her way of saying she is confident with her skinnee regardless of what anyone else thinks! On a side note Meek loves Royal Blue and I can see why because she looks absolutely ahhh-mazing in it!!!! Meek definitely keeps it real at Skinnee Girl Confidence so make sure you check out her blog.
Thanks so much to everyone who linked up last week. I really do love seeing you style each week, especially your white pants outfits! The most clicked link was Amanda from The Chambray Bunny who looked awesome in stripes and leopard. M
y personal favourite this week was Kacie from Regally Soled who was also in black and white. I just love the polka dot skirt! 

See who I link up with here.

Want to be featured next week? All I ask is that you follow these simple rules when you link up:-
Follow your host on Facebook, Bloglovin', Twitter and/or Pintrest.

Your post should be either a white pants outfit from your archives or your best OOTD from this week.

Ensure you link goes to a specific blog page rather than your home page.

Include a link back to Sydney Fashion Hunter in your post.

Visit a couple of the other links and discover new blogs to love!
What did you think of the burgundy/olive combination? Yay or Nay?
You Might Also Like … 
Disclaimer:
This post contains affiliate links, which may result in a commission. Items marked C/O have been provided free of charge. All opinions are my own.