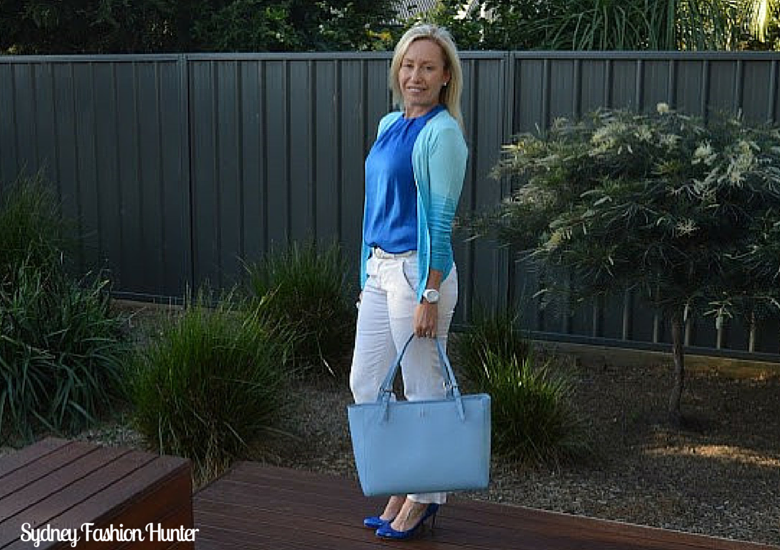 It's week forty seven of my series The Wednesday Pants (TWP) where I feature a different white pants outfit every week for a year. It's August which means only one more month of winter to go! WooHoo! I'm seriously ready to welcome summer back! If you are a regular reader you will know I'm a sucker for baby blue and am particularly partial to a cardi. This week I'm combining my two loves with this fabulous cardigan from Rosegal. If you are not familiar with them you should be! They have an awesome range of clothing, shoes, jewellery, accessories and even vintage inspired at prices you won't believe. This cardigan was only $11!!! I also took my new Tory Burch tote out for it's first outing today. I'm officially in love! Not only is the colour gorgeous but it held EVERYTHING I needed to carry for work with no qualms. Including laptop and shoes! The only sour point this week was the wind blowing a gale while trying to take photos. It's amazing there are any shots where my hair was not whipped into a frenzy! There was some great bloopers this week but none that I am going to share lol. Read on for all the details …
This week I wore …
And now for the link up!
This weeks co-host is Angela, creator and writer of Changing Tides Dairies. She has a weakness for animal prints and all things vintage. She is an avid gamer, tea-aholic and travel fanatic. Some would say her tastes are as changing as the tides but one thing remain the same; incorporating high end pieces into an outfit that will not break the bank. On the blog Angela provides inspiration for styling the same piece multiple ways in her outfit of the day posts. From work, to weekend and even a night out, she shows you how to wear the same thing over and over again without actually wearing the same outfit on repeat. She laughingly refers to her blog as a doughnut with sprinkles! Fashion may be the 'doughnut' but she loves to add some sprinkles, in the form of beauty, travel, fitness and more. Make sure you head over and visit Angela's blog soon.
Thanks to every one who linked up last week. I love seeing what you are wearing. The most clicked link was Adriele from Style Assisted, who sported a white pants outfit and paired stripes with a bold lip to perfection. 
My personal favourite this week was Casey from A Little Bit Of Cheer who rocked her white shorts and denim vest in a stunning casual summer look. Head over to both their blogs and show them some love!

See who I link up with here.


Want to be featured next week? All I ask is that you follow these simple rules when you link up:-
Disclaimer:
This post contains affiliate links, which may result in a commission. Items marked C/O have been provided free of charge. All opinions are my own.