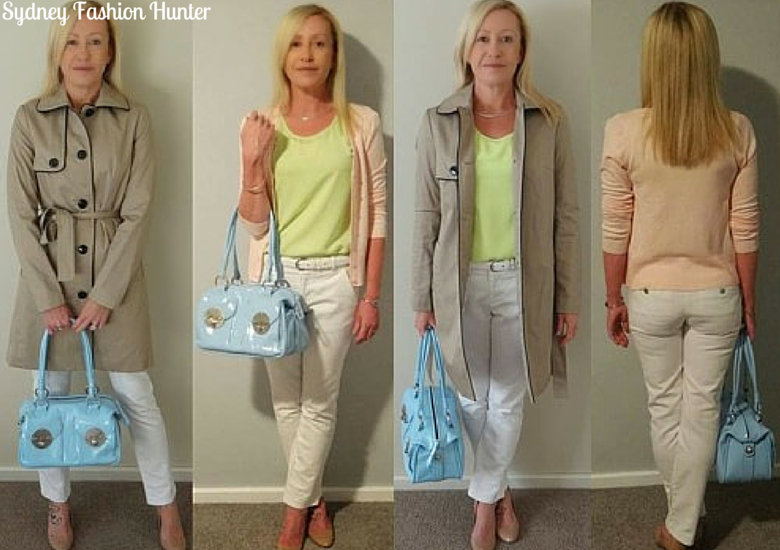 It's week four of my series The Wednesday Pants (TWP). Just a normal day in the office today and the weather is starting to warm up nicely so I felt like pastels this week … ♪ ♫ ♩ ♬ singing "Spring is in the Air" to the tune of "Love is in the Air" ♪ ♫ ♩ ♬ … however it's still a little chilly some mornings so clearly layers are needed peeps! And this outfit is all about the layers. It kinda reveals itself more the more you take off. TWP were almost no more this week because the metal hooks started to rust out! No fear I removed the hooks, ironed on some "repairy" stuff, added new hooks and napisaned the crap out of them to get the rust marks out. A seamstress I am not, it's super bodgey but they have lived to last another week. Clearly they are not going to last 52 so I'm trying to hunt done a back up pair … Read on to find out what I came up with this week …

                  Follow me here —-> 
 <—- Follow me here



This week I wore …
TWP – Nuff said
H&M Trench – My $35 bargain! … Featured in The Weekly Wrap #5
Supre Long Sleeve Nude T-Shirt – Underneath and I know you can't see it but the top needs it given it is so sheer and I need it for warmth 🙂
Portmans Top – Bought this one a while ago but have only worn it once given it is so sheer and I don't have the perfect bra for it … yet!. It's quite a vibrant lime green which hasn't shown up so well in the photos.
SES Fashions Cardigan – I know, I know another cardi! I can hear The Co-Conspirator cursing me in my head. What can I say they just work for me for the office … At least I'm mixing up the colours! Featured in The Weekly Wrap #1
Kurt Geiger Nude Pumps –

First time wearing these. Super comfy and not a blister in sight at the end of the day. Yay! They almost didn't make it to work as I left them on the dining room table in my rush to get out the door. Luckily Mr SFH came to the rescue and delivered them to the station for me. Featured in

The Weekly Wrap #4

. 

Mimco Bag – Featured in The Weekly Wrap #2. Mr SFH hates this bag. He calls it the oompa loompa bag … what does he know 🙂
White Leather Belt – Featured in 

The Weekly Wrap #

4
Gucci Watch – You've seen this one before.
White Gold Bangles – Custom made by Pola Jewellers in North Sydney because I can never buy bangles off the rack that are small enough 🙁
Mimco Ring – Featured in The Weekly Wrap #3
White Gold Collar – From North Sydney Jewellers about a million years ago. They are not even there anymore …
White Gold Diamond Stud Earrings – Custom made by National House Jewellers Bondi Junction. You've seen these before as well but they are my everyday wear and I was going for understated jewellery this week …
Scent of the Day – Gucci Rush. Buy it here.
Until Next Time …

Happy Hunting

SFH
xoxoxo