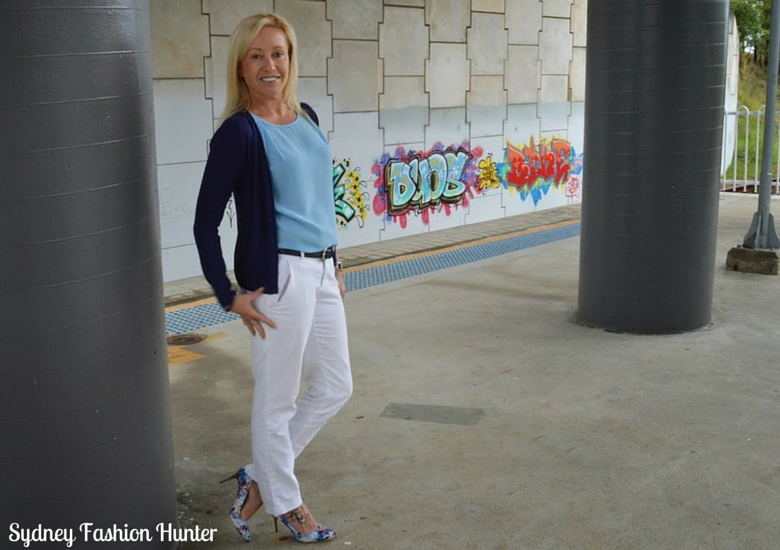 It's week thirty of my series The Wednesday Pants (TWP), where I feature a different white pants outfit every week for an entire year. Even though the shopping ban has lifted, I am shopping my closet (again!!!) as none of my recent purchases have arrived. I'm in Melbourne for work today which always adds to the complexity of getting TWP done. I follow a lot of fashion blogs and the photos always look serene and polished so I found my self wondering if what goes on behind the scenes to get those perfect posts up is as crazy as my life is! That said, TWP has never been about posting fab looking outfits that are staged for photo perfection but rather, I want to accurately reflect what I am actually wearing on the day. All day! This is in part why I go to great pains to recreate the photos exactly when I can't take them on the actual day. So this week I thought I would share just a little about what went on behind the scenes to create this page. Read on for all the details …
Today I woke up at 4.30am, which is always a treat but especially fun now that the days are getting cooler, flew down to Melbourne, did a full days work and finally sat down in my hotel to post this at around 7pm. Dinner will be at midnight at this rate! Given today was my travel day, I had to do a lot of preparation (not my strong point!) beforehand. I usually pack very light for an overnight business trip (see my tips here) and reuse as many items as I can over both days but when TWP is on this is infinitely harder, not least because I am way too messy to ever get away with wearing a white pants outfit for more than one day. Let's face it, spills and stains are just not a good look in the corporate world. Secondly, I only have four bags that are capable of fitting my laptop inside, which is a MUST for breezing through the airport security checkpoint, so planning what to wear with TWP centres around not only what will work with one of the bags but also what the bag will work with the next day given I refuse to carry two bags down for an over nighter. Clearly outfit planning and photos happened in advance this week, on Monday in fact, while I was trying to gauge what Melbourne's unpredictable weather might do today. The forecast said rain and between 10c-17c (50f – 63f) so layers was the plan to keep the chill at bay. In the spirit of not making things any easier on myself, I elected to wear a pair of shoes that I have never worn before. I tried to break them in as best I could by rocking them around the house on Monday but considering I left all my washing, including TWP, to the last day of the four day weekend (procrastinating much?) meant this was done in said heels. Such a glamorous life right? To add insult to injury the heavens opened literally minutes after my photographer got home from work when we should have been taking photos, drenching the freshly laundered WP. I figured you guys wouldn't really want to see me styling them dripping wet so I flung them in the dryer in disgust. When I thought all was lost, the storm cleared just enough to snap a few pics after TWP came out of the dryer. I chose to take the shots at the local train station because it has good natural light and there is some cover in case the rain returned. Daylight saving ended at the weekend so we literally got this in the can in the dying snippets of daylight. It's only been four days and I am already mourning losing that extra hour of light in the evenings. Getting home after dark blows and means photos are all but impossible after work now, unless I spend six months snapping in my lounge room. Crap! This means I am actually going to need to be organised each week, not least of which because I have to sync with Mr SFH's shifts to make sure he is available behind the camera. Oh and did I mention that the internet crashed THREE times while I was uploading the photos? And that it took an absolute AGE to find anything that was remotely similar to the shoes and coat featured here? Argh! I wonder if I am the only one who seems to be continually out of control? Anyway after all that this is what I wore this week …




And now for the link up ….


Last week's most clicked link was Leanne. Don't you just love the classic stripes? My personal favourite this week was Osy for her perfect monochrome look. 
Want to be featured next week? Just link up following the rules below.
So now it's time to see what you are wearing this week. If you are linking all I ask is that you follow these simple rules:-
1. Follow your host on 
Facebook
, 
Bloglovin'
, 
Twitter
 and/or 
Pintrest
.
2. Post should be either a white pants outfit from your archives or you best OOTD from this week.
3. Ensure your link goes to a specific blog page and blog home page.
4. Include a link back to this page to your post.
5. Visit a couple of the other linkers and discover new blogs to love.
Interested in Co-Hosting? I'd love to hear from you. Email me for more details.
Fellow bloggers I would love to hear about any trials and tribulations involved in getting your blogs done in the comments below just so I don't feel so alone in my drams lol.
Disclaimer:
This post contains affiliate links which may result in a small commission.