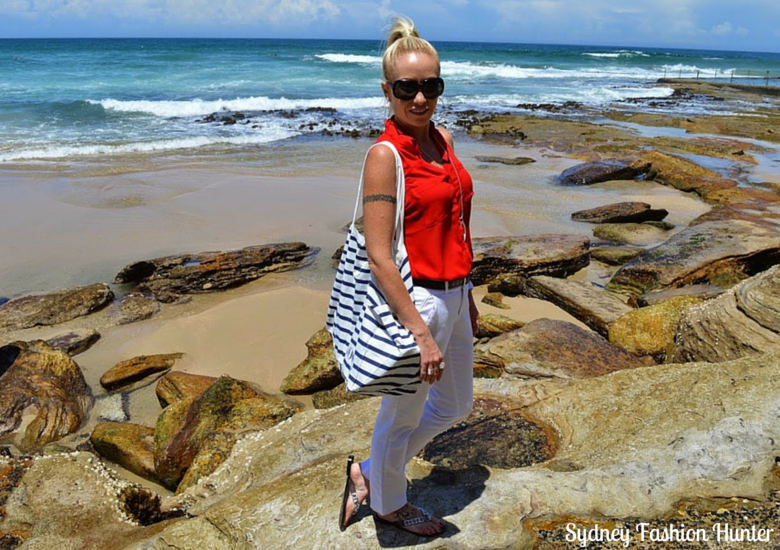 It's week nineteen of my series The Wednesday Pants (TWP) and I am on annual leave … WooHoo!!! Sadly I am not sunning myself on a tropical island but I am absolutely enjoying the time off work. I did have plans today for a girly lunch with The Enabler and her little cherubs but she ditched me at the last minute so Mr SFH had to stand in 🙂 Today we're dining at my favourite Sydney beach, Cronulla. You'd think the steak was Mr SFH's but no that was mine lol. I'm styling TWP super casual today in keeping with the setting and feeling very red, white and blue given Australia Day is just around the corner … Read on for all the details …
This week I wore …
Sleeveless Portofino Shirt – Featured in The Weekly Wrap #15. I wear this one quite a bit, usually with white shorts. It's feather light and perfect for keeping cool a hot summer's day . Buy here.
Holster Thongs

– I'm Aussie right which means I literally own about 15 pairs of thongs. These are by far my blingiest (is that even a word???). Featured in

The Weekly Wrap #4

. 6 colours available mine are clear graphite.

Buy here

.

Colette Necklace – This is one of my favourites and get's a lot of wear with block colour tops to break it up a little. Buy here and it's only $13!
Silver Ring – Featured in The Weekly Wrap #5. I got this from a market stall so not available online but you can buy similar here. 
White Diva Ring – About 3 years old I think. No longer available.
Blue Saba Belt – Featured in The Weekly Wrap #5. I think the silver studs make it just the right amount of casual 🙂 Buy similar here.
White Guess Watch – Purchased in Vegas about 4 years ago with The Co-Conspirator. Buy similar here or here.
Vogue Australia Tote Bag – This one was free a couple of months ago when I bought the magazine. How cool is that! Buy similar here. 
Prada Sunglasses – These are about a year old and prescription. The glaring sunlight prohibited taking them off even for a few pictures lol. Buy similar here. 
Lovisa Hoop Earrings – Hair up warrants big earrings … and these are my biggest! Featured. The Weekly Wrap #6. Buy similar here.
Until Next Time …

Happy Hunting

SFH
xoxoxo
Disclaimer:
This post contains affiliate links, which may result in a commission.