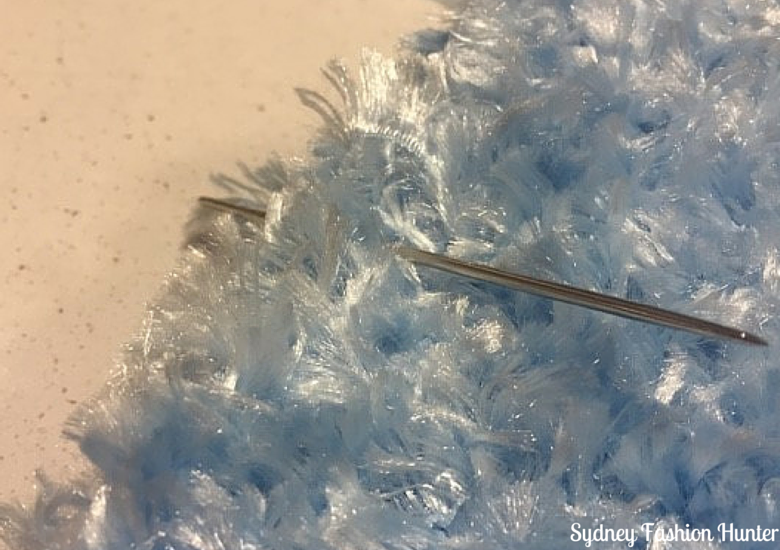 I'm no stranger to a bit of DIY around the house but I've not really DIY'd in the fashion stakes before. I'm pretty sure the elastic waist skirt I was forced to make in textiles in Year 7 doesn't count. This week, however, I found myself in a bit of a dilemma. I had a function down in Melbourne on Wednesday with a whole bunch of Melbourians and a handful of Sydney Siders. It also happened to coincide with State of Origin, which was played in Melbourne. This makes no sense to me at all given the series is between NSW and Queensland. Anyhoo the 5 of us from North Sydney decided it would be very appropriate to show some NSW state pride and support the Blues even if we couldn't make the game. We had to keep our outfits work appropriate so we were never going to be able to rock a jersey, what we needed was a way to show our colours with subtle style. I decided the best way to do this would some pops of baby blue in the form of some sparkling accessories and a fun scarf (see TWP#40 here). The bling was no problem as I rocked some of the items I got from my Envy Jewellery Party but the scarf proved challenging, to the point were I gave up and decided to make it myself. Seriously how hard can it be? It's a scarf! Read on for all the details …
My first idea for the scarf was to buy some beautiful chiffon like fabric and some fabric paint. That was quashed pretty quickly when 1) I couldn't find the exact shade of fabric I wanted and 2) I realised I'm a pretty crap painter. So this brought me to the next option which was to knit one, Clearly I'm not a knitter so I had to keep it pretty simple given knit and purl represent my full repertoire . The best way to disguise pretty ordinary knitting skills is to choose interesting yarn, this way you can get away with knit only. Hey I didn't even need to use my purling skills! I chose flutter yarn at $1.20 a ball and I needed three balls. I also bought a pair of 6.5mm needles, despite the fact that the manufacturer recommended 4.5mm – Hmph what do they know! These are the steps I took …
1. Cast on 25 stitches. Knit all three balls and cast off.
2. Sew the ends of the scarf together to make one big loop. Use a big needle and one of these nifty needle threader thingys to make it easier.
3. Wear scarf.
It was so easy I decided to test out my purling skills by making this gray one. The process was much the same but with a four row pattern, two rows of knit, then two rows of knit one, purl one.
I'm kind of hooked because now I have started a flutter one on navy …
Eleven Things I Have Learned As a Novice Knitter
1. It's a handmade bespoke garment … don't sweat the imperfections.
2. Count the stitches every 10 or so rows because sometimes you acquire extra's. I have no idea where they come from but knit two together to get back to your start point.
3. Knitting on the train is a great way to pass the time and the scarf keeps your legs nice and warm in the process.
4. When you finish each row turn your needles around in the opposite direction to what you did last time so it twists then untwists, otherwise your scarf will get pretty twisted pretty quickly once it has a bit of length to it.
5. When starting a new ball take the thread from the middle of the inside not the one on the outside (just wiggle your fingers in the centre and you will find it) because it unravels much neater that way.
6. When putting your knitting down push the stitches away from he pointy end to prevent them slipping off the end. While and extra stitch is easily fixed (see # 2), a dropped stitch equals serious unravelling.
7. Knitting needles are considered a weapon and not allowed in carry on when flying.
8. Some of the fluffy fibre on the flutter wool will come off as you are knitting. Don't knit the navy on the train in white pants on the way to work. Also don't inhale it.
9. When knitting on the train keep the needles close to your body and your movements small. The person squeezed in next to you like a sardine does not appreciate getting flicked with the end of your needle every millisecond or so! Keeping the stationary needle vertical and tucked under your arm is a good start.
10. Try and pick the skinny people to sit next to in the train, it gives the most room to manoeuvre!
11. Being able to knit a scarf does not make you an expert and tackling a long cardigan is probably a little out of my skills range at the moment.
Are you a DIYer? What have you made? Let me know in the comments below.
Until Next Time …
Happy Hunting
SFH
xoxoxo