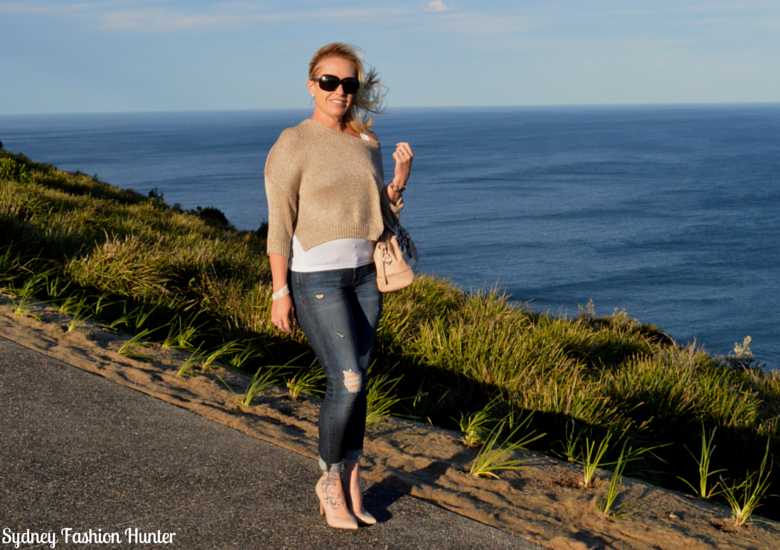 I'm obsessed with destroyed denim. And I mean seriously obsessed. I've stalked my regular online haunts for months trying to find the perfect pair of destroyed jeans. I thought my search was over when I stumbled on these slim boyfriend jeans while I was researching my recent Fashion Lane post and they were reduced from $525 to $112 to sweeten the deal! I was suffering a severe case of destroyed denim fatigue (I'm sure it's a thing!) so I typed in my credit card details stat. I was on cloud nine for a week highly anticipating their arrival. And then they arrived in the post …
Let's Get Social!
Destroyed Denim
As soon as I tried them on I was hit with a serious case of buyers remorse. They looked sooooo much better on the model than they looked on me (see here). I turned every which way in the mirror and felt extremely deflated because even though I chose a size larger than I normally wear, they didn't have the loose 'boyfriend' fit that I was hoping for. I had a major hating on myself fat moment, ripped them off in disgust, threw them on the floor in the corner and wrote 'return jeans' firmly on my 'to do' list. For the next week I glared at them accusingly every time I spotted them out of the corner of my eye. I was all set to send them packing when I pulled them on again and saw their strengths. Like how comfortable they were. There is a serious amount of stretch in these babies and your could do the splits in them if you were so inclined. I couldn't because I haven't been that flexible since I was 18, but the jeans would allow it even if the body won't. I also took note of the 'just right, not too light, not to dark' colour which was so flattering. The distressing was just the right amount of destroyed and the hole placements were exactly where I wanted. Standing only 162cms, every pair of jeans I buy need shortening but these were the perfect from the get go. The list of 'pros' outweighed the 'cons' and I had an epiphany; so freaking what if the model looked better in them than I did. There was a lot going for these jeans so I swept my body image woes to one side and kept them. When I wore them for the first time to a family BBQ, I knew I had made the right decision, not least because the aforementioned stretch was very forgiving of my bulging belly. If you are having trouble finding your own perfect pair try my 8 easy steps to destroy your own jeans. It's easier than you think!
The BBQ was at My Brother In Law and his almost wife's new home which is a five minute drive to Stanwell Tops so we stopped in on the way home to take these photos. What was I thinking? The traffic, the crowds, the fading light and the gale force winds were all battling against us. I spent the whole time trying to get my hair out of my face and these were by far the least 'scary hair' ones of the bunch! With no time for a re-do, I had to run with it, so hopefully at least you enjoy the spectacular view. 
I wanted to keep the rest of the outfit simple and dragged out a slouchy jumper I haven't worn in ages. One element that turned out not to be simple was my earrings. They are in three parts so you have to thread the bar over the post at the back before you put the back on. My gorgeous 7 month old niece took a shine to them though because she kept trying to rip them out of my head whenever she got within arms reach. The good news is, that despite all this I still have a couple of photos to share. Nothings easy right?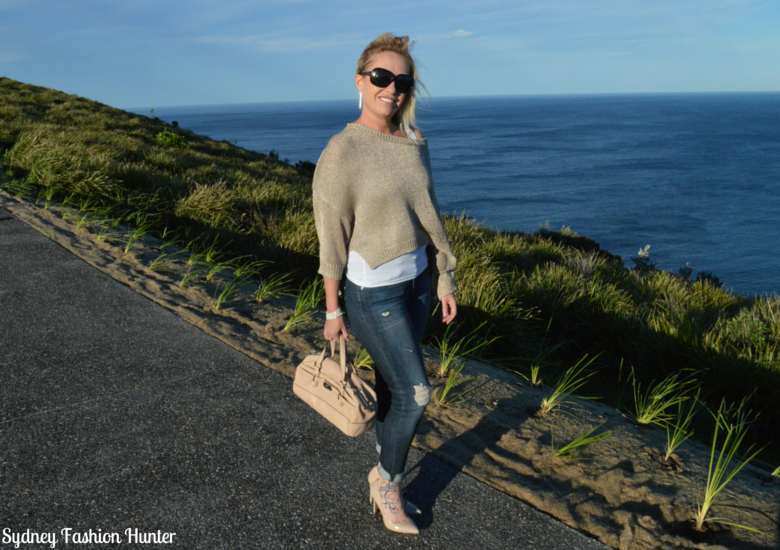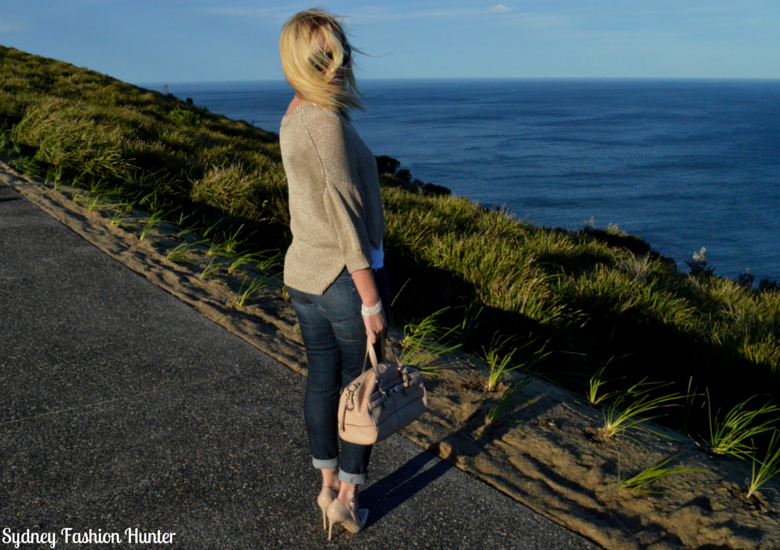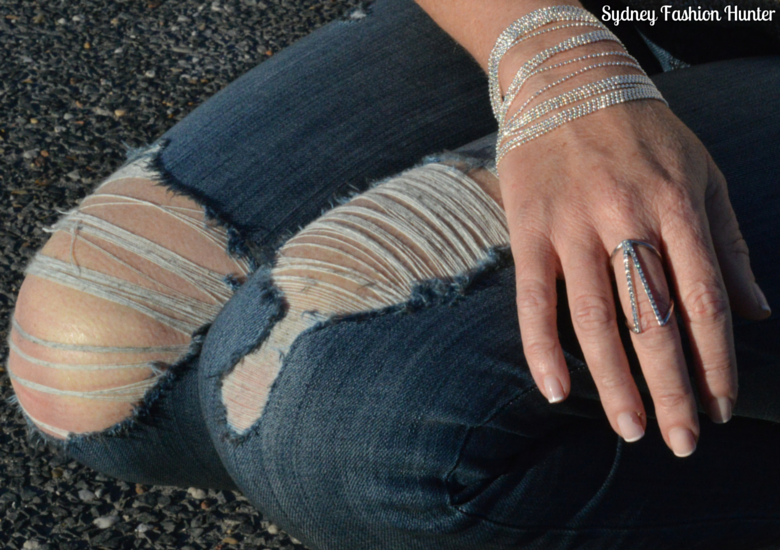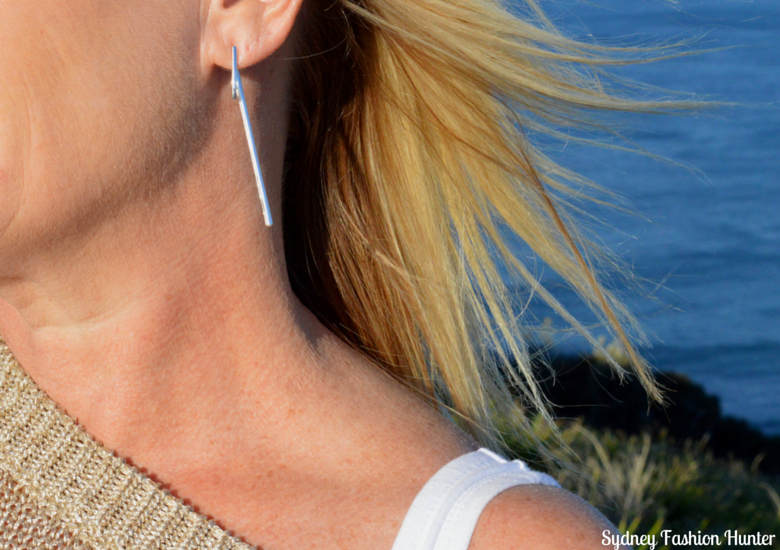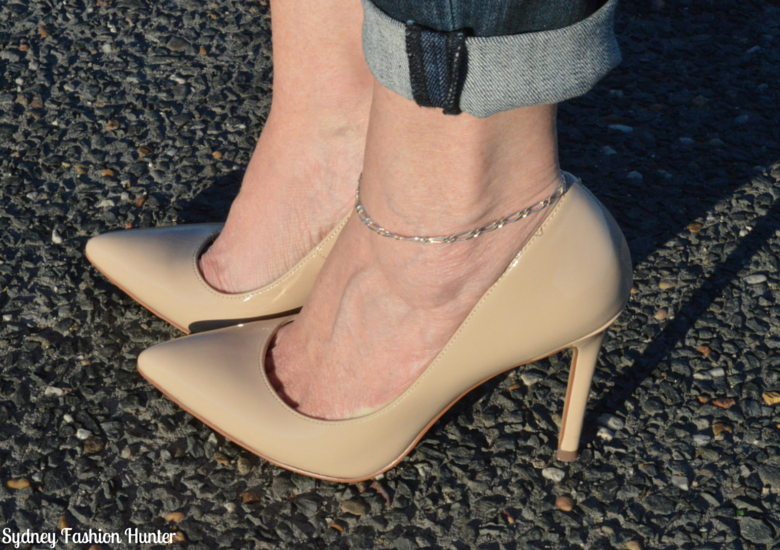 Jeans: Genetic Denim Alex Slim Boyfriend Jeans. Featured in The Monthly Wrap #45. Tank: Supre Thick Strap Tank Jumper: Old. Witchery. Option, option, option. Bag: Old. Coach. Option, option, option.  Earrings: Colette Metal Bar Earrings. Featured in The Monthly Wrap #45. Bracelet: Colette Multi Row Ball Chain Wristwear. Featured in The Monthly Wrap #45. Ring: Lovisa. Option, option, option. Shoes: Kurt Geiger Bailey Pumps.  Featured in The Monthly Wrap #45.

Fresh Fashion Forum Link Up

You guys sure delivered some destroyed denim inspiration with a heap ripped jeans popping up in last weeks link up, so of course my featured bloggers are working this trend. I've chosen Kim from The Knotted Chain and Taylor from Pink Heels Pink Truck because they showcase how destroyed denim can be girly or edgy depending on what you pair with it. While their looks are both quite different, I love how they both have some volume up top to balance their fabulous jeans. Please visit both ladies' blogs and show them some love.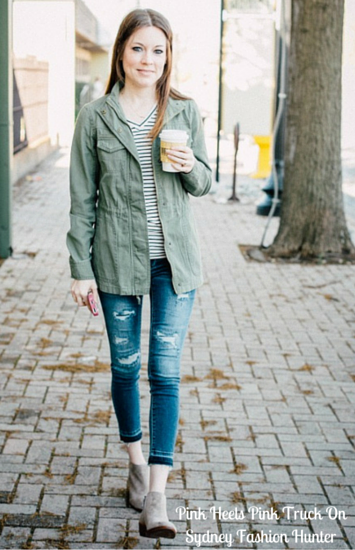 Want to be featured next week? Simply link up following the rules below to be in with a chance.
Add a link back to Sydney Fashion Hunter in your blog post (text or the button above).

Link as many times as you like to your specific blog posts (not your home page).

Visit a few other blogs and share the love.
Love link ups? See my complete list of Fashion Blogger Link Ups here. Let me know if there are any I have missed and I will gladly add them. All Fresh Fashion Forum featured bloggers are featured here. Have a look and see if you can find yourself! Want to host your own link up? Find out how here.
[inlinkz_linkup id=630242 mode=1]
So tell me, are you as obsessed with destroyed denim as I am?
Until Next Time …
Happy Hunting!
SFH
xoxoxo
Disclaimer: This post contains affiliate links for which a small commission may be paid.