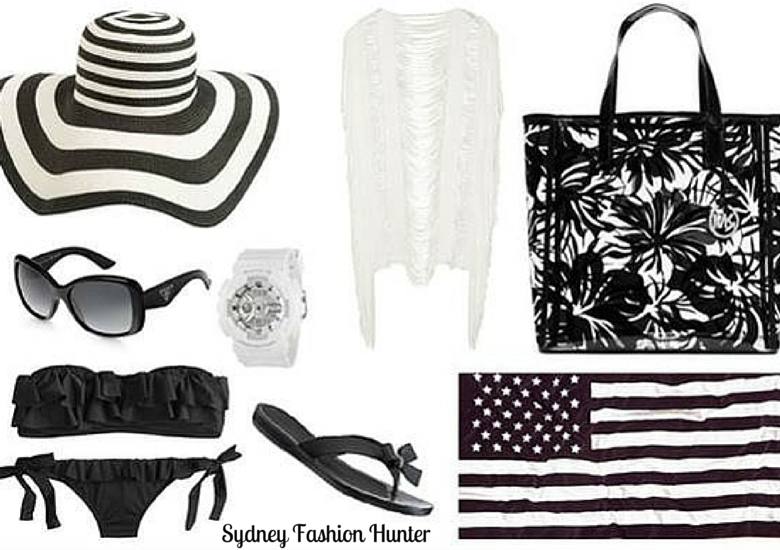 Dreaming of a beach break? I know I am! In fact, I've got two lined up. I'm heading to Hawaii in July and Phuket in September so my mind has turned to what I'm going to need. Everyone wants to look their best on the beach but for most women the thought of slipping into a skimpy bikini is about as appealing as having root canal surgery. But it doesn't need to be so bad, bikini's are not your only option and most people are way too busy having fun to worry about your wobbly bits. I've done the research for you and have covered all the beach essentials. Read on for all the details …
Take minimal down the the beach given items will likely be left on the sand while you take a dip. Everything you need right here …
1. Tote. First off you are going to need something to haul all your stuff around!
2. Beach Towel. Lying directly on scorching sand is not fun. Not to mention the fact that the tiny grains always seems to work there way into places they have no business being. If you are staying in hotels that supply towels take advantage, if not try these cute options.
3. Sunglasses. I like mine in basic black and over sized. I'm a big fan of Prada.
4. Swimmers. Women come in many shapes and sizes and no one swim suit is going to suit everyone but basic black works for most. You will probably have to try a tonne on to get the right one. Here's some inspiration to get you started.
5. Hat. There are literally hundreds of styles. Choose a light colour and a wide brim. Notoriously difficult to pack!
6. Cover Up. Don't feel confidant rocking your swimmers alone to and from the beach?
Just through one of these on top and you are good to go!
7. Thongs. The kind for your feet not your butt!
8. Waterproof watch. I got a rather expensive watch stolen in the Greek Islands when I took it off and left it in my shoe to swim. I don't make that mistake anymore …
Don't forget to throw a good book, some water and 50+ in your tote 🙂
After Dark
The fun doesn't stop when the sun goes down but you are going to want to keep it super casual. Hey you're on holiday right?
1. Maxi Dress. Throw it on a head out the door. Easy peazy!
2. White Pants. Effortless. Lightweight. Classic.
3. Printer Halter. Adds interest without trying to hard. Equally at home with the white pants above, jeans or some cute shorts.
4. Nude Wedges. Height without pain. What's not to love!
5. Neutral Mini Bag. If you are taking a cheap flight with carry on only, you don't have room for many (if any!) bags. Make whatever you do take multi task!
6. Chunky Silver Arm Candy. Silver sets of a tan perfectly and if your arm candy has presence you don't need anything else.
7. Summer Fragrance. A spritz or two of a fabulous summer scent completes your outfit. I never leave the house without it!
So are you ready to go? What do you consider to be a beach essential? I'd love to hear about where you are headed for you next beach break!
Disclaimer:
This post contains affiliate links, which may result in a commission. Items marked C/O have been provided free of charge. All opinions are my own.